Recording Engineer Jay Messina
Jay Messina photos by Ebet Roberts
The attic is often a dusty, musty room. But that's not the case with the one Jay Messina and I have climbed into: Aerosmith's
Toys in the Attic
. The album rocked hard on its 1975 vinyl LP, but it rocks harder, clearer, and bigger on Columbia's new six-channel Super Audio CD.
The midtown Manhattan enclave known as Sony Studios isn't exactly musty either. In fact, among other things, it's a state-of-the-art facility for showing off the Sony-championed SACD format, and it's where Messina and I have met to listen to and discuss his multichannel mix of Toys. Messina engineered the original recording, so he was asked to do the surround mix - which he did right here at Sony Studios.
Of course, for many fans, Toys isn't just any old Aerosmith album. It's the Aerosmith album, stocked not only with the hits "Walk This Way" and "Sweet Emotion" but also with everything from the raging title track to the orchestral "You See Me Crying," not to mention the horn-happy (and just plain horny) "Big Ten Inch Record." Toys took the band to a new level of creativity and popularity - and even though the 1993 remastered stereo CD was fine, the surround SACD takes the band even higher. Now everyone in this attic is spread out vividly: singer Steven Tyler, guitarists Joe Perry and Brad Whitford, bassist Tom Hamilton, and drummer Joey Kramer.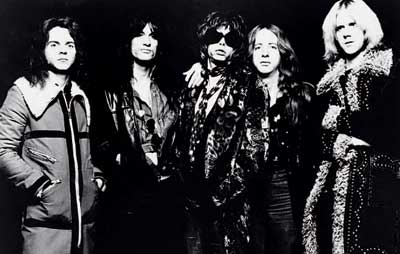 Aerosmith circa 1975 (from left): Kramer, Perry, Tyler, Whitford, Hamilton
The boys were on the road when Messina was in the studio doing the multichannel mix. But when the tour brought them to New York for a few days, they each stopped by to hear the result. "And they loved it," Messina tells me. "Steven, who's probably the most vocal as far as criticisms or ideas go, had a couple of specific comments. For 'Sweet Emotion,' he asked, 'Is the triangle loud enough?' But they all liked the energy and the space of surround sound."
No egos to please? Did Tyler want his voice louder? Did Perry want his guitar louder? "As I mixed, I referred to the original stereo mix and tried to stay true to it. So, no, if there was any of that [ego] stuff going on, it went on 30 years ago."
Messina also consulted with the album's original producer, Jack Douglas. "Jack and I are old friends. We've done so many other projects together" - including Aerosmith's Get Your Wings, Rocks, and Draw the Line as well as Cheap Trick's self-titled debut. "With the surround mix for Toys, I got a good jump on things. Then Jack came in and tweaked a couple of parts. He'd say, 'Why don't we take the cowbell on "Walk This Way" and put it in the right rear?' It was a dialogue with Jack. It's never a fight with him. It's a collaboration, and it's always fun." Currently, Messina and Douglas are engineering and producing the so-called "Aerosmith blues album" that's eagerly expected in early 2004. (For updates, check out jaymessina.com.)
Messina says that for the Toys SACD, "I was able to pretty much remix one song a day, for a couple of reasons. First, I was familiar with the album because I had recorded it. Also, I had kept good notes. And it was a 16-track recording." The 16-track tapes were in good condition and sounded fine, he confides. "I didn't have to do anything to them. . . . And not to pull anybody's chain, but Jack and I did a good job of recording back then."
Did they adopt a basic approach for the surround mix? "We generally wanted to match the original stereo mix for the balances up front. But the spread around the room was all new ground, and something we wanted to experiment with. I like the sense of just sitting in a room and feeling, well, surrounded by the sound. You don't necessarily have to know that, oh gee, I hear a guitar riff coming from that speaker back there. The idea is not to make it feel like it's coming out of any of the six boxes.
"If you have too many instruments in the rear, it seems gimmicky. After all, your ears are still facing front. I've heard some mixes where so much is going on in the back that I'm thinking, should I turn around and face the rear? You get the feeling of size and space when you don't mix like that.
"Then again, it's still early in surround mixing, so there really aren't any rules. On the Toys SACD, there are certain levels of consistency from song to song, but there are other things I wasn't consistent with."
The biggest of those other things: Tyler's vocals. Usually, they're spread across the three front channels. But their prominence in the center channel isn't always the same. So I play Messina a series of excerpts from five tracks, starting with "You See Me Crying," where Tyler is alone in the center. "No More No More," "Walk This Way," and the title track have him joined there by bass and drums. Lastly, I cue up "Sweet Emotion," where Tyler is out of the center channel entirely. How did Messina make all of those mixing decisions?
"For 'You See Me Crying,' I wanted Steven to stay prominent in the band-with-orchestra sound. If you think of the mix as a picture, you can see him right there [motions ahead]. But with 'Toys in the Attic,' that song is just in your face, and Steven is more tied to the energy of the band. 'Sweet Emotion' has energy, too, but it's also nice and open, and Steven doesn't need extra help in the center. He cuts right through."
LATEST VIDEO