Raters of the Box Sets Page 2
DVDs
THE ADVENTURES OF INDIANA JONES (Lucasfilm/Paramount, 4 DVDs, $50) The long-awaited DVD release of this class action suite arrives restored with Dolby Digital 5.1 sound (no DTS). Raiders of the Lost Ark, Temple of Doom, and Last Crusade are accompanied by a disc of extras, with four featurettes and a two-hour making-of documentary that includes interviews with director Steven Spielberg and star Harrison Ford.
THE ADVENTURES OF ANTOINE DOINEL (Criterion Collection, 5 DVDs, $100) François Truffaut's landmark feature debut, The 400 Blows, has two deserved, analytical commentaries. More important, it appears with the short Antoine and Colette, the next link in these autobiographical, life-cycle films - all of them starring the same actor, Jean-Pierre Léaud. The series resumes with Bed and Board, Love on the Run, and Stolen Kisses. You get a bonus disc of extras plus a 72-page book.
THE BILLY WILDER COLLECTION (MGM, 9 DVDs, $130) Some Like It Hot shows up in a Special Edition filled with nostalgic, fun extras. The Private Life of Sherlock Holmes includes deleted scenes, an interview with editor Ernest Walter, and a featurette. Kiss Me, Stupid has an alternate scene. The rest have no extras beyond trailers - but excellence often needs no explanation in a set that also features Avanti, One Two Three, The Apartment, Irma la Douce, Witness for the Prosecution, and The Fortune Cookie, all in anamorphic widescreen transfers.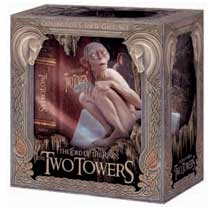 THE LORD OF THE RINGS: THE TWO TOWERS Special Extended Edition (New Line, 4 DVDs, $40) Repeating the winning combo of an extended cut (adding 43 minutes of footage, making for a 3 3/4-hour movie), four different group commentaries, and two discs of extras, this set is a must for fans. Die-hard Ring-bearers, though, will want the $80 gift-set version, which includes a Gollum statue and more.
24 The Complete Second Season (20th Century Fox, 7 DVDs, $70) This overheated action/soap opera will suck you in and leave you breathless. Each of the first six discs has a commentary, and the 24 episodes can be viewed with optional links to deleted scenes and alternate takes (44 in all). The seventh disc has 22 more deleted scenes plus featurettes.
THE SAINT Megaset (A&E, 14 DVDs, $200) If a 24-episode marathon just isn't enough for one weekend, then try watching 47 episodes of this suave, modern-day (mod) knight-errant: Roger Moore as Simon Templar. Extras include a biography and filmography of the star.
TAKEN (DreamWorks, 6 DVDs, $120) Given: all ten feature-length episodes of this alien-abduction-through-the-ages TV miniseries from executive producer and extraterrestrial chronicler Steven Spielberg, spread across five discs. Extras on the sixth saucer include various featurettes.
THE DICK VAN DYKE SHOW Seasons 1 & 2 (Image, 5 DVDs each, $70 each) This groundbreaking sitcom is offered restored and uncut. You get the pilot and 61 episodes, cast interviews, featurettes, vintage commercials, and commentaries by Dick Van Dyke, Carl Reiner, Ann Guilbert, and Rose Marie.
SCARFACE 20th Anniversary Edition (Universal, 2 DVDs, $27) Written by Oliver Stone, directed by Brian DePalma, and starring Al Pacino, this 1983 film was never going to stray into understatement. And extras include "Def Jam presents The Origins of a Gangsta" (where rappers rap about the film's influence) and other featurettes. In the $60 gift set, you also get a DVD of the 1932 Scarface and a Tony Montana gold money clip.
BATTLESTAR GALACTICA The Complete Epic Series(Universal, 6 DVDs, $120) All 24 hours of the original sci-fi TV series come remastered in full-frame transfers and Dolby Digital 5.1. Extras include an interview with creator Glen A. Larson and stars Richard Hatch, Terry Carter, and Anne Lockhart.
LATEST VIDEO