Raters of the Box Sets Page 3
CDs
TALKING HEADS Once in a Lifetime (Warner Archives, 3 CDs and 1 DVD, $60) And you may ask yourself, "Why should I buy this?" Because in addition to the hits, this overview has rarities that include alternate versions of four songs - plus the music-video roundup Storytelling Giant on DVD with three bonuses.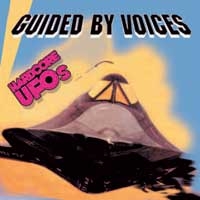 GUIDED BY VOICES Hardcore UFOs: Revelations, Epiphanies, and Fast Food in the Western Hemisphere (Matador, 5 CDs and 1 DVD, $66) A single-CD best-of, three discs of studio/live rarities, and the first CD appearance of the 1986 debut EP, Forever Since Breakfast. The DVD is the out-of-print VHS program Watch Me Jumpstart with extras and an Easter egg.
BJÖRK Live Box (One Little Indian, 4 CDs and 1 DVD, $60) Chill out with the Icelandic princess in live versions of each studio album - Debut, Post, Homogenic, and Vespertine - plus a DVD of footage from London, Paris, and New York.
JOHNNY CASH Unearthed (American/Lost Highway, 5 CDs, $NA) This tribute to the late Man in Black was still being put together at press time, but it's reported to include as many as 100 unreleased tracks spanning his recording sessions with producer Rick Rubin over the past ten years. One disc is expected to be an acoustic gospel album called My Mother's Hymn Book.
MILES DAVIS The Complete Jack Johnson Sessions (Columbia/Legacy, 5 CDs, $70) Classic fusion from 1970, with Davis's working band - Steve Grossman, Chick Corea, Dave Holland, Jack DeJohnette, and Airto Moreira - joined by John McLaughlin. As if that's not enough, guests include Herbie Hancock, Wayne Shorter, Ron Carter, Billy Cobham, Sonny Sharrock, and Keith Jarrett. Nearly five hours of previously unreleased music.
NINA SIMONE Four Women: The Nina Simone Philips Recordings (Verve, 4 CDs, $NA) Planned months before the singer/pianist's death in April, this set brings together seven albums from the mid-1960s: Nina Simone in Concert, Broadway-Blues-Ballads, I Put a Spell on You, Pastel Blues, Let It All Out, Wild Is the Wind, and High Priestess of Soul.
BEETHOVEN Symphonies Nos. 1-9 (EMI Classics, 5 CDs, $51) Simon Rattle leads the Vienna Philharmonic in his acclaimed complete cycle from 2002, recorded live in the orchestra's home, the Musikverein. The conductor used the recent Bärenreiter Urtext Edition of the symphonies, based on Beethoven's own corrections from manuscripts once thought to be lost.
THE FOLK YEARS: A SINGERS AND SONGWRITERS COLLECTION (Time-Life, 8 CDs, $100) A mighty wind indeed from the late 1950s and most of the '60s: Kingston Trio, Brothers Four, We Five, "Where Have All the Flowers Gone," "San Francisco (Be Sure to Wear Flowers in Your Hair)" - and yes, Bob Dylan. Annotators include Greil Marcus and S&V's Billy Altman.
NO THANKS! THE '70s PUNK REBELLION (Rhino, 4 CDs, $65) "Blitzkrieg Bop," "White Riot," "Blank Generation," "Personality Crisis," "Oh Bondage Up Yours!" - ah, those were the days. And that's just a fraction of Disc 1. From Buzzcocks to Ultravox, from the Germs to the Cure, get ready to search and destroy.
SONGS FROM THE STREET: 35 YEARS OF MUSIC (Sony Wonder/Legacy, 3 CDs, $50) That's Sesame Street. You get cuddly guys like Paul Simon, James Taylor, and Tony Bennett, but you also get Los Lobos ("Elmo and the Lavender Moon"), Steven Tyler ("I Love Trash"), and R.E.M. ("Furry Happy Monsters").
LATEST VIDEO