Polk RTi A9 Speaker System
"i" is for intense.
Every audio reviewer thinks back on specific products and sometimes wishes that he or she bought them following the review. For me, one such product was the Polk RT3000p. The two-piece speaker featured a powered subwoofer, with the mid-tweeter section perched on top in a separate cabinet. The system had a gutsy, meaty quality to it that beautifully suited movie soundtracks.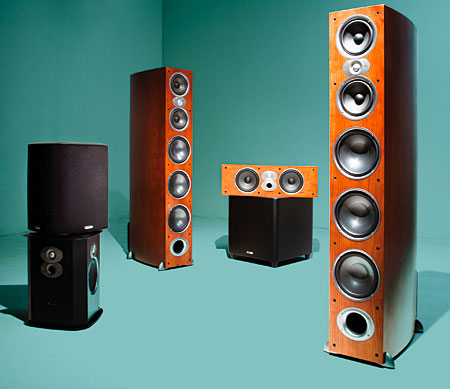 Polk's current flagship is the RTi A9 ($1,750/pair), the top model in the RTi A Series, which includes three floorstanders and two bookshelf designs. As a one-box speaker without a built-in sub, the RTi A9 is conceptually different from the long-departed RT3000p, although it's visually no less imposing. This speaker served as the basis for the speaker system under review here.
Description
The RTi A9's front baffle bristles with five cone drivers (two midranges and three woofers), a silk/polymer dome tweeter, and a front bass port. The two bass-midrange drivers cover an unusually wide range, from 120 hertz to 1.8 kilohertz. Two pairs of binding posts allow for biwire use. I kept them strapped together for a normal, single run of speaker cables.
Real wood veneer covers the RTi A9's curvaceous side panels. The internally braced cabinets are fabricated from six layers of MDF separated by five layers of viscous damping material. Polk calls this technique Damped Asymmetric Hex Laminate Isolation (DAHLI).
The CSi A6 center-channel speaker ($460) uses the same driver technologies for its two woofers and single tweeter. It offers the same dual pair of terminals, plus dual PowerPort Plus ports in back, and an all MDF cabinet.
The FXi A6 surround speaker ($575/pair) has two tweeters, one on each of its angled faces, and a single woofer. A switch under the removable grille lets you choose between dipole or bipole operation. I used the bipole setting for all of my listening. The cabinet is ported, and there's also a single pair of output terminals.
Polk's compact DSW PRO 600 sub ($700) has a single 12-inch, downward-firing driver. It has a Class D amplifier rated at 250 watts (continuous). You can reorient the cabinet to fire forward rather than down. The sub features both line- and speaker-level outputs, as well as a selectable auto-on feature.
The sub also includes the Polk Room Optimizer (PRO) system. PRO offers four preset options for cabinet, corner, mid-wall, and mid-room positioning. There's a phase adjustment with 0-, 90-, 180-, and 270-degree settings and a variable crossover (60 to 120 Hz; the LFE input bypasses the low-pass filter). A Night mode button compresses dynamics for better bass balance during low-level listening. The system comes with a slick, credit-card-sized remote that lets you access all of these controls (apart from the crossover setting). Plus, the remote features Subwoofer Mute and LED On/Off functions.
Setup
One of the first RTi A9s I received was damaged in shipping. The crossover had pulled loose from its moorings behind the rear terminal block and broke at least one internal connection. Polk immediately sent me a replacement model, which arrived intact.