Polk Audio XRt12 XM Tuner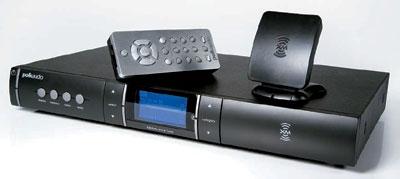 When's the last time you got really excited about listening to the radio? For me it was when I discovered an alternative station called 99X in Atlanta . Now I actually look forward to visiting so I can tune in. During my formative listening years near San Francisco , I enjoyed an abundance of great music on FM. But now that I live close to the ocean in South Carolina, my radio options are pretty dismal - or were until the XM digital satellite service made me excited about radio again.
The Short Form
DIMENSIONS (WxHxD) 17 x 2 3/8 x 10 1/2 inches PRICE $330; plus XM subscription MANUFACTURER Polk Audio, polkaudio.com, 800-377-7655 KEY FEATURES • Sized and styled like a traditional audio component • "Audiophile-grade" parts and digital-to-analog conversion circuitry • RS-232 port and 12-volt trigger input for remote system control • outputs analog stereo audio; optical and coaxial digital audio; composite video
PLUS • Excellent sound quality • Front-panel and onscreen display with artist/title information • Can be integrated into whole-house systems
MINUS • Only 20 channel presets • Remote control could be better
Launched nationally in 2001, XM offers more than 130 channels - including 68 commercial-free music channels - to about 3 million subscribers for $9.99 a month (or $6.99 a month for each add-on subscription). After living with the service for a month, I can see why satellite radio is becoming more popular. XM radio quenched my thirst for new and classic alternative music, especially channels Fred (44), Ethel (47), and Lucy (54). But until now, XM gear has been mostly limited to tuners for cars and portable tuners that can be used both in a car and at home. Enter Polk Audio's XRt12 component-styled, home XM tuner.
SETUP AND BASIC OPERATION As with any satellite-broadcast system, you'll need an antenna to receive XM. Fortunately, the squarish antenna is not only much smaller but also far less finicky than a satellite-TV dish, and there's a signal-strength meter on the tuner's front-panel display.
The XM satellites are in the southern sky, and in my case installation was as simple as setting the antenna on a windowsill. But if the supplied 20-foot cable isn't long enough, you can buy extensions at $39.95 for a 50-foot length from any retailer that sells XM systems or from Polk's Web site.
Connecting the XM tuner to my system was easy. Along with a set of analog stereo line-level outputs, Polk provided both optical and coaxial digital audio outputs plus a composite-video output so you can see channel information on your TV. There's an RS-232 port for connection to a whole-house controller and a trigger input to turn the tuner on and off automatically.
You can browse music in a variety of ways. Pressing the right or left arrows browses through categories like Decades, Country, Pop & Hits, and Rock. Pressing up or down scrolls through channels one at a time. When you find the channel you want, select it with the XM key. A cool feature is that you can see what's playing on each station without actually selecting it. You can also type in the channel number directly, or scroll through your preset stations.
PERFORMANCE Polk Audio, though primarily a speaker manufacturer, definitely put some thought into its first satellite radio tuner. To squeeze the best possible sound out of XM's digital signal, the company isolates the tuner's different functions on individual circuit boards in order to minimize interference and noise.
Fortunately, I had another XM tuner on hand, the Delphi MyFi (see page 72), so I was able to conduct informal comparisons to test Polk's claim to provide better sound quality than other XM tuners. The verdict? The XRt12 sounded better. Not throw-out-your-other-tuner better, but noticeably better. Bass was deeper and tighter, the midrange seemed fuller, with more presence, and the treble was more sparkling.
Being able to see XM channel and track information on my TV was a real bonus. Since the display window continually changes position onscreen, burn-in won't be a concern with tube or plasma TVs. Of course, you don't need an external monitor - the front panel's high-tech blue display was plenty big enough to read from across the room. And touchscreen-controlled whole-house systems that are connected via the RS-232 port can include artist and title information in their displays. Very cool.
On the down side, there are only 20 station presets arranged in two banks of 10. While that's about 18 more than I need for FM, given XM's 130-plus channels, 20 presets seems a little skimpy.
The remote control was also disappointing, being the same as other XM remotes except for the Polk logo. I would have appreciated backlighting and more dedicated keys, such as for the preset banks, channel up/down buttons, and power on and off instead of a toggle.
BOTTOM LINE XM satellite radio is a great alternative source for listening, providing music or talk for any taste or mood. The component size, cool styling, and abundant connectors of Polk Audio's tuner make it a welcome addition to any equipment stack. If you're looking to bring satellite radio home, be sure to put the XRt12 XM tuner on your short list.
LATEST VIDEO