Polk Audio LC265i-IP In-Wall Speaker At A Glance & Ratings
At A Glance: Polk Audio LC265i-IP In-Wall Speaker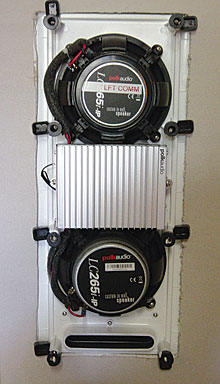 Speaker: LC265i-IP
Type: 2.5-way in-wall
Tweeter (size in inches, type): 1, ring radiator
Midwoofer (size in inches, type): 6.5, aerated polypropylene
Woofer (size in inches, type): 6.5, polypropylene
Included Amp Power (watts): 25 (tweeter); 75 (midwoofer); 100 (woofer)
Frequency Response: 20 Hz to 27 kHz
Available Finishes: White
Dimensions (H x W x D, inches): 20.875 x 8.5 x 2.75
Cutout Dimensions (H x W, inches): 19.25 x 7.25
Performance Enclosure Dimensions
(H x W x D, inches): 55.625 x 14 x 3.375
Mounting Depth (inches): 2.75
Weight (pounds): 8.8
Price: $1,450/each
These listings are based on the manufacturer's stated specs.
Ratings: Polk Audio LC265i-IP In-Wall speaker
Build Quality: 94
• Made with rust-resistant hardware and moisture-resistant materials, so you can use this speaker even in a humid environment such as a bathroom
Value: 91
• Uses same driver technology as Polk's high-end LSi Series loudspeakers
• Self-powered, so there's no need for a separate amplifier
Features: 96
• Tweeters swivel up to 15 degrees for high-frequency directional control
• Good imaging, even when sitting off axis
Performance: 93
• Power Port bass-venting system
• They're great-sounding speakers, even if you don't need the IP functionality
Ergonomics: 92
• Powder-coated aluminum grilles are paintable to blend into your room
• In-wall Performance Enclosures provide the perfect enclosure volume
Overall Rating: 93
IP control makes Polk Audio's LC265i-IP in-wall speakers way ahead of the game. The digital connections prevent the sound degradation that long analog connects can create. Plus, the speakers sound great on their own, even if you don't have a networked wholehouse audio distribution system.
General Information
LC265i-IP In-Wall Speaker, $1,450/each
Performance Enclosure, $250/each
SPS-1 Power Supply, $700
NetStreams SN1000 StreamNet IP Card, $400
Polk Audio
(800) 377-7655
www.polkaudio.com
Dealer Locator Code POL