Polk Audio I-Sonic Tabletop Audio System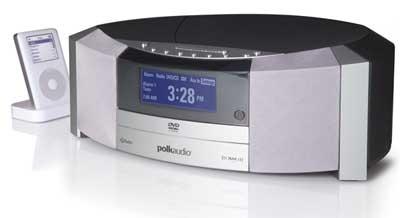 Does the world need the ultimate tabletop radio? Or, more specifically, does a nightstand, living-room end table, kitchen counter, or office shelf in your world need a radio that can play DVDs and CDs, tune in XM Satellite Radio as well as HD Radio and analog AM and FM - and still wake you up in the morning? With the introduction of the I-Sonic, Polk Audio is betting that the answer is yes. And now that more manufacturers are anteing up at the high-end clock-radio table, so to speak, the Polk Audio I-Sonic tabletop audio system raises the stakes - and the price - by offering more sources, more speakers, and more features.
With its stylish semicircular design and sleek silver-and-black cladding, the I-Sonic is like a supermodel, though at 9 pounds it isn't the most svelte of the bunch. Admittedly, the sparse controls on the top - on/off, volume up and down, a large snooze/mute bar, and a half-dozen multifunction buttons - are a minimalist's dream, though I found them a bit difficult to use at first, particularly the multifunction keys, which aren't terribly intuitive. On the other hand, the credit-card-size remote was mighty convenient, allowing me to easily change volume, radio stations, CD tracks, DVD functions, and more while relaxing comfortably on a couch some 30 feet away from the I-Sonic.
SETUP Getting started with the I-Sonic was simple. My test sample came with an XM Connect-and-Play antenna module (a $60 accessory available from Polk), but you'll need to subscribe to XM Radio ($12.95 a month) if you don't have an existing account. I had only to plug in the puck-like antenna and make sure it had southern exposure to get celestially connected. The first time you turn the I-Sonic on, you're asked to select a time zone, switch Daylight Savings Time on or off, and set the local time using the volume buttons. But with an XM antenna attached, the info is entered automatically. Sweet.
Along with the port for the XM antenna, the I-Sonic's back panel sports a coaxial connection for a supplied FM dipole antenna, as well as screw terminals for a supplied AM loop antenna. There's also a switch back there to select the internal or external AM antenna (switching to the external antenna connection for FM is done electronically via one of the multifunction keys). Also on tap are composite- and S-video outputs for connecting the DVD player to a display, as well as RCA stereo audio inputs and outputs. On the left side there's an auxiliary minijack input for an iPod or MP3 player and a headphone jack for private listening.
LATEST VIDEO