PMC OB1 Speaker System
Home theater audio with a pro-studio heritage.
When I received the call to review PMC's OB1, CB6, GB1, and TLE1 home theater loudspeaker system, I was excited. The British company enjoys a stellar reputation throughout the professional audio community, and prominent clients, including Dolby Labs, BBC Radio, Capital Records, and Village Recorders use their equipment. The opportunity to discover how PMC's consumer equipment performs was more than a bit intriguing.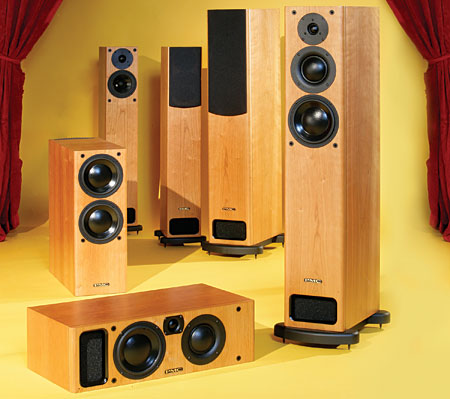 In professional recording studios, PMC (Professional Monitor Company) loudspeakers are frequently paired with Bryston power amplifiers—another prominent name in recording-studio circles. The two companies enjoy a cooperative arrangement in a number of areas, and this holds true in the consumer division. The TLE1 subwoofer, for example, uses Bryston electronics. So, here I was, about to spend hours listening to some of my favorite material on equipment derived from that used in top recording studios. Armed with high expectations, I was ready.
Setup
I configured my evaluation system in the following manner: Two OB1s served as front left and right speakers, while the CB6 was my center-channel speaker. I used two GB1s as left and right surrounds, and the TLE1 subwoofer filled out the low end.
As for first impressions, this system's finish and visual appeal are nothing short of world-class. My system was finished in a rich cherry veneer. Additional finishes include maple and oak, with other veneers available upon special order. Both the OB1 and GB1 include removable pedestals with adjustable spikes for optimizing the loudspeakers' positioning. Needless to say, when you're facing an MSRP of $13,446 for a speaker system, you want it to blend tastefully with your home's décor. Rest assured, this system speaks volumes about design aesthetics.
A Closer Look
A common design characteristic of every PMC loudspeaker is the company's proprietary Advanced Transmission Line (ATL). You can best visualize ATL as an intricately structured tunnel within the loudspeaker enclosure, segmented by multiple folds that span the length of the cabinet. This passageway starts at the low-frequency transducer and concludes its journey by venting through a front port—enabling placement close to walls. ATL's claimed benefits include improved driver control with lower distortion, more responsive bass, and lower bass extension. As an added benefit, this design also results in additional bracing to the enclosure, making it more rigid.
The OB1 tower is a three-way design with a 1-inch, Ferrofluid-cooled soft-dome tweeter, a 3-inch soft-dome midrange driver, and a 6.5-inch woofer constructed with a cast-alloy chassis. Input connectors include three sets of gold-plated binding posts that facilitate triamp operation. The CB6 center-channel loudspeaker is essentially a reconfigured OB1 that uses a square plate to mount the tweeter as opposed to the OB1's round plate. This design change enables the manufacturer to fit the tweeter in the optimum position for the cabinet's horizontal orientation.
The GB1 loudspeaker is a two-way design that incorporates a 1-inch, Ferrofluid-cooled soft-dome tweeter coupled with a 5.5-inch woofer that also employs a cast-alloy chassis. Input connectors include two sets of gold-plated binding posts that facilitate biamp operation.
The TLE1 subwoofer is an active design featuring Bryston power amplification and crossover electronics. Power is rated at 150 watts. The enclosure utilizes twin 6.5-inch woofers—each utilizes a cast-alloy chassis. In addition to balanced (XLR) and unbalanced (RCA) inputs, the TLE1 has provisions for level control, 360-degree phase adjustment, and selectable rolloff (40 hertz to 155 Hz at 12 decibels per octave). The unit is magnetically shielded.
While the CB6 and TLE1 are magnetically shielded, the OB1 and GB1 are not, although magnetic shielding is optionally available for the latter two.
Listening Impressions
For my evaluation, I ran both the OB1s and GB1s in passive mode—although, as I noted previously, necessary provisions exist for biamp or amp operation. For general stereo, I began with triHighlights from the Julian Bream Edition. The acoustic guitar's ability to spotlight overtones makes it one of my favorite choices for loudspeaker evaluations, and the OB1s did not disappoint. The re-creation of the hall was delightful, and the system's ability to reproduce Bream's subtle performance nuances was breathtaking. Harmonics were crystal clear and well balanced in respect to the fundamental tones being played. The OB1s delivered a smooth listening experience throughout the entire frequency range.
To check imaging and dynamic contrast, I listened to the first movement of Schubert's Symphony No. 8 in B Minor performed by the New York Philharmonic. The OB1s exhibited excellent stereo imaging with an evenly dispersed soundfield. Off-axis listening is surprisingly similar to on-axis sound. The system's ability to handle large changes in dynamics was equally inspiring. As the orchestra leaped from pianissimo to fortissimo and back, the OB1s took every change in stride.
For popular music, I listened to selections from Steely Dan's Everything Must Go and the debut recording from smooth-jazz artist Euge Groove. In all cases, the OB1s delivered clear and detailed reproductions that were impeccably well balanced throughout the frequency range. The tic of drummers' high-hat and other high-frequency content was clear and never harsh. The system reproduced vocals and other midrange material faithfully, with a warm character I found to be most appealing, if a bit euphonic.
Low-frequency reproduction was generally excellent. The OB1s produce clear, articulate bass lines that enabled me to hear notes as opposed to thumps. For classical music, the OB1s were terrific. For popular music, the bass was certainly there, but it seemed slightly clinical—until I added the TLE1.
As you would expect, the addition of the TLE1 subwoofer added a commanding presence to the system's low-frequency response, but it's really more than that. The TLE1 not only adds substance but brings out a depth of character that my ears were yearning for.
You're Surrounded!
As a 5.1 surround system for listening to DVD or SACD recordings, I can best sum up the inclusion of the CB6 center channel and the GB1 surrounds by the exclamation "right on!" Billy Idol's "Eyes Without a Face" and the Blue Man Group's "PVC IV" both yielded a thoroughly convincing surround experience. With guitar pickings and keyboard pads emanating from all corners of the room, Billy Idol's vocal delivery through the CB6 was well balanced and natural sounding, yet it cut like a knife through butter in relation to everything else. Likewise, the Blue Man Group's percussive cacophony was full sounding, vibrantly alive, and emanated from everywhere.
The theatrical presentation of the day was Arnold Schwarzenegger's Terminator 2: Judgment Day. Let's face it—if you're interested in a surround system, you want it to render battle scenes, explosions, and the like as though you were there. With the volume cranked up, this system's reproduction of the opening confrontation was nothing short of sensational. Explosions shook the room, clanking metallic sounds were everywhere, and laser blasts soared over my head. I experienced pure, unadulterated, sonic madness—and it was exhilarating.
In Conclusion
Every aspect of this system makes PMC's attention to detail evident. Overall sound quality is among the most pleasantly balanced, detailed, and lifelike I've encountered in a home system. With first-rate on- and off-axis sound and depth of character, it's hard to find fault with this system.
While low-frequency reproduction was, for the most part, excellent, the system cries out for the inclusion of the TLE1 subwoofer when playing popular music. Without the sub, the reproduction of bass lines and kick drums just isn't as convincing as I had hoped for. And, while I encountered no image skewing on my video display, I can't help but feel that, for the system's price, magnetic shielding should be standard on all enclosures.
All things considered, PMC's home theater loudspeaker system will reward its owners with sonic performance that will have them grinning from ear to ear.
Highlights
• Natural, detailed sound with superb imaging
• Enclosures exhibit excellent fit and finish