Plasma Partners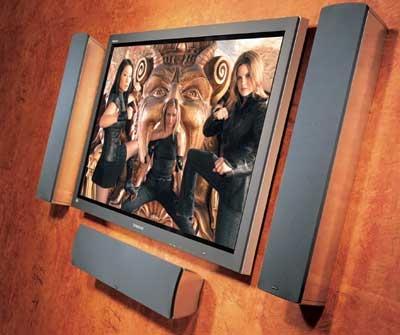 Photo by Tony Cordoza In the future, people won't have to worry about speakers for their TVs. At least that's the message from most Hollywood filmmakers, who invariably depict future TVs as super-sharp wall-size screens with audio that comes out of thin air. In last year's Minority Report, the TVs can even aim sound at specific people, as if everyone had an in-ear speaker implanted at birth that any TV could easily tap into. Cool - yet kind of frightening, right? The future usually is. Definitive Technology Mythos Two (sides) and Three (below TV)
They got the TVs right anyway. Plasma and LCD technologies make it possible to turn walls into televisions - provided you have the cash, of course. With a tip of the hat to Spielberg et al., TVs have evolved to become the windows to the future we were promised in the movies.
But we don't live in a movie. Back in present-day reality, we still need speakers to produce sound. And there's the rub: when you've just bought a sleek, ultra-thin plasma TV to hang on a wall, probably the last thing you want is unwieldy box speakers in the middle of your room. No surprise, then, that unconventional speaker designs are steadily becoming more popular.
In-wall and in-ceiling models can make your speakers disappear, but installing them involves carving holes in your walls and running cable, and at the end of the ordeal you have speakers that are immobile. What's left for folks who don't want to - or simply can't - go custom?
Until recently, not much. Nature abhors a vacuum, though, and various plasma-friendly speaker species have finally evolved to fill the niche. The concept of on-wall speakers isn't new, but the concept of speakers that are as sleek and sexy as the flat-panel plasma or LCD TV they're meant to complement is. One of the first speaker systems designed for use with thin TVs was Acoustic Research's Phantom, reviewed in the April 2000 issue of Sound & Vision. That model is no longer available, but since then the category has experienced a growth spurt. Several notable brands (click to see table) have introduced slim, plasma-friendly models, producing a proverbial hanging garden of on-wall speakers, and different manufacturers take their own approaches to playing plasma matchmaker.
Hang OnTo be plasma-friendly, a speaker should be 1) slim and 2) wall-mountable. Once bracketed to the wall, a typical flat-screen TV juts out about 4 to 6 inches, and a partnered speaker should try to match that as closely as possible. Fortunately, that's enough depth for conventional designs, and brands like B&W, NHT, Infinity, and Paradigm all have on-wall speakers that use slimmed-down versions of normal cone and dome drivers. (Click here to see photos of the many speaker models mentioned in this article.)
Putting a speaker on a wall poses its own acoustic challenges, however, as its upper-bass and lower-midrange output can be exaggerated. To compensate, some on-wall speakers, like MartinLogan's Fresco, have switchable equalization to reduce the wall's bass-reinforcement effect. Also, since true full-range speakers are out of the question for such a shallow, narrow cabinet, pairing slim on-walls with a freestanding subwoofer (usually tucked away in a corner) is the norm.
But obviously, these speakers are made to sound good and look good. And you won't find any cherrywood finishes or bizarre shapes - almost every model is made with the metallic hues and simple lines of a plasma or LCD TV in mind. Some, like Definitive Technology's Mythos and Vienna Acoustics' Webern, even come close to matching the TV's height (a typical 42-inch plasma is set roughly 24 inches high). And a few, notably Infinity's Modulus, have the option of mounting directly to the TV.
Most models hang on the wall, though, and some kind of wall-mounting bracket is usually supplied with the speaker. B&W's VM1 Leisure Monitor comes with mounting gear plus a small stand for shelf placement, and the bracket for the NHT L5 lets the speaker swivel up to 180° so you can aim the sound for best results.
Taking a novel approach, Artcoustic's speakers also double as picture frames. In lieu of a grille, each speaker flaunts artwork on a textile print. The speakers use conventional drivers, but the paintings can be as unconventional as the tastes of the owner. Buyers can browse hundreds of original designs at www.artcousticusa.com or provide their own, as long as it's in a digital format.
The Flattest of Them All Slim speakers are a natural for manufacturers like Magnepan, which specializes in planar-magnetic speaker designs that are typically only about an inch thick. The company's MGMC1 home theater speakers (a Sound & Vision 2002 Reviewer's Choice Award winner) come with mounting gear so they can easily be attached to a wall or the sides of a TV. However, the speakers' planar-magnetic transducers make them natural dipoles - that is, they radiate sound equally from the front and back of the speaker, but out of phase. Mounting them flat against a wall is therefore out of the question, so the mounting frame of each speaker is hinged, allowing it to be positioned at an angle - even perpendicular - to the wall
MartinLogan, well known for its large, thin electrostatic speakers, also turned to planar-magnetic technology - which it calls advanced thin film, or ATF - for the new Fresco. An ATF transducer suspends an ultra-thin diaphragm between two magnets that push and pull on it to produce sound. In the hybrid Fresco, the ATF transducers are housed in an unusual curved enclosure along with a pair of cone drivers to fill in the bass. The speaker can be used in the front left/center/ right and surround positions.
Solving the Center Problem What about the center speaker? Although most of the speakers presented here can be used in the center as well as the front left and right positions in a home theater, systems from Definitive Technology, Infinity, Magnepan, and Paradigm have dedicated center models. For example, since Magnepan's tall and flat MGMC1 isn't suited for center-channel duties, the company offers the elegantly curved and horizontally oriented MGCC2.
If you don't like the idea of having a center speaker above or below your sleek, wall-hanging TV, a new speaker company called Artison offers the Portrait speaker system, which eliminates the center speaker altogether. Don't worry - the center channel's not gone. It's just built into the L/R front speakers, which attach to your TV. In the upper portion of both Portrait LCR speakers, drivers are angled inward to create a phantom center channel.
Artison also makes grilles to go with specific plasma TVs so the speakers match the height and color. The company says it has about a dozen different grille kits made to match plasma sets from five major TV manufacturers, with more on the way.
Finally, D+S Sound Labs, a custom company based in Fort Lauderdale, Florida, simplifies setup of the entire front trio of speakers by integrating them all into one reasonably slim (6 inches thick) rectangular box called the Plasmaudio Module. The plasma TV actually mounts in the module, which has left, center, and right speaker drivers built in. In addition to offering modules for standard-size plasma sets, the company will also build to spec.
It's a Flat World After All The whole thing was inevitable, really. When we saw the likes of Arnold Schwarzenegger and Tom Cruise turn on their future TVs in the movies, we didn't just crave their cool screens. We craved their freedom, too - the freedom to not worry about speakers. Or at the very least, not trip over them.
So if you've been thinking about buying one of those sexy flat-panel TVs, but are worried about the prospect of finding speakers to match, you can relax. Any of the models mentioned here will keep your set looking good, if not better than before. For more possibilities, check out the table above. The present has finally caught up with the future, and it's not as scary as we thought.
LATEST VIDEO