Pirates of the Caribbean: On Stranger Tides 3D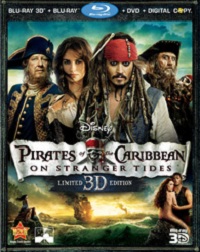 Captain Jack Sparrow is back with a new adventure on the high seas as he's on the hunt for the Fountain of Youth. After a daring escape from the King of England, Jack becomes enslaved on Blackbeard's ship and learns that a woman from his past has some hidden daddy issues that could cost him dearly. In pursuit are Sparrow's nemesis Barbossa and a separate Spanish armada, who have their own nefarious plans for Ponce De Leon's legendary spring.
3D conversions are all the rage in Hollywood, but thankfully this isn't one of them and it shows from the outset while Jack is loose on the streets of London. Detail is excellent in both foregrounds and backgrounds and separation between objects adds a lot of depth to the image. But as good as the 3D is, it's the DTS-HD MA 7.1 soundtrack that's the star of the show. It features plenty of discrete effects, strong bass response, and virtually unlimited dynamic range.
Royal Visit

Chapter 3, 0:09:09
3D depth, detail, color saturation
As Jack is being escorted into the royal chambers, check out the detail in the intricate painting on the ceiling, the brilliant red in the soldiers clothing, and the virtually endless depth of the hallway.
There be mermaids in these waters

Chapter 14, 01:03:40
Discrete effects, dynamic range
There's a saying that all is calm before the storm and that's certainly the case here. As the conscripted men sit in the rowboats, listen to the eerie soundtrack as the mermaids come to the surface. Once they pick their man, get ready for some serious action.
Through the jungle

Chapter 16, 01:12:14
3D depth, detail, color saturation, surround envelopment
When Jack leads the ship's crew through the jungle, gaze upon the amazing depth and detail in the image and how it looks as if you can walk right into the screen. Also, listen to the chirps of the insects as they engulf the room.
Release Date: October 18, 2011
Studio: Disney
Movie: 6/10
Picture: 9/10
3D Effect: 9/10
Sound: 10/10

LATEST VIDEO