Pioneer Unveils 2013 Receiver Lineup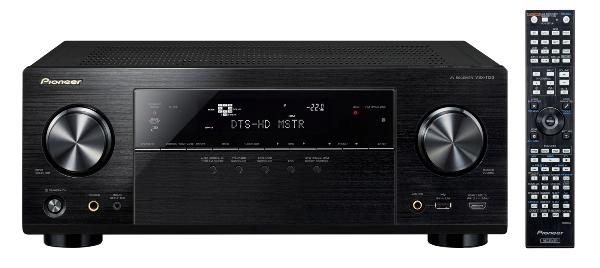 As a service to our readers, HomeTheater.com publishes selected manufacturer-supplied announcements and press releases for products that we think might interest you. Content is posted here exactly as issued by the manufacturer and does not imply endorsement of any kind by Home Theater or any hands-on experience by its reviewers or editors. Visit our Reviews area to browse test reports for products that have been formally evaluated by our expert staff.
Pioneer Home Audio Video Receivers Ready for Smartphone Integration and Expanded Entertainment
Four New Models Offer Smartphone Connectivity for Increased Access and Simplified Control of Entertainment Content
LONG BEACH, Calif. (March 5, 2013) – As today's advanced smartphones continue to become essential components of the home entertainment experience, Pioneer Electronics (USA) Inc. is making integration of these devices easy and convenient. Pioneer's latest 2013 audio video receiver lineup, the VSX-523 and VSX-823 5.1-channel, VSX-1023 7.1-channel, and VSX-1123 7.2-channel receivers, are designed to support today's connected lifestyle, compatible with the two most popular smartphone OS platforms for expanded access to music streaming options and improved control of features and functionality. The new models also enhance traditional home theater features including expanded high resolution audio file playback, multiple HDMI connections including a dedicated second zone HDMI output, 4K Ultra HD compatibility, Pioneer's proprietary ControlApp and iControlAV2013 App, and more.
"The smartphone is not only a powerful device while on the go, but it's also widely used as a source for entertainment in the home, which is why Pioneer is so committed to providing products with the broadest smartphone connectivity," said Chris Walker, director of AV product planning and marketing for the Home Electronics Division of Pioneer Electronics (USA) Inc. "Whether it's the newest iPhone or the next generation of Android smartphone, our new receivers are ready to connect to those devices."
Smartphone Connectivity

Expanded iPhone, iPad and iPod Support – All of the new Pioneer receivers enable iPhone, iPad and iPod users to enjoy audio playback stored on their devices as well as display album art and metadata when connected to a television or monitor. The top three models allow playback and charging of all versions of iPad. The receivers will also charge connected iPhone, iPad and iPod devices via corresponding cables, including the new Lightning or 30-pin cable.

The flagship VSX-1123 also features Pioneer's AVNavigator (now available for the Mac), an interactive owner's manual that provides a linked two-way interactive manual, giving users a quick way to learn about all of the new features of the AV receiver (i.e. that a push of the ALC button on the front of the receiver will take the user directly to the portion of the manual that explains the Automatic Level Control feature).

Pioneer Control Apps – The latest versions of Pioneer's ControlApp and iControlAV2013 apps, available for download from the App Store (www.AppStore.com) or Google® Play (www.GooglePlay.com), expand control over the receivers and their home theater settings from the convenience of a smart device. Ideal for music lovers, both apps offer a new feature that enables users to access the music libraries stored on their devices and create playlists that can be streamed wirelessly to the receiver, all from within the app. ControlApp, available for use with the VSX-823 and VSX-1023, offers features available in the previous version of the app, including management of inputs, audio adjustments and modes, and streaming content, as well as a dedicated "ECO Manager" page for energy efficient settings. The new iControlAV2013 App, for use with the VSX-1123, has been completely redesigned to feature a completely new user interface and "finger flick" touch action for faster access to features.

MHL 2.0 Input – A feature first introduced in the flagship Elite SC models is now available on VSX-823 and above models, offering users the same Mobile High Definition Link (MHL) connectivity built in on the front of each receiver for integrating smartphones as additional sources of high quality audio and video. HDTV owners can play HD video content with multi-channel sound (up to 7.1-channels) through the receivers while simultaneously charging their Android™ devices. The new MHL 2.0 adds support for 3D content, 1080p 60Hz, and faster smartphone charging.

HTC Connect – With HTC Connect™, owners of compatible HTC® smartphones (including the new HTC One Phone) can conveniently stream music content directly to the Pioneer networked-enabled receivers via a wireless connection. HTC Connect enables music playback and control of the receiver's volume on from the smartphone with the ability to use the device simultaneously for other functions, from making and receiving calls and taking pictures to downloading the latest apps and surfing the Web. Pioneer is the first consumer electronics manufacturer to receive HTC Connect certification and provide a unified connectivity solution for Android smartphone users via HTC Connect technology incorporated into its receivers (and wireless speakers).
Expanded Audio and Video Playback

Apple's AirPlay – AirPlay is built into the top three models, allowing users to stream their iTunes music whether from Mac or PC, as well as music stored on their iPhone, iPad, or iPod touch.

High Resolution Music Playback – To meet the growing popularity of high resolution music, Pioneer has expanded the number of high resolution audio file formats playable on the VSX-823, VSX-1023 and VSX-1123. The new receivers enable playback of high-resolution WAV, MP3, WMA, AAC and FLAC Files via a USB or networked computer. Formerly only available as a firmware update on Elite® SC receivers, the top three Pioneer models now have built-in Apple Lossless and AIFF playback. In addition, the new receivers include Gapless playback for AIFF, Apple Lossless, WAV and FLAC files offering improved listening experience by providing uninterrupted playback of consecutive audio tracks. Gapless playback is especially enjoyable on music tracks meant for continuous playback such as classical music, progressive rock, concept albums or live recordings with audience sounds between tracks. The VSX-1123 also offers playback of SACD audio files stored in the Direct Streaming Digital (DSD) format through its front USB connection.

Endless Music – Providing access to a variety of music content, models VSX-823 and above feature today's most popular Internet radio music services including PANDORA® and vTuner®. Each network enabled receiver is also DLNA® 1.5 Certified to allow music content playback from a networked DLNA server or DLNA application running on a Windows PC, Mac, or smartphone connected on a home network, either through an Ethernet connection or optional wireless Wi-Fi® adapter (available on VSX-1123).

4K Ultra HD Pass Through – As content and display resolution quality continue to improve, Pioneer is ready for the next generation 4K Ultra HD resolution standard, which has four times the resolution of the current HD 1080p standard. The new lineup of Pioneer receivers can pass through 4K video signals to compatible displays, offering the highest quality video image available. Additionally, the VSX-1123 can upscale analog and HDMI video signals for 4K Ultra HD resolution when used with latest 4K displays.

Zone 2 HDMI Out – Pioneer continues to expand connectivity options on its receivers, offering eight HDMI inputs on the VSX-1123. For an expanded high-definition entertainment experience throughout the home, the VSX-1123 also offers HDZone, a Zone 2 HDMI out for routing either the same signal as the main zone or a separate source to a second zone via HDMI. A third audio only zone can also be powered by the receiver and controlled through Pioneer's iControlAV2013 App.

ECO Mode – Pioneer designed the new 2013 models with the added benefit of reducing power consumption in both on and stand-by mode. With the new ECO Mode users can, in real time, analyze and control peak volume corresponding to the content being played to reduce power consumption while still maintaining content audio quality (ECO Working); reduce power consumption when the receiver is in stand-by (ECO Stand-by); and easily set the "Ecology function ON/OFF" feature in three different ways – from the remote control, ECO Manager on the iControlAV2013 App, or the front panel of the receiver (ECO Access).

The new Pioneer receivers will be available at authorized Pioneer retailers in March with suggested retail prices of $279 (VSX-523), $429 (VSX-823), $529 (VSX-1023) and $629 (VSX-1123).