Pioneer Elite Reference loudspeaker system
When Pioneer commissioned Allen Boothroyd, a British industrial designer best known for his work with Meridian Audio, to come up with a unique appearance for its new surround-sound speaker system, they apparently knew what they
didn't
want: another boring set of square boxes. Nor did they want a speaker system that would blend into Ethan Allen surroundings.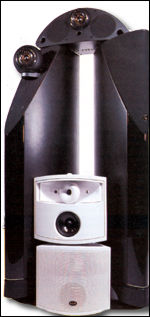 The Pioneer Elite Reference speaker system is definitely not traditional-looking. The main left and right speakers would be right at home on a Star Trek set, with their sculpted appearance topped off by the oddest-looking mid-tweeter array you're ever likely to see. The on-its-side, quarter-moon-shaped center channel is reminiscent of the Martian camera from War of the Worlds (without the three colored lenses). The surrounds are more conventional, but they have some unique design twists of their own.
However, the appearance of the Pioneer Elite speakers is not the most interesting part of this story. More important is the system's acoustic design, the clever way in which the acoustic pieces are engineered into those stylish cabinets—and, of course, the sound.
Design
These designs embody enough innovation for three sets of more conventional speakers. With its sculpted grille in place, the TZ-F700 L/R speaker is a narrow black tower with gently rounded side panels. You'd never guess it contains a sophisticated, four-way system with a built-in powered subwoofer.
How did Pioneer shoehorn a 12" sub into this elegant cabinet? The flared base might look like nothing but a styling feature, but it actually covers the back of a 12", downward-firing subwoofer, which is loaded by a port that exits at the rear of the enclosure. The 300W subwoofer amplifier is a linear, bridged-mode design with a switching power supply, a configuration Pioneer has dubbed PSBASH.
Unlike many similar systems with self-contained powered subwoofers, there is no option to drive this section with a line-level signal from the subwoofer output of a receiver or surround processor. This sub is driven by a speaker-level signal derived from the main speaker input. The level control for the subwoofer is readily accessible at the lower front of the cabinet, with the level settings illuminated for easy reference. The lighted indicator does not distract in a darkened room.
The TZ-F700's most obvious feature is the eyeball-shaped enclosure at the top of the cabinet. Prominently visible at the front of this double-walled sphere is a coaxially configured midrange-tweeter. Pioneer calls this unit the IRIS (Iso Radiant Imaging System). A central dome tweeter handles the response above 2kHz. Surrounding the tweeter is a midrange driver with a thin (100 micron) surroundless diaphragm.