Pina 3D Dazzles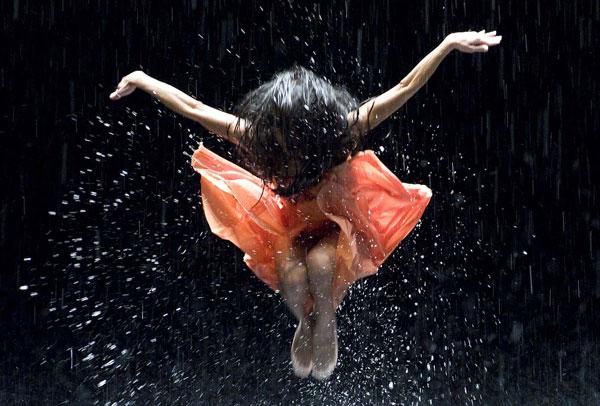 As a musician, I've played for a number of modern-dance performances and classes, including classes taught by members of the renowned Bella Lewitzky Dance Company. So when I learned that Wim Wenders, director of
Buena Vista Social Club
, made a 3D movie about the late modern-dance choreographer Pina Bausch and her Tanztheater Wuppertal troupe, I had to check it out—especially since
Pina
has been nominated for an Academy Award as the best documentary feature of 2011.
The movie consists mainly of excerpts from several of Bausch's dance pieces interspersed with a few comments from some of the troupe members. Interestingly, the commenters are shown on the screen looking into the camera or off in another direction, but they are heard in voiceover—they do not speak on camera, contributing to the surrealistic flavor of the movie.
Some of the performances are on a more or less traditional stage, while others are in nature settings, public spaces, or industrial and urban environments in and around the troupe's home town of Wuppertal, Germany. Among the pieces represented are Bausch's setting of Stravinsky's Le Sacre du Printemps (The Rite of Spring) on a dirt-covered stage; Café Müller, in which some of the dancers move around a room full of chairs and tables with their eyes closed while another dancer frantically moves those chairs and tables out of their way; and Vollmond (Full Moon), in which water plays a central role.
Wenders was inspired to document Bausch's work when he first saw Café Müller in 1985. But he couldn't find a way to capture its essence until he saw the rock band U2's 3D concert film. As he puts it, "With 3D, our project would be possible! Only in this way, by incorporating the dimension of space, I could dare (and not just presumingly [sic]) to bring Pina's Tanztheater in an adequate form to the screen."
Working with stereographer Alain Derobe and 3D supervisor François Garnier, Wenders placed special 3D camera rigs within the performance space. "Normally, with a dance film, we would erect cameras in front of the stage, far away from the action on stage," Derobe explains. "For Pina, we positioned the cameras between the dancers. The camera literally dances with them. Therefore, each crew member had to deal with the choreography. Everyone had to know exactly where the dancers would move so the camera could follow them and not be in their way."
The result is phenomenal. There is a real sense of continuous depth as the dancers move throughout the space of each piece. For example, during Le Sacre du Printemps, groups of men and women form tight clusters in different locations on the stage, and the dimensionality between them is palpable. At one point, several women emerge from a tightly packed cluster, one at a time, to offer a bright red cloth to a man standing apart from his group, and some shots show the man's perspective with the women offering the cloth to the camera. This is one of the most effective renderings of an object in front of the screen plane I've ever seen.
More of my favorite moments are on the Wuppertal Suspension Line, a suspended trolley whose track and supports recede seamlessly into the background. A similar effect is seen in some of the large industrial settings, such as factories and warehouses. In Vollmond, dancers splash buckets of water on a huge boulder on the stage, and the water flies in all directions, creating the effect of a raging sea.
Unfortunately, the only place Pina was playing near me was an ArcLight theater, which uses Xpand active-shutter glasses for 3D. As a result, the image was quite dim and didn't coalesce as well as RealD or Imax presentations with passive glasses.
But despite these shortcomings, it was clear to me that Pina offers some of the most effective, compelling 3D I've ever seen, placing the viewer in the midst of the performance. I realize that modern dance isn't everyone's cup of tea—in fact, it can sometimes be disturbing as well as uplifting, and many just find it weird. But if you can get past any resistance you might feel toward the art form itself, this movie is a wonderful example of the best that 3D can be. And if you do enjoy good modern dance, you're in for a real treat!