Picture Perfect: TV Calibration Demystified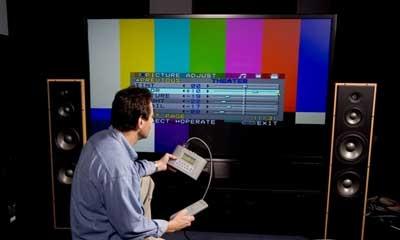 Executive Editor Rob Sabin prepares to adjust the color while performing basic calibration on a 70-inch JVC rear-projection HDTV.
You've probably noticed the Test Bench box in S&V's HDTV reviews, which has a chart with before-and-after-calibration readings of the set's grayscale, measured from 30 to 90 IRE. Have you ever wondered what those readings mean or who performs this calibration? Or why 6,500 kelvin is so important? Sit back while I demystify the calibration process for you. I'll also tell you who can calibrate your TV and what you can expect them to do. (For more on why you should calibrate your set, see The Custom Installer: Your New TV Isn't Perfect.)
Setting the Standard The Imaging Science Foundation (ISF) has done more than any other organization to raise public awareness of picture quality. It's even changed how some manufacturers calibrate TVs before they leave the factory and helped come up with the Certified Calibration Controls (CCC) program to make adjustment easier. But the ISF is best known for the more than 3,800 calibrators it's certified to adjust your TV for optimum performance. (To locate a certified technician, go to the ISF Web site at imagingscience.com/isf-trained.cfm or call 561-997-9073.) Having an ISF calibrator bring your set as close as possible to the analog (NTSC) and digital (ATSC) TV standards is the only way to be sure you're seeing DVDs and TV shows as they were meant to be seen.
First Things First
When you contact a calibrator, ask him what's included in his services and what he charges. Although the ISF suggests a fee of $250 to $325 for a single calibration, actual prices can vary. (A basic tune-up includes adjustment of the front panel, or user menu, controls and grayscale calibration.) Some calibrators also charge for travel if they have to go a long distance to get to your house.
As with any service that requires training, not all calibrators are equally knowledgeable, so ask the calibrator if he's worked on your particular TV brand and model before. The ideal arrangement is when the dealer who sold you the set has a calibrator on staff, since he would be most familiar with that store's products.
If your set is brand-new, break it in before bringing in a calibrator. The ISF recommends roughly 200 hours of burn-in time for flat-panel TVs and around 100 hours for lamp-based front- or rear-projection displays. Have your TV on for at least 30 minutes before the calibrator arrives, since the black level and the grayscale on most sets will drift during warm-up.