Philips Pronto TSU9600 Touchscreen Control Panel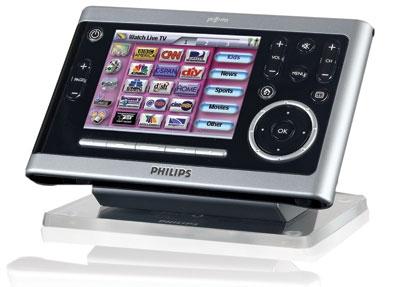 The original Philips Pronto universal remote, introduced way back in 1998, offered a level of programmability and customization totally unheard of at its $399 price, and it instantly became a smash with installers and do-it-yourselfers alike. But over the years, love for the Pronto has waned as other companies created smartly designed models of their own.
But enough is enough: The European giant recently threw down the gauntlet by launching the Philips Pronto TSU9600 touchscreen control panel. Is it enough for Pronto to reclaim its crown as king of remotes? Read on and find out.
SETUP Out of the box, the TSU9600 is kind of like Paris Hilton: an empty shell, beautiful to look at but unable to do anything. It's intended for professional installation, though if you're up for tackling it yourself, ProntoEdit Professional software comes with the remote. The software includes two templates to start you off, and they're crafted so that programming can be accomplished in six basic steps. Philips claims 30-minute programming times, and while that seems optimistic, it's a far cry from the hours required for other remotes. Of course, since the TSU9600 allows total customization, crafting an interface from the ground up would take far longer.
Infrared control is so last year. To stay on the cutting edge, the new Pronto features Wi-Fi. Additionally, Philips offers two extenders that stretch Pronto's reach beyond line-of-sight infrared control. The first is the RFX9400 Wireless Extender ($299), which has four IR outputs for controlling your system via Wi-Fi - perfect for gear hidden inside closed cabinetry or located in another room. The RFX9400 can be hard-wired to a router or piggybacked onto an existing Wi-Fi network in the home. Even more impressive is the step-up RFX9600 Pronto Serial Extender ($599), which I tested. This adds four RS-232 serial ports, along with power-sense inputs for smart power management and relay outputs to trigger things like curtains, projection screens, and other devices. The RFX9600 requires a hard-wired connection to your network. As many as 16 extenders can be added in any combination.
LATEST VIDEO