A Do-It-All Processor, At a Price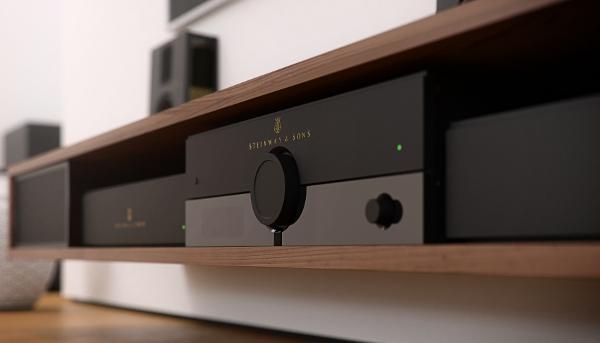 Steinway Lyngdorf P200 Surround Processor
At last September's CEDIA Expo, Steinway Lyngdorf offered a sneak peek of the P200 surround processor it plans to start selling in early 2015 for $18,000. (No, that's not a typo.) The P200 distinguished itself as the first processor to support both Dolby Atmos and Auro-3D. Equipped to handle multiple speaker setups, it's designed to switch between speakers positioned for either format at the touch of a button. To get the story behind this one-of-a-kind product, we spoke with CEO/CTO Thomas Birkelund.
S&V: What led to the decision to incorporate Dolby Atmos and Auro-3D?
Thomas Birkelund: Early on in the design process of the Model P200, we saw that a defining market trend in coming years would be immersive surround-sound installations. With this is mind, we built the Model P200 to be as flexible as possible, and we are therefore able to offer support of Dolby Atmos, Auro-3D, and the newly announced DTS:X.
S&V: Atmos has momentum in the U.S. whereas Auro-3D seems to have a stronger foothold in other parts of the world. How much of a factor do you think Auro will be in the U.S?
TB: That is hard to say. The U.S. market will be very hard to enter for an outsider, and none of the established companies will give up market share without a fight.
S&V: What key audio and video technologies differentiate the P200 from other processors?
TB: In addition to offering full support of immersive surround sound formats, the Model P200 also handles 4K and 3D video, HDCP 2.2, and highly advanced HDMI switching.
S&V: What version of HDMI is used?
TB: We use features from the newest HDMI 2.0 specification. We also support HDCP 2.2.
S&V: What technology is used for video upscaling?
TB: The P200 uses 4K Ultra HD video processors from Silicon Image that feature VRS ClearView technologies (supported individually on each P200 output: 4 x HDMI, 1 x HDBaseT). This technology is used by world leading brands in Blu-ray players/recorders, audio/video receivers, and other video processors. It implements a 4K adaptive scaler (full 10-bit). Adaptive scaling delivers automatically optimized performance for all sources, including standard definition video and high-definition video.
S&V: What key user features/controls differentiate the P200 from other processors?
TB: The main differentiator is that all our systems are completely genuine, never adulterated with sound processors, amplifiers, or speakers from other manufacturers. We maintain a closed system so that we can promise perfection every time. A feature that comes from this is that all Steinway Lyngdorf systems are 100 percent digital without sound-deteriorating digital-to-analog conversions. This unique and technically demanding solution offers clear replay at all sound levels, unsurpassed dynamic range, and the purest sound possible.
S&V: Please explain how RoomPerfect room correction works and how it differs from other correction schemes.
TB: RoomPerfect is designed to adapt the sound to the room, and it holds one of the largest patents in audio history. Through a series of measurements throughout the room, the system analyzes the room's acoustical properties and determines the influence this has on the speakers. Following that, it creates filters for each speaker to compensate for the room influence.
We believe that you purchased your speakers because you like the sound of them. Therefore, the purpose is not to make all speakers sound the same. It is a room-correction system, not a speaker-correction system. Whether your room was purposely designed for sound reproduction or not, RoomPerfect guarantees optimum performance. Also, with immersive sound systems, more speakers equal more problems. Seamless time alignment and accurate frequency response become even more important, and exponentially more difficult. This is a problem we are experts at solving.
S&V: The preliminary literature says the P200 is "capable of handling up to 16 native channels and up to 256 output channels." Can you explain?
TB: We can input up to 16 channels to the processor. These can be 16 discrete channels or 16 decoded channels from a Blu-ray with Dolby Atmos or Auro-3D. On these 16 channels, we can add digital signal processing, like RoomPerfect. In addition to the eight Analog Device SHARC DSPs in the P200, we also have DSP capability in our amplifiers. That means the bigger the system, the more DSP capability you will have. It also means that from these 16 channels we can make up to 256 amplified channels using our four-channel Model A2 amplifier.
S&V: Atmos and Auro-3D are different in how they implement height channels. In your opinion, which creates a more convincing listening experience?
TB: They are different from each other, but the recommended speaker placements also overlap in a lot of ways, so the difference isn't black and white. We don't feel that one is more convincing and do not recommend one over the other. Until we see more available material, it is way too hard to tell which one will be the recognized market leader.
S&V: How many dealers do you currently have in the U.S.? Are they required to have the ability to demonstrate Atmos and Auro-3D?
TB: We have about 100 dealers in the U.S. Even though we encourage them to have demo systems, because a demo is worth a thousand words, not everyone has the facilities to install systems.
Steinway Lyngdorf
steinwaylyngdorf.com