Paradigm Monitor Series v.5 Speaker System
Are you experienced?
At its best, home theater is all about making movies feel so real you'd swear you're there. And not just the wham-bam flicks; some of my best experiences have come from straight-ahead dramas. That was absolutely the case with Breach, a chilling portrait of FBI agent Robert Hanssen, the man who sold countless security secrets to the Soviet Union for over 20 years. Actor Chris Cooper's portrayal of the psychopathic traitor totally mesmerized me, but I also credit Paradigm's fifth revision of their Monitor Series speakers for keeping my attention glued to the screen. Every detail of the sound—from the claustrophobic acoustics of Hanssen's office and the whirring noise of his computers' cooling fans, to the dense traffic snarl of Washington, D.C. streets—were all so effortlessly presented that I never thought about the speakers. That's the Zen of it all. When everything's just right, you don't realize the speakers are there.
So, I was a little surprised when I learned that Paradigm revised their goals for their fifth-generation Monitor Series. When the engineers developed the all-new drivers to handle more power and deliver superior dynamics, they traded off a small amount of deep bass to significantly improve the new speakers' efficiency. (They wanted the v.5 models to play a good deal louder with lower distortion than previous Monitors.) That's a smart move, because it ensures that—even when you mate the new Monitors with even the most moderately priced A/V receiver—they'll still rock your listening room. Of course, the engineers knew that a subwoofer would supply the v.5's "missing" low bass. Thus, the efficiency-oriented strategy makes a lot of sense.
Center Centric
Some of you might notice that the CC-390 center speaker appears rather enormous. The beast measures 39 inches wide—almost as big as the Monitor 11 towers. If your space is tight, you can place your TV directly on top of this center speaker. The CC-390 is definitely strong enough to support the weight of a large, flat-screen display. Pull the speaker's grille off, and you'll know that something out of the ordinary is going on here. The CC-390 is a three-way design, so I checked the price again, and it is, in fact, $599. (I pegged it closer to $1,000.) The CC-390's twin 4.5-inch midrange drivers are nestled under a 1-inch tweeter flanked on both sides by a pair of 6.5-inch woofers. Remember, too, that three-way center speakers deliver improved off-axis performance and extended dynamic range compared with the more typical two-way designs found in the CC-390's price class. If the CC-390 is too large, the CC-290 ($399) or CC-190 ($249) might fit better. And, because Paradigm really believes in the superiority of three-way centers, even the smaller Monitor center speakers are three-way designs.
You'd never guess with its grille in place, but the compact ADP-390 surround speaker ($349 each) is, hot damn, a three-way. Its side-mounted, 1-inch tweeters and 4.5-inch midrange drivers are configured to work in an "adapted" dipole mode to maximize the speaker's room-filling dispersion. But, thanks to the front-mounted 7.5-inch woofer, its bass reaches deeper than any dipole surround I've ever heard. It's available in a black or white finish.
The Monitor 11 ($1,199/pair) is the top-of-the-line tower model and uses the same tweeter as the center and surround speakers, a 1-inch titanium dome. However, it features a larger 7.5-inch midrange driver, along with a pair of 7.5-inch woofers. The speakers' internal crossovers incorporate expensive parts, like the film capacitors that the engineers originally specified for the top-of-the-line Reference speakers, along with high-power ceramic resistors and air/steel-core inductors. If it all sounds very audiophile, that's because it is.
My Monitors were finished in a lovely cherry vinyl that looked so real, I had to check with the manufacturer to make sure it wasn't genuine veneer. (Black ash and rosenut finishes are also available.) The black, cloth-covered and perforated metal grilles look nice, and their subtle curves soften the Monitors' boxy style.
Considering these speakers' affordable pricing, I'm happy to note that Paradigm continues to design and manufacture almost everything, including the drivers, in Canada. They feel that keeping production in house ensures more consistent quality control. Paradigm even designs and builds all of their subwoofers' electronics in house, so they can produce the best possible match-up between the sub's amp and woofer. (Most competitors rely on off-the-shelf electronics to power their subs.) The UltraCube 12 sub ($999) has a 650-watt RMS (1,500-watt peak) Super Class D digital amplifier; it makes a big noise with its downward-firing, 12-inch woofer, bolstered by side-mounted 10-inch passive radiators.
Loud and Clear
As I mentioned a while back, Paradigm designed the Monitor 11 and CC-390 with the goals of greater efficiency and lower distortion in mind. Of course, those improvements only become evident when you're really nailing the volume, so I popped on the White Stripes' Icky Thump CD to test the theory. The duo's guitar and drum workouts beg to be listened to fully pumped, and the Monitor 11s obliged. Especially when my wife was out of the house, the Stripes' grimy racket totally satisfied. So, if you hunger for a sound that makes you feel closer to the live experience, the big Paradigms won't hold anything back.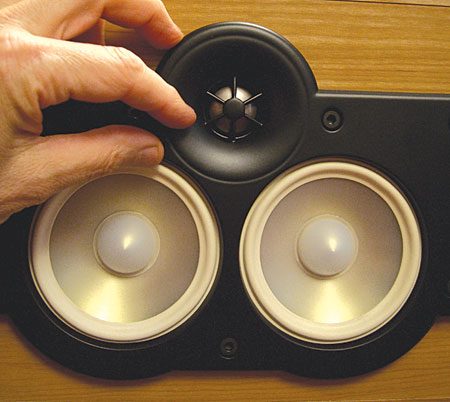 I bought the CD/DVD set of Wilco's latest, Sky Blue Sky, and I'm glad I did. The CD is fine, but the rehearsals on the DVD look and feel more organic. Jeff Tweedy's voice and guitar were shockingly realistic. I was definitely having one of those audiophile moments—the hair on my neck standing straight up, the sense of being there, in the room with the musicians felt that complete.
Then there was a slight stumble. The Night at the Museum and a few other choice DVDs' dynamics weren't as visceral as I've heard before. Over extended listening sessions, I came to realize it wasn't the speakers' fault—the UltraCube 12 subwoofer was the culprit. It goes deep enough and definitely feels powerful, but it's not as dynamic as the speakers; therefore, the sub feels a tad sluggish in its response. I don't want to make too big a deal about this, especially because I was only aware of the speaker/subwoofer dynamics mismatch when I really pushed the review system hard. Perhaps adding a second sub would close the gap.
I finished up with Cobb's Corner, a swinging SACD from jazz drummer Jimmy Cobb, and the disc sounded more forward than I'd like. The spacious recording's front soundstage was a smidge flatter and less open than it should be. That said, my admiration for the ADP-390 surround speakers was total; they took up the slack and unfurled a tremendous sense of space.
All in all, I came away impressed with the Monitors. They're beautifully built and offer excellent value. And remember, too, that while I was treated to the top-of-the-line models, Paradigm offers a range of even more affordable Monitors, including the incredible Atom and Titan mini Monitors. Those little ones make a really big sound.
Highlights
• Big, high-performance speakers for a not-so-big price
• Gawd, these speakers can play loud!