Paradigm Launches Founder Series Loudspeakers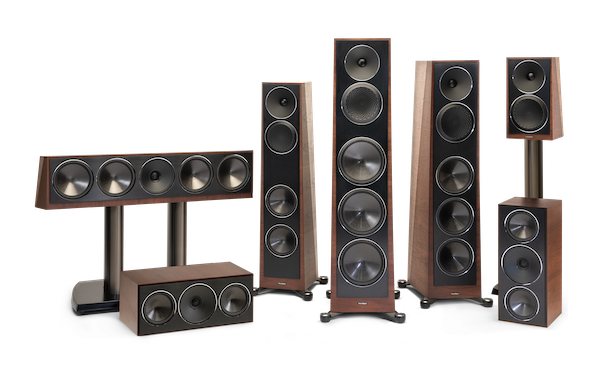 Canada's Paradigm has announced its new Founder Series, the first speaker lineup to emerge from the company since it was reacquired by founder Scott Bagby two years ago. According to Paradigm, the new line, which is designed, tested, engineered, and manufactured at its Toronto, Canada facility, is an evolution of its
Persona
line and features new driver design and cabinet construction technologies.
"The Founders Series is a strong accomplishment for Paradigm. We are combining an iconic design, sound that has astounding clarity along with a delicate and believable realism, and a sonic impact that will send shivers down your spine," said Scott Bagby, Founder and CEO. "I am immensely proud of our development teams' devotion to produce a line that clearly exceeds all expectations."
The new series consists of a trio of towers, the Founder 80F, 100F, and 120H, with the latter being a hybrid active/passive model with built-in ARC Genesis room correction. Paradigm's towers are complemented by the Founder 90C center channel, a full-range model spec'd to play down to 47Hz; the Founder 70LCR, a speaker designed for horizontal or vertical use; and the Founder 40B standmount model. Optional stands are available for the Founder 90C and 40B.
New driver technologies to be found in the Founder series include an AL-MAC High-Frequency Driver, a tweeter comprised of aluminum, magnesium, and ceramic materials that's paired with an Oblate Spherical Waveguide (OSW). An AL-MAG Midrange Driver uses a 6-inch aluminium magnesium alloy combined with a 2-inch voice coil and Perforated Phase Alignment (PPA) lens. Paradigm's CARBON-X Unibody Bass Driver comes in 5.5, 6, 7 and 8-inch sizes and is made from mineral-infused carbon fiber that's molded into a single piece and combined with an over-moulded Active Ridge Technology (ART™) surround and Advanced Shock-Mount Isolation hardware.
Cabinet construction benefits from what Paradigm calls Cascade Fusion Bracing. According to the company, this uses "a faceted enclosure, constructed from ¾-inch MDF and 1-inch thick top and bottom insets, with the bracing fused directly into the walls of the cabinet, requiring the cabinet to be folded around the frame as a single piece." Founder series speakers also feature a new Advanced Shock-Mount Isolation System that uses "special hardware with an elastomer suspension that mechanically decouples the driver from the cabinet" to reduce resonances from driver to cabinet and from cabinet to floor.
Founder Series speakers are available in four "artisan-grade" finishes: Walnut or Black Walnut fine-quality wood veneer, and Midnight Cherry or Piano Black high gloss.
Founder 120H Floorstander ($4,249.99 each)
Founder 100F Floorstander ($2599.99 each)
Founder 80F Floorstander ($1,899.99 each)
Founder 90C Center Channel ($2,599.99 each)
Founder 70 LCR ($1,699.99 each)
Founder 40B standmount ($1,099.99 each)
More Founder Series speakers info can be found on the Paradigm website.
RELATED: