Panasonic Viera TC-P50S30 Plasma HDTV HT Labs Measures
HT Labs Measures
Contrast & Resolution
Peak white level: 29.2fL
Black level: 0.009fL
Peak contrast ratio: 3244:1
Since this TV clipped the highest level of white at all settings of Contrast, I set it so the peak white level in a window pattern measured 29.2 foot-lamberts. This required the Brightness control to be reduced by one click, though the black level increased from 0.008 to 0.009fL. I decided to live with the ever-so-slightly higher black level for the sake of a greater overall contrast ratio.
BTW, the step-up TC-P50ST30's black level measured 0.008fL, while its peak-white level was 24.1fL. I could have obtained nearly identical results with the S30 if I had lowered the Contrast.
Grayscale & Color Resolution
All measurements were taken in the Cinema picture mode with color temperature set to Warm 2.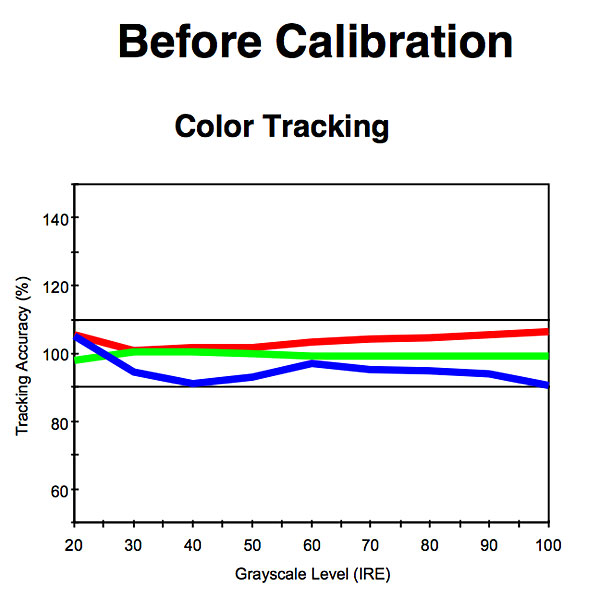 The pre-calibration color tracking was quite good, with slightly too much red and too little blue. The error at each brightness level was high enough to be visibly off.
After calibration, the color tracking improved, but it wasn't perfect. Still, the error at each brightness level (except 20% of full white) was below the threshold of visibility.
The color points were all exceedingly close to correct all the way around with the Color Management parameter turned off. Turning it on produced virtually identical results.
Video Test Bench
| | | | | | | | | | |
| --- | --- | --- | --- | --- | --- | --- | --- | --- | --- |
| 3:2 HD | 2:2 HD | MA HD | 3:2 SD | 2:2 SD | MA SD | VIDEO CLIPPING | BLACK&WHITE RESOLUTION | COLOR RESOLUTION | SCALING |
| PASS | FAIL | PASS | PASS | FAIL | PASS | PASS | PASS | PASS | BORDERLINE |
3:2 = film-originated content sent interlaced to display (broadcast movies and many TV shows)
2:2 = progressive video-originated content sent interlaced to display (not common)
MA = Motion Adaptive (interlaced video-originated content sent interlaced to display; becoming common for 1080i TV shows)
As with most TVs, this one passed the 3:2 tests but failed the 2:2 tests, which isn't normally a big deal because 2:2 is not common. It passed the other tests, though scaling standard-def images was borderline.