Panasonic DMP-BDT500 Blu-ray 3D Player Page 2
In Use
Typically when we see players that tout improved audio performance with higher-quality DACs, we also see support for high-resolution, audio-only sources. In the past, Panasonic has included support for at least one such format, DVD-Audio, but it doesn't do so this time around. Nor does it support SACD or playback of DSD files. Granted, neither of these formats is really a mainstay in the market today, but there continues to be a slate of quite a few SACD releases every month, and DVD-Audio hasn't gone away completely either. The DMP-BDT500 does support FLAC at resolutions up to 192/24, which is quickly becoming the staple for high-rez downloads (with DSD, the format used for SACD, recently starting its run).
Usually I would try to compare this product with something similar in features and price, but I haven't reviewed any such players in quite some time. The only player I can really compare the Panasonic with directly is the Oppo BDP-103. I didn't feel like this was a fair comparison since the $500 Oppo is considerably more expensive, but the Panasonic did about as well with Blu-ray playback and offered a few more streaming options. That said, the Oppo surpasses the Panasonic in nearly every other way, including build quality, analog audio performance, and audio format support.

The video playback from the Panasonic was everything I expected it to be. I've tested every generation of their Blu-ray players since the dawn of the format, and I've rarely been disappointed. The DMP-BDT500 uses Panasonic's top-of-the-line color processing, and it passed all of our HD tests with flying colors. DVD playback was also quite good, though not quite on perfect par with that of the best players on the market today (a bit of minor ringing would creep in on our test patterns and occasionally with DVD playback material).
Panasonic offers a slew of different video and audio enhancement features, and most of them left me cold. Most of the video processing features had noticeable side effects with reference patterns, but this may be appropriate for material that isn't mastered properly. Panasonic's chroma upsampling continues to do a great job with chroma detail, however, and is one feature that I continue to support.
Analog audio playback was quite good for this price point. I used the player with a variety of material, including standard Blu-rays, concert discs, and an assortment of high-rez FLAC files. Setup was easy using Panasonic's excellent interface.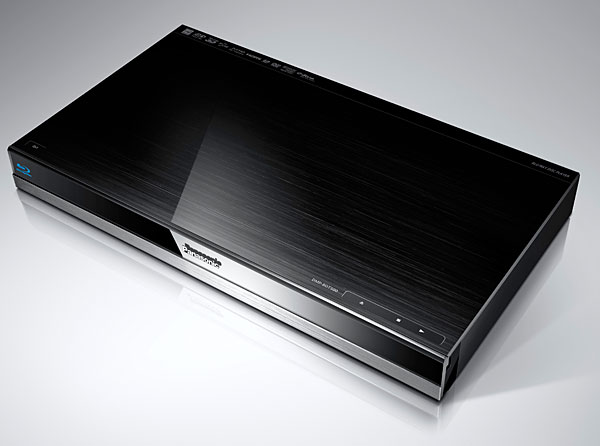 I will admit that it's hard to determine how much of an advantage this player would offer with an A/V receiver in the same budget range when using the multichannel analog connection rather than HDMI. In the latter case, you're relying on the digital-to-analog converters in the receiver rather than in the player. I don't have any receivers in my theater room, so the only option I had for making this determination was my Anthem Statement D2v 3D A/V processor, which retails for nearly $10,000. Nevertheless, the DMP-BDT500 sounded quite good with both Blu-ray and CD playback via the multichannel analog outputs and the player's onboard D/A converters. It would probably more than satisfy most users, even of the audiophile breed. When I listened to the recent Blu-ray Audio version of Steven Wilson's The Raven That Refused to Sing (and Other Stories), I heard breathtaking detail in the instruments, and Wilson's voice and dynamic range never suffered. Low-level detail wasn't quite up to snuff with what my reference Oppo delivered, but I was surprised how well the Panasonic held up. The same was the case for the great Blu-ray release of Jeff Beck's Performing This Week…Live at Ronnie Scott's. The soundstage was extremely natural, and the midrange was smooth as silk. Feature films sounded fine, whether they were over-the-top summer blockbusters or more nuanced dramas. In the end, there was a lot to like here. But without a comparable A/V receiver to battle against, I'm not sure that using the Panasonic's analog outputs would be better than using an HDMI connection in a fairly capable receiver, of which there are plenty.
Not Quite Enough?
I have a mixed opinion of the Panasonic DMP-BDT500. It does a spectacular job with its video performance, and its price point makes it an easy recommendation for that alone. But as an audio player upgrade, it leaves me unimpressed. Although its sound quality was very good, I doubt it would represent a significant (or even noticeable) improvement over the sound of the D/A conversion found in most mid-level receivers when coupled via HDMI or coax/optical cable. Considering that the Panasonic also lacks support for DVD-Audio, SACD, and DSD—the most desirable audiophile formats—I would recommend that budding audiophiles spend a bit more if they're in pursuit of great audio playback. On the other hand, if you're looking for a budget option to supplement a legacy receiver that lacks decoding for the latest lossless Blu-ray audio signals, or you just don't care about those high-rez audio formats, this Panasonic is a great choice you won't regret.