Orbi Voice Melds Smart Speaker Tech with Mesh Networking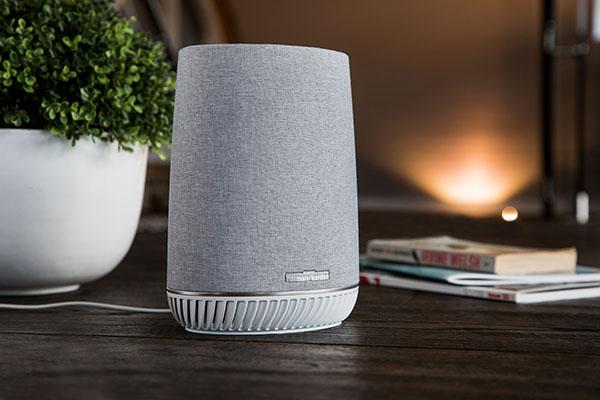 Netgear today announced the Orbi Voice, a melding of smart speaker technology and mesh networking that makes sense.
Over the past couple years Amazon's Alexa voice platform has found its way into numerous speakers, including most recently the Sonos One and it's been used to bring voice control thermostats, smoke alarms, and other smart devices around the home. The beauty of the Orbi Voice smart speaker is that it's based on mesh networking, which extends Wi-Fi coverage around the home as you add devices.
A conventional home Wi-Fi network has a router in one part of the home that sends the signal around the house. In large homes, even the most powerful routers can drop the signal in areas far away from the router, such as guest house. With Orbi's mesh networking, you connect a base unit to your modem and place satellite nodes around the house to extend the signal. Because the nodes communicate with one another rather than receiving the signal directly from the router, they can provide strong Wi-Fi coverage in homes as large as 4,500 square feet.
To ensure robust performance, the Orbi satellite has a band dedicated to receiving only the signal from the router. As a result, Netgear promises wireless speeds up to 2.2 Gbps, which is more than ample to handle multiple 4K streams along with your home's usual network traffic. No matter how many devices are connected to an Orbi mesh satellite, Netgear says it won't diminish the bandwidth.
Another benefit is that there are two Gigabit Ethernet ports on the Orbi Voice, which allows you to put devices that require an Ethernet connection on the network and control them via Alexa voice commands. Examples include attached storage drives and devices such as a Tablo tuner or Philips Hue.
Like other smart speakers such as the Amazon Echo, the Orbi Voice can connect to any Alexa-enabled streaming music services for instant playback and provides access to Spotify, Amazon Music, Pandora, iHeartRadio, TuneIn, Deezer, Audiobooks, and a number of other services. The speaker is a two-way system with a Harman Kardon-designed 3.5-inch woofer and 1-inch tweeter, both powered by an amplifier that delivers 35 watts of peak power.
Another big perk of the Orbi Voice is that it brings music, voice control, and access to high-speed Wi-Fi throughout your home. If it works as promised, you'll be able to replace "ugly" Wi-Fi extenders with the Orbi satellite nodes.
An Orbi Mesh Wi-Fi System consisting of an Orbi Tri-Band Wi-Fi Router, one Orbi Voice speaker, and one Wi-Fi satellite costs $430 and is expected to ship in late September. Netgear said an add-on package with one Orbi speaker and one satellite node will be available this fall for $300.