Online Shoppers Beware!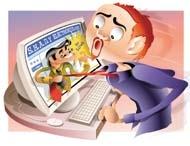 Illustration by Turnstyle Imaging
Years ago, if you wanted a new piece of gear, you'd go down to your local stereo shop, describe what you were looking for, audition a couple of pieces, make your selection, and then pay the sticker price. Product research was limited to asking your friends what they had, relying on the salesman's recommendations, or reading magazines like
Stereo Review
and
Video
. But finding the specific piece of gear you'd read about was often a crapshoot if you didn't live in or near a major city. The advent of the Internet has changed all that. Many people are turning away from traditional brick-and-mortar stores to buy their gear online. There's no question that you can buy gear for less money on the Web. But those lower prices might not be worth some of the risks. And actually going to a store has some advantages that online shopping can't offer.
A Not-So-Wicked Web
It's amazing how quickly the Internet established itself as a household necessity. It also opened up new worlds for A/V aficionados, who can now access a vast amount of information at any time of the day without leaving home. With a few keystrokes, you can read reviews by professional writers or by amateurs like yourself. What do they like? More important, what
don't
they like? Does the gear live up to the hype? Have they discovered any glitches? And if you want to find out more about a product, you can download the owner's manual or e-mail the company-and sometimes receive a reply from the very people who made it. The Internet also allows enthusiasts in rural areas to explore the latest and greatest technologies at the same pace as their big-city compatriots. You'll find that there are many legitimate online retailers, such as Crutchfield, One Call, HiFi.com, and J&R Music World (see "
The Real Deal
"). And at the sites of such major A/V retailers as Best Buy and Circuit City, you can either have your order shipped to you or pick it up at the store nearest you. What you need to be wary of are the sites that sell equipment for hundreds-sometimes even
thousands
-of dollars less than authorized dealers are charging. These sites can look very professional and have all the brands you're interested in-so where's the problem?
Getting Authorized
We tend to take the term "authorized dealer" for granted. You've probably never walked into a store, picked a product off the shelf, and thought, "Hmmm, I wonder if they're authorized to sell this?" But this is a very real concern on the Internet. It's not hard to construct a slick-looking Web site-just cut and paste some fancy graphics, add some product photos and specs, create pages of letters from "satisfied customers," and start selling the product. While you're at it, add a little logo that claims you're an authorized dealer. So how do you tell the real guys from the phonies? And what's the worst that can happen? Well, the worst is that you could give your credit-card number to someone who has no intention of sending you anything. These sites are in business just to rip you off. Granted, this is extreme, but it happens. Here's a more common scenario: the unauthorized dealer doesn't have the component in stock, so you have to wait while he gets it from somebody else and then sends it to you. Then, after you finally receive it, you find that it's used, superficially damaged, reconditioned, outdated, or a model never designed for use in the United States. To conceal their sources, many unauthorized retailers remove or deface the product's serial number. These retailers typically rely on a practice called transshipping, where an authorized dealer, for whatever reason, sells the product to the unauthorized dealer, who then sells it to you. What's the harm in that? How does "no warranty" sound? Yep. Nearly every manufacturer has a written policy that any products bought from an unauthorized retailer will not be covered by the factory warranty. So before you buy anything online, make sure the retailer is authorized to sell it. Fortunately, this is easy to do since most manufacturers that have authorized "e-tailers" list them on their Web sites. Simply go to the company's homepage and click on the "where to buy" or "locate dealers" link. You could also call the company directly to ask about a vendor, and since Web lists aren't always complete or up to date, that's a good idea if the e-tailer you're considering isn't listed on a company's site. Also, just because a retailer is authorized to sell a product in a traditional store, don't assume that it also has permission to sell it online. Manufacturers have different guidelines for selling their products in stores and via Internet or mail order, so it's always advisable to check. Bob Law, VP of the Consumer Electronics Division at Kenwood USA, summed up the general feeling among manufacturers: "We believe that consumers should be able to shop for . . . products in an environment that is comfortable to them, be it online, at a local retail outlet, or through mail order. But they should purchase products only at an authorized dealer."
Different Strokes
Companies have taken various approaches to Internet sales. While several companies have authorized select retailers to sell their products online, a few have decided to go into the e-tailing business for themselves. The Sony Style store, for instance, sells most of that company's offerings directly to consumers, while Harman International offers JBL (excluding the Synthesis and Performance lines) and Harman Kardon products from its Harman Audio site. Anyone interested in Cambridge SoundWorks speakers who doesn't live near Boston or San Francisco, where company stores are located, can buy them on its HiFi.com site. And Marantz has given HiFi.com exclusive rights to sell a selection of its products online. An e-tailer with an interesting twist is the appropriately named Outlaw Audio, which only sells its products online-it has no retail distribution at all. SV Subwoofers has taken a similar approach. Both companies offer a money-back guarantee: Outlaw's is 30 days, SVS's 45 days. Some companies have made everything but their premium lines available through the Web. For instance, you have to go to a store if you want to buy a Pioneer Elite component or anything in Kenwood's Sovereign line. Other companies have chosen to bypass the Internet completely. Scott Rundle, director of marketing for B&W and Rotel, commented, "Why would we make such a policy if it will cost us sales and upset some potential customers? Because we believe it will help us create more satisfied customers in the long run." Another nonparticipant is Fujitsu, a major manufacturer of plasma TV panels. Senior vice president Tedd Rozylowicz commented, "The purchase and sale of plasma products requires extensive pre- and post-sale support that cannot be adequately provided over the Internet." Similarly, Rundle said, "Due to the complexity and sophistication . . . of our products, we believe that Internet sales can actually be a disservice to our customers." Sandy Gross, president of Definitive Technology, echoed those comments: "It is very important that every Definitive customer receives the highest level of expertise and service. Because this is only possible when a purchase is made from a local Definitive dealer, we do not allow mail-order or Internet sales of our products."
Why the Fuss?
So why are these companies trying to make it difficult for you to get good equipment at a lower-than-average price? The consumer-electronics industry sells
billions
of dollars of gear annually, and the competition for that money is fierce. But home electronics have always maintained an inverse price-to-performance curve: as products steadily improve, offering more features and performance, prices continually go down. And the playground has become more crowded as DVD-capable videogame systems, such as Xbox and PlayStation 2, and home computers with DVD drives and surround sound all vie for the same entertainment dollars. To successfully compete in this difficult market, manufacturers want to ensure that their products are displayed and demonstrated in the best possible manner-something they can do only if they're selective about who represents those products. The manufacturer/dealer relationship is a two-way street. In exchange for first-class presentation of their gear, manufacturers support dealers in several ways. Product training is one of the most obvious examples of this. Manufacturers have representatives across the nation who visit their authorized dealers, keeping them updated on things like new features and changes in the product line. Scott Rundle elaborated: "All authorized B&W and Rotel specialists are selected for their ability to provide superior demonstration facilities, educate customers, assist in designing anything from custom home theaters to grand scale, whole-house, audio/ video distribution systems, as well as resolve customer-service problems quickly and efficiently."
Experience Counts
Have you ever gone into a store set on buying Product X, but when you described your needs to a knowledgeable salesman he pointed you to Product Y as a better match? You can't get that kind of help from a point-and-click interface. Sure, Product X will work fine, but you might never have found out how much better Y is. Thanks to manufacturer training, retail salesmen in specialty stores often have a level of knowledge about their products that's hard to beat. This means that they can offer you service that goes beyond just handing-or shipping-you a box. Having trouble connecting your new DVD player? Can't figure out how to work your way through a new A/V receiver's setup menus? Surround speakers don't sound right? An authorized specialty dealer can walk you through these and many other problems. Regardless of the caliber of equipment you purchase, it might need repair at some point. An authorized dealer is your portal to getting it fixed and back in your system as quickly as possible. Often the dealer can lend you gear to use until yours is repaired. Also, if your installation is so complex that it's impractical for you to remove and reinstall the equipment, many dealers will do the job for you. Maybe the biggest drawback to shopping online is that there's still no virtual way to "kick the tires." You can only see, touch, and listen to gear in an actual store. No amount of specifications, photographs, or reviews can substitute for a live presentation. On paper, there might appear to be little difference between a $100 and a $500 bookshelf speaker, a $1,000 and a $3,000 amplifier, or a $700 and a $2,000 36-inch TV. The differences in performance can become obvious only during an in-person evaluation. No amount of reading or research can replace the spine-tingling experience of enjoying an impeccably recorded Super Audio CD played through a suite of properly positioned flagship speakers fed by powerful amplifiers. Or watching a reference-quality DVD displayed by a properly calibrated top-of-the-line Digital Light Processing front projector on a 100-inch screen while 2,000 watts pump through a 7.1-channel speaker system. Even if systems like these are beyond your current means, experiencing them firsthand gives you a touchstone you can use to evaluate other components. You should also consider that many specialty retailers have added custom installation to their list of services. These dealers can manage every step of your project, from the initial design concept to final installation. Whether making design changes to your blueprints, running the right cables and wires, or properly calibrating your system, custom installers have a wealth of experience that will help them deliver your dream. They can also work with people like your builder, electrician, cabinetmaker, and interior designer to ensure that nothing is overlooked and that the result meets or exceeds your expectations. The relationship you establish with your custom-install team will be measured in years, so it's crucial that you select a team you trust and work well with. The Internet will always be one shopping alternative. If you've already settled on the piece that you want, or live in an area that isn't supported by a local store, it might make sense to visit an e-tailer. But nothing can compete with a well-run store when it comes to the highest levels of service and support, or of actually experiencing gear. Whichever route you choose, seeking out an
authorized
dealer will always be the smart way to go.