Onkyo TX-SR503 Digital Surround Receiver
What We Think
This budget receiver delivers a full 7.1 channels and robust bang for the buck.
Life is complicated, and getting more so every day. We usually welcome complexity because it's often accompanied by more functionality. For example, a cellphone with a built-in MP3 player is pretty sweet. On the other hand, its owner's manual is probably 200 pages long. Sometimes we want simple things that just do their jobs. And the Onkyo TX-SR503 7.1-channel receiver is one of them.
Don't get me wrong - the SR503 is far from stripped down. But compared with some expensive receivers, with their USB ports and overcrowded remotes, this one, which lists for a mere $300, is pleasantly basic. And amid increasing numbers of receivers with digital amplifiers, the SR503 stoutly follows the analog tradition. But can it deliver the sonic goods without coming up short on the essentials?
SETUP When it comes to interconnection, the Onkyo covered most of the bases. There's no HDMI digital video port, which I'd have liked, but I was encouraged to find three component-video inputs. (If you have more than three component-video sources, then you have too many and should send the extras to me.) The Onkyo doesn't upconvert lesser-quality sources, though, so you can't play composite video from a VCR or old analog camcorder and expect its signal to appear at the receiver's component- or S-video monitor output. Ditto for digital audio signals, which won't be passed by any analog audio outputs. For this test, I used the Onkyo's component-video input and both its coaxial digital and multichannel analog audio inputs to connect my DVD player. You'll also find B speaker outputs for the front left/right channels round back - a nice touch for such an inexpensive receiver.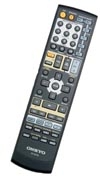 Unlike some receivers - even the occasional budget model - that automatically set speaker "size," distance, and level as well as bass crossover, the SR503 leaves setup strictly a manual affair. No big deal. I was impressed with the crossover-frequency options - 60, 80, 100, 120, and 150 Hz, which are more than most receivers offer. This flexibility can help fine-tune the sound of a wide range of home theater speaker systems.
MUSIC PERFORMANCE To audition the Onkyo's music side, I eagerly unwrapped the DualDisc with the new DVD-Audio surround mix of Dire Straits' Brothers in Arms. I've listened to this classic about a million times, and it's part of my standard rotation of test material. Clearly aware that he was working with the musical equivalent of the Sistine Chapel ceiling, mixing engineer Chuck Ainlay avoided getting too rambunctious with the surround channels. He placed a few synth parts there, and reverberated odds and ends to enhance ambience and depth, but nothing gets crazy.