Onkyo Announces Upscale A/V Receivers with Onboard Wi-Fi and Bluetooth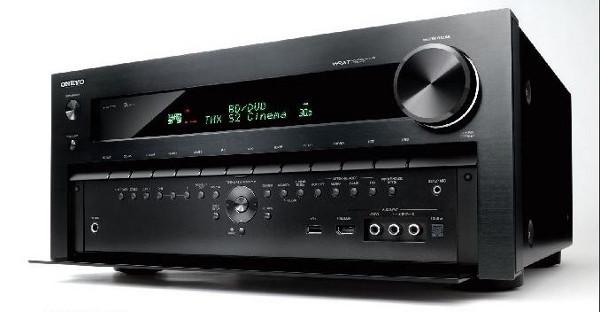 As a service to our readers, HomeTheater.com publishes selected manufacturer-supplied announcements and press releases for products that we think might interest you. Content is posted here exactly as issued by the manufacturer and does not imply endorsement of any kind by Home Theater or any hands-on experience by its reviewers or editors. Visit our Reviews area to browse test reports for products that have been formally evaluated by our expert staff.
Onkyo Launches 9.2-Channel TX-NR929 and 7.2-Channel TX-NR828 Network A/V Receivers with Onboard Wi-Fi and Bluetooth Technology
OSAKA, JAPAN. Onkyo announces the release of a fully loaded 9.2-channel TX-NR929 Network A/V Receiver to crown its mid-range lineup, introducing value-conscious consumers to the visceral thrill of nine-channel entertainment. The all-new model is positioned between the 7.2-channel TX-NR828 Network A/V Receiver also on release, and the company's existing audiophile-grade flagship products.
The launch of these two THX® Certified receivers—together with the recently unveiled TX-NR727 Network A/V THX Certified Receiver—marks the 20th anniversary of Onkyo's collaborative partnership with THX Ltd. Onkyo was one of the first manufacturers to embrace THX quality assurance standards for home theater components, releasing the first-ever THX Certified A/V Receiver in 1994.
THX certification is an assurance of the highest quality and performance reserved solely for products that deliver an entertainment experience that's true to the original creator's intent. THX Certified Onkyo A/V receivers guarantee THX Reference Level volume and audio quality similar to that of commercial cinemas and professional mix rooms.
"As one of the first CE partners to help bring the THX Certified cinema experience into the living room, we value Onkyo's dedication to the THX certification process," said Peter Vasay, VP technology operations, THX Ltd. "For 20 years Onkyo has collaborated closely with THX engineers through vigorous testing to each THX Certified AVR, all to deliver home theater enthusiasts with the promise of an accurate and powerful audio performance—receivers that preserve artistic integrity and deliver movies and music as intended."
With the widest selection of THX Certified A/V receivers, Onkyo's TX-NR929 and TX-NR828 are both THX® Select2™ Plus certified, signifying they passed more than 2,000 bench tests, ensuring consumers a best-in-class home theater experience.
Onkyo is also among the first to include built-in Wi-Fi and Bluetooth technology on its entry-level and mid-range A/V receivers, enabling universal wireless audio streaming and adding to an extensive suite of proprietary and licensed technology, including:
Built-in Wi-Fi to enable lossless audio streaming from iPhone® and Android devices, as well as app-controllable 192 kHz/24-bit FLAC, Apple Lossless, Dolby® TrueHD, LPCM, and DSD streaming from NAS and personal computer (via network and DLNA)
Onboard Bluetooth technology for fast and convenient audio streaming
Passthrough of 4K Ultra HD content via HDMI®, and upscaling of lower-resolution video to 4K with Qdeo™ processing technology from Marvell
Audyssey's premium MultEQ XT32® room acoustic equalization on the TX-NR929, and Audyssey MultEQ® on the TX-NR828
Upmixing solutions comprising DTS Neo:X™ (TX-NR929 only), Audyssey DSX®, and Dolby® Pro Logic® IIz
Nine HDMI inputs (including frontside MHL™) and two outputs (TX-NR929); and eight HDMI in (including MHL) and two out (TX-NR828)
The TX-NR929 Network A/V Receiver pushes the boundaries of what is possible from a production home theater, with 11.2 multichannel pre-outs and DTS Neo:X™ upmixing for surround-sound playback through up to 11 channels. If preferred, the user can assign four of the nine available channels to drive audio in Zone 2 and Zone 3 simultaneously. The receiver also has an extra HDMI output for sending high-def video to a second display. Multi-zone entertainment is managed via smartphone app, which encompasses the selection of online streaming services, internet radio channels, and network audio files.
As well as having the power to steer high-res movie soundtracks through nine channels at theater-reference volumes, the receiver is loaded with high-end features to optimize two-channel performance. Pre-processing incorporates three 192kHz/24-bit TI Burr-Brown DACs (with one stereo DAC per front channel in Differential DAC Mode). Amplification comes courtesy of Onkyo's WRAT (Wide Range Amp Technology) and discrete Three-Stage Inverted Darlington Circuitry, a combination that preserves a distinctively musical sound even at high volumes.
Audiophiles wishing to bi-amp their front speakers can find performance increases from Onkyo's proprietary Digital Processing Crossover Network. Digital Signal Processing splits the audio signal very precisely into separate high- and low-frequency signals, feeding them to the appropriate speaker drivers. This all but eliminates frequency overlap at the crossover point for a more transparent stereo image.
Delivering a similarly high power output, but through 7.2 channels, is the TX-NR828 Network A/V Receiver—a heavyweight model with an appealing blend of features. Along with 4K passthrough and upscaling, Bluetooth and Wi-Fi technology, and THX certification, the receiver has Audyssey DSX® upmixing and Audyssey MultEQ® room acoustic equalization. A full complement of analog and digital A/V connections—including 7.2 multichannel pre-outs and a phono stage—provide the flexibility for user customization. The receiver offers both Powered Zone 2 outputs and Zone 2/3 line-outs to deliver network audio sources to an existing hi-fi system in third zone.
Like its larger sibling, this A/V receiver is very simple to set up and use, with an icon-based overlaid graphical on-screen display and InstaPrevue™ video switching technology. Hybrid Standby, meanwhile, preserves a network connection and HDMI passthrough while the home theater sleeps, allowing the use of TV and media players with the receiver powered down.
With the release of these two receivers, Onkyo consolidates its reputation for building lavishly equipped products to a high standard of excellence. Lauded for their immensely powerful yet detailed surround sound, the company's A/V receivers ensure a stress-free user experience with faster access to media, wherever it might be stored. It's this dedication to fidelity, functionality, and value that keeps Onkyo on the leading edge.
The TX-NR828 and TX-NR929 network receivers will have suggested retail prices of $1099 and $1399 respectively. The TX-NR828 will be available at retail in June while the TX-NR929 will be available in July.