OLED Obsession: LG 65EG9600 4K OLED TV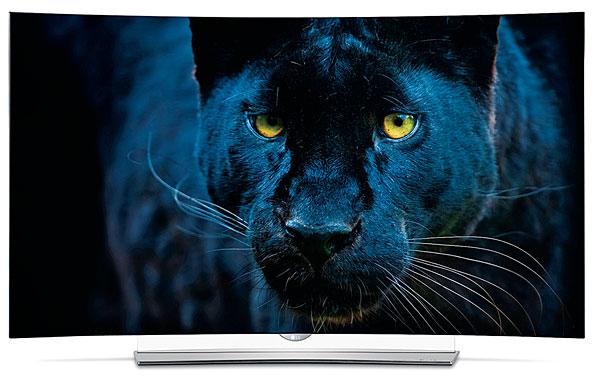 2015 is shaping up to be the Year of the Ultra HD as the balance begins to shift from everyday HDTVs to 4K/Ultra HDTVs with their higher-than-HD 3840x2160 pixel count. The latest projections from the Consumer Electronics Association show UHD shipments growing exponentially over the next few years, jumping from 1.3 million sets in 2014 to 4 million this year and tripling again to 13 million in 2017. Before long, UHD will become as commonplace as HD.
One of the finest UHD specimens to hit the market of late is LG's 65-inch 65EG9600 ($9,000), one of seven 4K OLED models previewed at CES this past January. The introduction of several UHD models was a momentous occasion for fans of OLED as it confirmed LG's commitment to a category that (at least for now) has been shunned by Samsung and other top-tier TV players. (We'll see how things shake out down the road.)
The first thing you notice when you lay eyes on the 9600 is how images stretch to the very edge of its frameless screen. More impressive is how skinny the screen is—about a quarter of an inch at its thinnest point. LG calls the ultra-modern design "Art Slim" and indeed, it is striking in an artful kind of way. Even diehard enthusiasts who abhor curved screens will find themselves seduced by this sexy thing. Equally remarkable, the set weighs only 44 pounds (total shipping weight with the stand and everything is a reasonable 71 pounds).
To bolster OLED's inherent contrast benefits, LG uses a four-pixel "WRGB" layout that adds a white subpixel to the traditional red, green, and blue to boost light output and "render a wider range of more accurate colors." (Another benefit of WRGB is that it makes it easier to mass-produce TVs at larger screen sizes, which might, in part, explain LG's dedication to OLED.) The 9600 is compatible with HDCP 2.2 copy protection, supports HEVC and VP9 codecs for streaming UHD content, and comes with two pair of passive 3D glasses.
Beyond the promise of a stunning picture—something we're anxious to confirm with a hands-on review—sound is not an afterthought on this TV: It's equipped with a speaker system designed by Harman/Kardon, a company that knows a thing or two about sound. TV smarts and connectivity are handled by LG's webOS 2.0 platform, which is said to facilitate an intuitive and easy-to-navigate experience with quick transitions between online streaming and broadcast or cable channels. If you happen to get bored, you can always talk to the TV using the Magic Remote's voice control feature. With any luck, it will listen.