October 2017 New Gear Part 2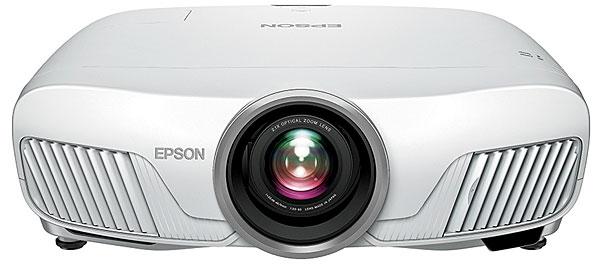 Epson Home Cinema 4000 LCD Projector
Although it's been almost six years since the intro- duction of the first native 4K projectors for the consumer market, 4K prices still remain beyond the means of many enthusiasts. Which is why Epson is attempting to make its "4K-enhanced" 1080p technology even more affordable, this time in the new Home Cinema 4000 3LCD projector.
Shifty Pixels:
When fed a 4K signal, the Epson shifts each pixel diagonally by half a pixel to effectively double resolution to 3840 x 2160. The three-chip LCD projector also supports expanded color gamut (100 percent of DCI-P3) and HDR10 high dynamic range with 10-bit color output in addition to upscaling 1080p content to 4K. Color and white brightness is rated at 2,200 lumens. Price: $2,200
Epson • (800) 463-7766 • epson.com
OEM Systems ICBM-P1 In-Wall Subwoofer
You have to hand it to OEM for the clever acronym associated with its Integrated Custom Bass Management System, even if it does conjure images of Cold War–era missiles rising up in a Kansas wheat field. The ICBM-P1 is aimed at home theater enthusiasts who are determined to go stealth, as in conceal everything—even the subwoofer. In this case, we're talking a bass-producing setup that includes the P-500Xb bridgeable stereo amplifier/crossover and a custom 8-inch woofer mounted in a special cabinet.
What Sub? The elongated enclosure is less than 4 inches deep and built to fit between the studs in standard 2 x 4 construction. Don't want to mess with an in-wall (or -ceiling) install? Slide it under your couch! The amp has a full complement of bass-tweaking controls and delivers 300 watts into 8 ohms when bridged. Price: $1,348
OEM Systems • (775) 355-0405 • oemsystems.com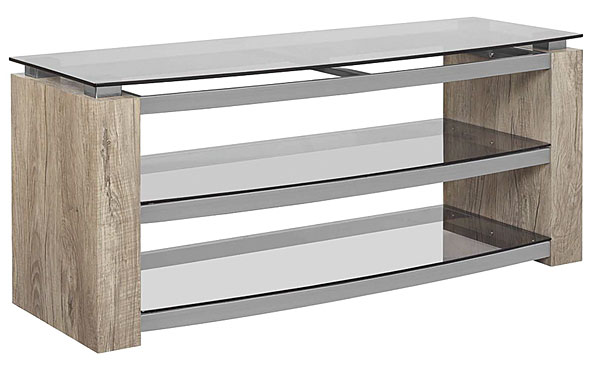 Bell'O TC52-6389-PD25 TV Stand
Part of the company's new Architectural Series, Bell'O's TC52-6389-PD25 TV stand strikes a perfectly modern balance with its brushed nickel frame, smoked-glass shelving, and Ashland pine side panels.
Stylish and Sturdy: The top shelf supports up to 55 pounds and is designed to accommodate TVs with screens up to 55 inches. At 52 inches wide, 19 inches deep, and 22 inches tall, the stand provides plenty of room for A/V components, books and discs, and maybe even a decorative ornament or two. Price: $380
Bell'O • (888) 235-7646 • bello.com

Wisdom Audio Sage Series Superbars
If you're looking for the ultimate soundbar and have a very generous budget, you need to check out Wisdom Audio's Sage Series line of customizable Superbars. Available in lengths up to 8 feet wide, the series comprises four LCR soundbars that use two different speaker modules in stereo and three-channel "LCR" configurations.
Mod Squad: The C20m module puts a planar-magnetic tweeter between a pair of woofers, while the C38m module places two woofers on either side of an expanded planar-magnetic section. All models can be used freestanding or mounted on the wall, but you'll need an outboard crossover and amplifier. With bass rated down to 35 or 40 hertz, depending on the model, you may decide you don't need a subwoofer. Black is standard, and custom colors are available. Prices start at $8,280 and scale up to $14,548, exclusive of DSP and amplification.
Wisdom Audio • (775) 887-8850 • wisdomaudio.com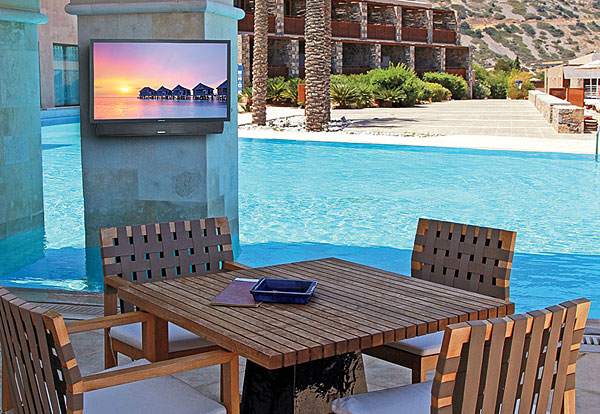 Peerless-AV UltraView 4K Outdoor TV
When you're ready to take your TV viewing to the next level, Peerless-AV has just the ticket: An outdoor TV built to withstand weather extremes and temperatures between –22° and 122° F. Actually, there are three models in the upgraded UltraView line: the 49-inch UV492 ($3,099), 55-inch UV552 ($4,799), and 65-inch UV652 ($6,499).
Rain, Sleet, or Snow: All are IP-55-rated for serious protection from dust and water, housed in "maintenance-free" aluminum cabinets, and designed to deliver legible 4K/Ultra HD images in direct sunlight. The TVs support HDMI 2.0 connectivity with HDCP 2.2 copy protection via three inputs and have a compartment for third-party control devices. A water/dustproof universal remote that can be programmed to control up to three additional devices is included.
Peerless-AV • (630) 375-5100 • peerless-av.com