Not Your Father's McIntosh
As a kid, I remember visiting friends and seeing McIntosh stereo systems in their homes, no doubt the pride and joy of their fathers. Even way back then,
McIntosh
was a revered brand, and it remains so today, 60 years after its founding. In celebration of this milestone anniversary, the company has introduced its first-ever compact integrated audio system, the MXA60.
The MXA60 was designed by the same team that created the $250,000 McIntosh Reference System, and it's loaded with high-performance features, such as a CD/SACD/MP3/WMA player with 24-bit/192kHz Burr Brown DACs, AM/FM tuner with RBDS display, vacuum-tube preamp with balanced and unbalanced inputs in addition to line-level outputs for an outboard amp or powered subwoofer, and 75Wpc solid-state power amp that is down by 3dB at 10Hz and 100kHz. Twin 2-way bass-reflex speakers use 3/4-inch titanium-dome tweeters and custom-designed 4-inch mid-woofers in cast-aluminum enclosures to achieve a frequency response from 60Hz to 45kHz. Even the electronics' all-metal cabinetry bespeaks quality with anodized aluminum accents and backlit glass faceplate as well as the unmistakable McIntosh power meters.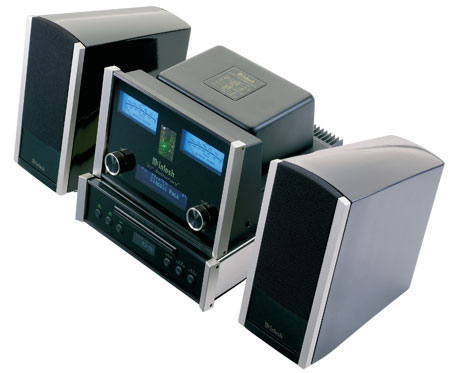 Of course, this level of performance doesn't come cheap—the MXA60 lists for $7500. But given the company's stellar reputation over the last 60 years, I'm confident that it's worth every penny. Besides, what father wouldn't be proud to have a McIntosh system on his desk?