Niles IC2 Home Theater Automation & Control System Page 2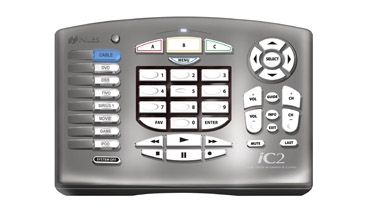 PERFORMANCE
Cosmetically, the iC2 is a facelift as opposed to a total overhaul of the original IntelliControl. The iC2 replaces the original's very '90s green backlighting with a cool, contemporary blue backlight. The buttons are also larger and well spaced, making it easier to operate. The much-needed A, B, and C buttons used by many cable and satellite set-top boxes have also been added. Another cosmetic improvement replaces the old remote's generically labeled M, G, P, and E keys with keys clearly marked Menu, Guide, Exit and Info.
One change I'm not so crazy about is the move from ten master keys on the original remote to only eight on the new iC2. This limits the remote to handling just eight activities - its biggest shortcoming, in my opinion.
Altogether the iC2 features a total of 45 hard buttons and that's it; there's no touch screen or LCD display. This is definitely in keeping with the remote's "less is more , easier is better" philosophy. The iC2 is designed for people who are intimidated by their home theater system and is meant to be easy enough for an entire family to use. In contrast to other remotes that try and do everything, including whole-house control, it's intended to be a single-system home theater controller.
Having said that, the remote does have its limitations. As I mentioned, with only eight master keys, there's a limit to the number of activities the remote can perform, and more complex systems will simply be beyond its capabilities. Besides my receiver and TV, I have an Escient music server/DVD controller, a Sony PS3, a laser disc player, my cable company's HD-DVR, and a compact disc player. While I wouldn't consider my system overly complex, I maxed out my master keys on the remote, meaning if I want to add another activity - satellite radio or iPod playback, or lighting scenes, for instance - I would have to delete something.
The system's limitations also prevented me from adding specific buttons for aspect mode adjustment or surround mode selection. Granted, I would describe myself as a power user; not having direct access to these commands might not bother many other people.
Niles does provide a solution for adding additional buttons in the form of the "Fav" key. Within each source, the "Fav" button allows you to perform ten (Fav plus buttons 0-9) special functions. For instance, you could set up a Watch HD activity, so that pressing Fav 0 could take you to your ABC-HD channel and Fav 1 could take you to CBS-HD, etc. However, unless you keep a sheet of paper next to the remote, or don't mind randomly cycling through channels or button presses, it quickly becomes difficult to remember what has been programmed under one or two source keys, let alone all eight.
The remote has great "staying power," lasting one to two weeks between charges depending on usage. This is especially handy if, like me, you repeatedly forget to plug the remote back in at the end of the night.
One ZigBee RF technology benefit that Niles makes use of is 2-way communication. This means that the HT-MSU actually talks to the iC2 remote, and vice-versa. Niles states the RF range to be 75-100 feet, and I had to go way out of my living room - like, out to the driveway - to exceed its range. Since this remote is designed to operate in a single room as opposed to being a house-wide controller, range should be no problem. And if it ever did become an issue, Niles offers an antenna extension kit.
The iC2 uses a lithium-ion battery that's much lighter than the old Intelli's three chunky D-cells, so the weight has been cut roughly in half. But it's hardly a lightweight, and no one will call it "small." If you're used to a handheld, wand-style remote, the iC2 might take a bit of getting used to. In fact, my wife at first found it kind of bulky. And unless you rest it in your lap, or next to you on a couch or tabletop, one-handed operation really isn't possible. On the plus side, the question, "Where is the remote?" is a lot less likely to pop up.
BOTTOM LINE
The original IntelliControl was a huge hit, finding a fan-base with people who wanted incredibly simple, one-button operation over their systems and preferred the tactile feedback of a real button to a touchscreen. Niles' new iC2 provides a set of much-needed tweaks, including buttons to control common 21st Century devices, greatly improved wireless communication, and RS-232 control. And it's also priced $400 lower than the original. If you find yourself or someone in your family constantly complaining that the home theater system is too hard to operate, then you're a candidate for an iC2. It will make using your system fun again.
LATEST VIDEO