Niles Audio ZR-6 Multizone Audio System Page 2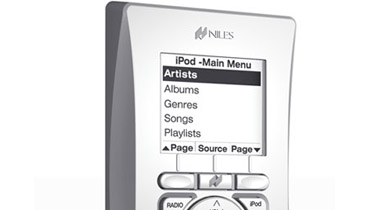 PERFORMANCE
Niles offers three control options for the ZR-6: the ultra-basic Solo-6IR ($150), the LCD-equipped Solo-6MD ($300), and the color touchscreen TS-PRO ($800). Each includes "Plasma-proof" infrared targets for use with the included handheld remote. Additionally, both of the Solos are weather-resistant and can be safely installed outdoors or in potentially wet locations like showers or baths.
I used four of the Solo-6MDs for my review, and even though I've played with a lot of multi room audio controllers, this is probably the coolest single- gang-size keypad I've seen. The pad had a very clean, uncluttered look, with its area split evenly between LCD screen and controls. I'm a control freak, and when I saw this thing, I knew I had to review it! While twice the price of the basic Solo-6IR model, it's well worth the step-up cost in my opinion. My biggest complaint about the pad was that, while the LCD screen illuminates nicely, the buttons have no backlighting, which makes operation in the dark a challenge.
One of the ZR-6's coolest tricks is its built-in AM/FM tuner and external iPod metadata feedback. And when it comes to controlling either of those sources, the Solo-6MD delivers everything you could ask for. The pad has dedicated buttons for both the tuner and the iPod, so music is always just a single button press away. Its LCD screen displays station frequency and also provides quick access to any of the 20 AM/FM presets, and anyone who owns an iPod - and if you buy this system, you'll want to get one - will be right at home using the controls. Hitting > Menu brings up the artist, album, genre, and playlist screen. Pressing up and down moves through the list, while pressing either right or Play drills you into the selections.
One shortcoming with many multi room control systems is that there's no way to quickly scroll through your music library. And just because you can see every song you own doesn't mean you can endure performing 300 button presses just to get to a specific artist. In addition to a page skip function that jumps ahead five selections at once, Niles includes a slick power scroll feature to jump directly to the first letter within a category, such as artist, album, or song. This is incredibly useful, and helps you to quickly select music you want to hear, instead of just relying on playlists or the system's random play function.
Unfortunately, not all iPods are welcome in ZR-6 country; the system is only "fully" compatible with Gen 3 or newer Nanos and Classics, or Touch models. Older iPods may work, but you can't charge them when connected. My 80-GB iPod worked, but definitely not perfectly.
When it comes to controlling external sources, the Solo-6MD currently provides very little to speak of. Many sources limit you to just three programmable buttons , Left, Right, and Play/Pause, although some sources offer additional Random and Repeat LCD screen buttons. However, Niles plans to roll out a firmware update that adds the ability to access a page of 0-9 keys - perfect for controlling sources like cable boxes or satellite radios.
Niles does offer a companion pad, the Numeric-6P ($100), that adds 0-9 plus some additional keys, but due to the unique design of the Solo-6MD, it can't be "ganged" with the Numeric in a single box. This limitation makes the upcoming firmware upgrade that much more welcome. The Numeric can fit next to the standard Solo-6IR in a double-gang box. Of course, high rollers can always opt for the far cooler TS-PRO touchpanel.
A quick note on the Numeric-6P: While the numeric keys have the alphabet printed on them, they don't use the standard practice of starting with ABC on #2, but instead start on #1. This is an odd design choice that throws off components adhering to the standard, my Escient server included.
One thing that helps with the limited number of buttons is a handy feature called "sequence programming." Like a macro, this executes multiple commands when selecting a source. This is perfect for turning to a favorite radio station preset or going to a favorite cable or satellite music channel.
The ZR-6's tuner section performed on par with the one in my Denon A/V receiver. I like that Niles lets users select and store AM/FM presets directly on the front of the ZR-6. This means that owners can make changes whenever they like without needing to call in their programmer. What's also cool is that the station frequency appears on the Solo-6MD keypad so you can see what you're picking, instead of just relying on generic labels like "Preset 1 " and "Preset 2."
As I alluded to earlier, Niles has given the ZR-6 some secret powers that make it even more, um, powerful. With two-way RS-232 interface, the ZR-6 plays well with advanced third-party control systems like those from Crestron and AMX. And its extensive library of IR codes and rear-panel global IR input mean that a single handheld remote can be used to control any individual zone from anywhere in the home. That is slick!
Normally I'm not a big fan of digital amplifiers in multi room audio systems, which often provide little usable range and lack the power to really rock. But I was pleasantly surprised with the sound the ZR-6 produced. While the volume level ranges from 0 to 100, Niles's engineers have wisely tweaked these amps to deliver really solid, listenable music even at lower volumes. In fact, I did most of my listening in the 25 - 45 range, which provided moderate to loud-ish output. When I pushed volume to the upper end of the scale, however, the sound took on a harsh edge, as if middle frequencies were really being pumped and overdriven.
BOTTOM LINE
Many people rely on their iPods or terrestrial radio to feed their music jones, and the Niles ZR-6 system offers a ton of control over those sources right out of the box. Plus, its two-way metadata feedback sets it apart from the low end of the pack by actually letting you know what you're listening to. Add to that list the ZR-6's quick, computer-free setup, and you've got an audio distribution system that's a cut above the ordinary.