Niles Audio ZR-6 Multizone Audio System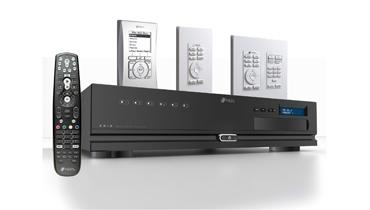 The Short Form
$1,995 ($3,194 as tested) / NILESAUDIO.COM / 800-289-4434
Snapshot
With a built-in AM/FM tuner, iPod support, and metadata feedback, Niles's ZR-6 raises the performance bar for multizone audio systems while simultaneously lowering the price
Plus
• Built-in AM/FM tuner and iPod support • Quick install with no computer required • Very slick keypad • Extensive RS-232 and IR library for advanced control options
Minus
• Keypad buttons not backlit • Doesn't like older iPods
Key Features
• ZR-6 Multizone Audio System ($1,995) • (4) Solo-6MD LCD keypads ($299 each) • Distributes up to six sources (including built-in AM/FM tuner) to 6 zones • Built-in 12-channel x 25-watt digital power amplifier • Integrated iPod control with metadata feedback to Solo 6-MD keypads using included iPod connector cable • Up to three ZR-6 chassis can be linked creating an 18-zone system • System quickly programs and configures without a computer via front panel controls • Includes rack-mount ears and IR remote control
The CEDIA Expo is where custom installation companies roll out their newest and coolest batch of goodies. While news at the 2008 show was mostly ho-hum, I did stumble across a potential audio-distribution gem in the Niles booth. What first caught my eye about the ZR-6 were the cool-looking LCD keypads. I'm a nut for metadata feedback, and these pads seemed to deliver the goods without the usual high price. As I started poking about, I noticed that the 6-zone/6-source audio system featured a built-in AM/FM tuner and out-of-the-box iPod support. A Niles rep then told me this bit of madness: The system was designed to be up and running in under 30 minutes - with no computer programming required! That clinched the deal, and I immediately ordered a review system to determine for myself whether the ZR-6 was too good to be true.
SETUP
Practically every audio distribution system gets wired up the same way, and the ZR-6 doesn't stray from the tried- and-true "Cat 5 plus speaker wire" formula. Individual Cat 5 wires connect to each of the keypads from the ZR-6, while two-conductor speaker wiring runs from it to each speaker. The Cat 5 terminates in the T568A standard, while the speaker wiring connects to screw terminals that accept up to 14-gauge strands. Additional source components like CD players or cable boxes connect to the ZR-6 via standard RCA cables. And the ZR-6 comes with the 30-pin iPod cable necessary for getting your 'Pod on.
The ZR-6 does have a few anomalous features that set it apart from other systems, some good and some not so good. First, the good. It can detect video and voltage coming from connected sources to intelligently power them on and off by sensing their power status - very cool. Also, it s rear-panel IR and RS-232 connections add the potential to make the system far more powerful than you'd imagine. (I'll discuss these more later on.) There are also triggers that activate when zones are turned on and a paging input that mutes music when a page or doorbell signal is received. (Optional equipment is required to use this feature, such as the Niles DBI-1 doorbell interface.) Finally, there are connections to gang up to 3 chassis together to create an 18-zone system.
The not so great is that only zones 4, 5, and 6 have RCA pre-outs for adding an external amplifier. While this likely won't affect all users, having pre-outs for all channels makes it more flexible for powering larger areas with a separate amp or for creating sub-zones. Each available pre-out can be configured for fixed or variable operation, allowing you to either control the volume with the keypad or use a volume control in a sub-zone.
The ZR-6's plain-Jane front panel has a single power button, individual zone on/off indicators, tuner operation buttons, and an LCD display. Hidden behind a removable cover are the control buttons and IR receiver window needed to configure and program the ZR-6. That's right; installers can leave their computers at home.