Google Announces Nexus Player, First to Run on New Android TV Platform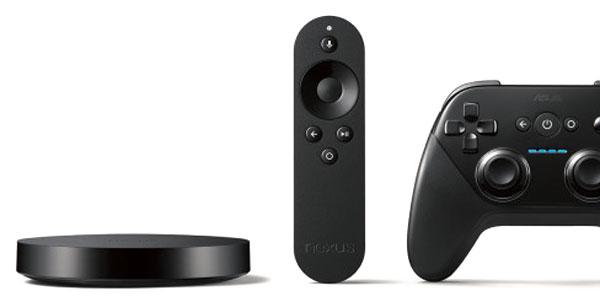 In June, Google announced that Android TV would be the new platform to replace Google TV. It would run Android version 5 "L" and integrate with other Android devices. It's only been a few months but this past week Google has announced that its Nexus 6 phone and Nexus 9 Tablet will have version "L," officially dubbed "Lollipop." And, at long last, the Nexus Player is the first device to run the official version of Android TV. Preorders began on October 17 at $99 for delivery on November 3.
As announced at the Google developer's conference, devices running Lollipop will have the "Material design," a universal design that will allow them to interact and integrate with each other. Android TV will have its own version of Lollipop, but unlike Google TV apps that were designed for mobile devices, Android TV apps will be optimized for use on a big-screen TV.
Android devices will be aware when a smartphone, tablet, or Android TV is nearby. You'll be able to start watching a video on the Nexus Player Android TV and instantly switch to watching on a phone or tablet. Likewise, you can start watching on a mobile device and pick up where you left off on the Android TV.
The Nexus Player is a dead ringer for a hockey puck. Manufactured in partnership with Asus, it's small like the Roku 3, Apple TV, and Fire TV. In fact, the Nexus Player is quite similar to the Fire TV. Both have an optional Gamepad game controller. The Nexus game controller will run $40 and it's said to make game-play feel more like that of other video-game consoles. Still, Android TV games are more like games for mobile devices than full featured video games. As with the video handoff feature, users will be able to start playing a game on the Nexus Player and continue on a mobile device (or vice-versa).
The Nexus Player's remote also resembles that of the Fire TV. It has few buttons and includes a microphone for voice search of movie titles. While the Fire TV has a robust search feature, the Nexus Player promises to be better. As with Google TV's advanced search, users will be able to search for genres in plain English by saying a phrase like "find gangster movies set in Las Vegas." Also, Google is advertising that the search will include TV programming. This suggests that, as with the Google TV, the Nexus Player will connect to your TV provider's set-top box.
There are few connections on the Nexus Player. The specs list only an HDMI connection. With no Ethernet port, it must be connected wirelessly to your home network and the internet. It's equipped with 802.11ac with MIMO. In other words, it has the fastest Wi-Fi connection available (when using an AC router) and can get a maximized direct stream from a router with MIMO capabilities.
The grid of apps displayed on Google's Nexus Player page lists a few apps that were not available on Google TV, including Hulu Plus. But the Nexus Player is not limited to apps. It has Google Cast similar to the Chromecast player. Apps that can be cast from an Android or iOS mobile device—including PLEX, HBO Go, Watch ESPN, Spotify, and more—greatly expand the content available on the Android TV.
The Nexus Player is already being well received. I went to preorder it on the morning of October 17 and it had already sold out. It's looking like Android TV may have a better audience than its predecessor, Google TV.