News & Gear: Summer 2023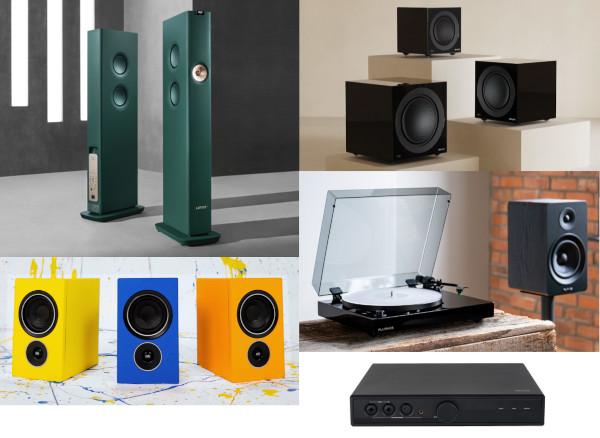 From crazy colorful speakers to help you get through a scorching summer to a Class A headphone amp aimed squarely at audiophiles, here's the latest news from around the A/V world.
KEF Announces Lotus Edition of LS60 Wireless Speaker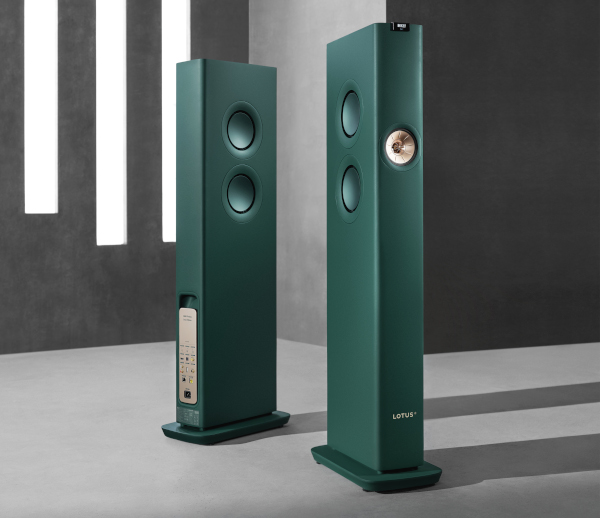 KEF today announced a new Lotus Edition of the LS60 wireless streaming speaker it launched last year, marking yet another expansion of its partnership with British carmaker Lotus.
Performance-wise, the LS60 Lotus Edition is the same as the existing LS60 tower but sports a British Racing Green finish in honor of the carmaker's heritage color. The special-edition speaker sells for $8,000/pair, while the original LS60 offered in white, blue, or gray lists for $7,000/pair; we have a set of standard LS60s in for review, so watch for our report.
The slender, 43-inch-tall speaker supports app-controlled wireless streaming out of the box and features the 12th generation of KEF's signature Uni-Q driver array, which places a 0.75-inch aluminum-dome tweeter in the throat of a 4-inch midrange driver, and four side-mounted 5.25-inch woofers (two per side) capable of response down to 26-31 Hz, depending on EQ settings. For more information on the LS60 Lotus Edition, visit us.kef.com.
In other KEF news, headphones.com announced that it is now selling the original LS60 and three other LS series speakers on the site: the LSX II (1,399/pair and currently on sale for $999/pair), LS50 Meta ($1,600/pair), and LS50 II ($2,800/pair).
Monitor Audio Focuses on Musicality with New Subwoofers
U.K. speaker specialist Monitor Audio has announced a new series of high-end subwoofers engineered with a focus on musicality and control.
The new Anthra Series was launched last week in the U.K. and is slated to arrive in the U.S. in August. The line comprises three sealed-cabinet models: the W10 ($2,350), W12 ($2,700), and W15 ($3,500), featuring a single 10-, 12- and 15-inch woofer, respectively.
All models feature Monitor's signature ceramic-coated aluminum magnesium (C-CAM) drivers, menu-driven setup via a 2-inch color LCD on the back panel or the company's MaestroUnite app, and both RCA and balanced XLR inputs and outputs. Controls include adjustable input gain, 0-360° phase control, adjustable low-pass roll-off, three preset EQ curves, and three use-adjustable EQ curves with eight bands of control.
The high-excursion woofer in each model is powered by a Class D amplifier with a continuous power rating of 425 watts (W10), 900 watts (W12), or 1,400 watts (W15) and housed in a rugged enclosure featuring "carefully braced" external and internal walls made of solid MDF. Low-frequency limit is specified as 17 Hz for the W10 and 16 Hz for the W12 and W15 (all at –6 dB). All Anthra models are covered by Monitor's five-year warranty.
In case you're wondering (we were), Anthra is short for a pure form of coal known as Anthracite, which in the words of the company is "a suitable name for a premium subwoofer series, which focuses on solid engineering principles and purity of design, maximum power, and total bass control."
Monitor offers the choice of a gloss black or satin white finish with a cloth grille that attaches to the cabinet magnetically. For more information, visit monitoraudio.com.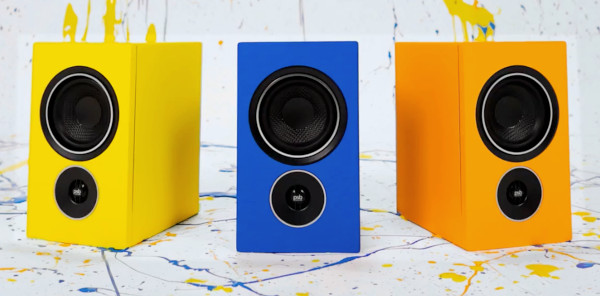 Colour My World: PSB Brightens Up Alpha iQ, Ships M4U 9 Headphones
Capitalizing on the "here's a new color" trend that seems to be making its way around the audio universe, PSB has expanded the finish options for its Alpha iQ streaming speaker to include three bold colors that aren't typically associated with home stereo: yellow, blue and orange.
The lively new colors join the boring-by-comparison black and white options offered when the $1,299 speaker system was introduced last fall. The two-speaker setup is built around the app-based BluOS streaming platform, which supports resolutions up to 24 bits/192kHz and provides access to 20 streaming services. Power comes in the form of a 180-watt Class D amplifier section that sends 60 watts to each woofer and 30 watts to each tweeter.
Each speaker mates a 4-inch woofer with a 0.75-inch aluminum-dome tweeter in a 9.7-inch-tall ported cabinet. In an unusual arrangement, the tweeter is located below the woofer to provide greater flexibility in listener position: "The blend between woofer and tweeter remains consistent whether one is sitting or standing," is how PSB explains the layout.
In addition to streaming via the app, AirPlay 2, or aptX-enabled Bluetooth, the system provides a host of hard-wire connections and includes a DSP-based active crossover plus MQA decoding. For more information, visit psbspeakers.com.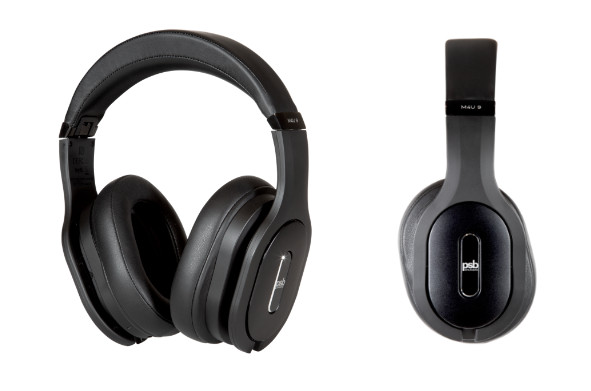 The iconic speaker brand also announced that it is now shipping the flagship M4U 9 wireless noise-canceling headphones it previewed earlier this year. The over-ear headphones go for $499 and feature active noise cancellation, Bluetooth HD wireless transmission with aptX Adaptive processing, and Audiodo custom calibration, which creates a personal hearing profile to compensate for hearing anomalies.
The headphones can be controlled via the PSB Headphones App and also boast new graphene-infused drivers, a spring steel headband and "super-soft" earpads for extended listening comfort, and a battery rated to deliver up to 25 house of wireless playback. For more information, visit psbspeakers.com.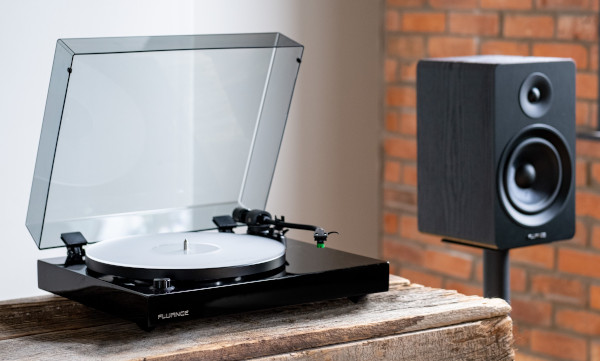 Fluance Updates Popular Turntable
Fluance has announced a follow-up to its popular RT81 turntable, one of the
first turntables the company introduced back in 2016
.
The new RT81+ ($300) features a number of upgrades over its $250 predecessor, including a higher output Audio-Technica AT-VM95E dual moving-magnet cartridge with a replaceable elliptical stylus, an upgraded Texas Instruments phono preamp allowing powered speakers to be connected directly to the turntable, an anti-resonant aluminum platter with an acrylic mat, and a vibration-resistant MDF base with height-adjustable rubber isolation feet.
Other features include a balanced S-type aluminum tonerarm, three-point rubber isolation for the motor, a manual cueing lever, auto-stop to prevent unnecessary stylus wear, and gold-plated RCA jacks. Finish options include natural walnut, matte or gloss white, and matte or gloss black. For more information, visit fluance.com.
HiFiMan Debuts Class A Headphone Amp
Headphone specialist HiFiMan, the company perhaps best known for its line of planar-magnetic headphones, is switching things up with its latest introduction: a Class A headphone amplifier.
The GoldenWave Prelude ($2,499) is a reference quality headphone amp originally released by the GoldenWave brand HiFiMan acquired earlier this year. The desktop amplifier features a fully balanced and fully discrete Class A MOSFET topology designed to deliver high current output and "clean and powerful sound reproduction" and includes a "single-ended-to-balanced conversion circuit" to help reduce noise and interference with a balanced or unbalanced input.
The Prelude also features an independent preamplifier circuit to ensure a "pleasing timbre in the audio output," a balanced tone control, and n Alps "quad-balanced" potentiometer known for its precision. The amp also has a custom high-power/low-noise toroidal transformer designed to provide clean and stable power. Everything is housed in an aluminum cabinet to help isolate internal components from resonances that can degrade audio performance.
"The Prelude headphone amplifier is a precisely-designed, meticulously crafted device that is typical of the GoldenWave design philosophy emphasizing audio quality, signal purity, and overall user experience," said HiFiMan founder Fang Bian. "Audiophiles looking for a premium headphone amplifier will be satisfied with the quality and possibly surprised by its affordability."
For more information, visit store.hifiman.com.