Netgear NeoTV Max Media Streamer
Price
: $70
At a Glance
: Mirrors or extends PC desktop using WiDi • USB connection and micro SD card slot • DLNA certified for streaming of home media libraries • Flingo App adds dozens of niche video channels
"What's the best way to connect my PC to my TV?" is a question I am frequently asked. While many TVs have PC connections and many laptops have HDMI outputs, there's still the issue of controlling the computer while sitting on the couch. The NTV-300SL (aka the NeoTV 300 Max) is a great, relatively inexpensive solution that lets you keep your laptop in your lap. The NeoTV might have blended in with other media streamers had it not been for its unique ability to mirror your laptop to your TV. Netgear's newest NTV media streamer is the only media device (so far) to use Intel Wireless Display (WiDi, pronounced why die) technology to wirelessly turn your TV into a second monitor for your computer. Also called the NeoTV Max, it's smaller than previous NTV models but has added inputs and DLNA capabilities to stream from the computers and network-attached server (NAS) drives in your home network. While the NeoTV Max has new features and capabilities, Netgear has kept the price tag under $70.
The top-of-the-line NTV300SL model adds a USB input to play media from an attached drive, and a micro-SD slot. There's no full-sized SD card reader used in digital cameras. Instead, there's a micro-SD slot that fits smartphone and tablet memory cards to which you have stored your mobile device's photos and videos. TV connections include HDMI and a mini connector-to-composite for analog TVs (cable included).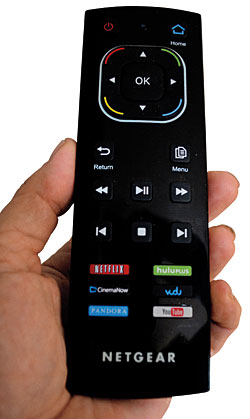 The NeoTV Max may be the lowest-priced media streamer to include a two-sided remote with a QWERTY keyboard. On one side of the remote are simple navigation controls along with six direct app buttons for Netflix, Vudu, Hulu Plus, Cinema Now, YouTube, and Pandora. But Netgear made a big mistake with its navigation control. Instead of the typical separate buttons for Red, Green, Blue, and Yellow remote functions, the corners of the four-sided navigation rocker are color-coded. Media streamers will regularly use these buttons to bring up options or menus or to close an app. With the NeoTV Max's remote design, it's easy to accidentally press the arrow key from off center and activate a color key. It took me six times to enter a login for Hulu Plus because I would accidentally hit a color key that sent me back to start.
Unlike Google TV remotes from Vizio and Sony, the NeoTV Max remote does not have gyroscopic technology to determine which side is up. Instead, there's a keyboard unlock button you must press each time before you start typing. While it's a pain to use, what can you expect from the least expensive media player to include a QWERTY keyboard?
Content
The content available to the NeoTV Max is unlimited when connected to a WiDi-enabled laptop. WiDi is available on laptops with Intel processors (Ultrabooks). Media played on the laptop is displayed on your TV using the NeoTV's WiDi app. The benefit of WiDi is that it's a full Internet experience—no Websites are blocked, and your computer's browser should have all the necessary video streaming plug-ins no matter what site you visit. You aren't streaming from the laptop to the TV; WiDi turns your TV into a second monitor.
The NTV300SL is the first in its line with the ability to play media from your home network. Similar to its older cousin, the NeoTV 550, it is Digital Living Network Alliance (DLNA) certified as a Media Player and as a Media Renderer. The NeoTV can discover and play movies, music, and photos from DLNA sources—media servers and computers—on your home network. Alternatively, using the DLNA Play To app (not to be confused with the Android PlayTo app) on the NeoTV makes it discoverable to media streaming apps on smartphones (Media Controller DLNA certification). On a smartphone or tablet app, choose the source where the media file is stored and "play to" the NeoTV Max as the media renderer.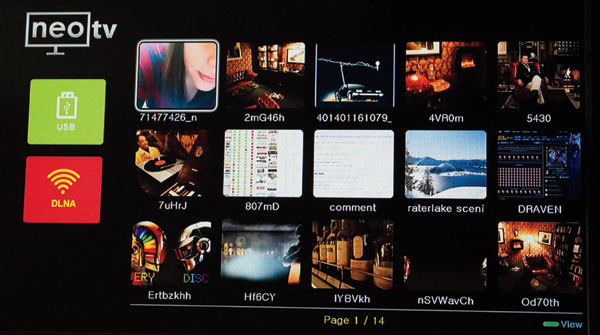 Similar to the NTV200, the NTV300SL has Netflix, Hulu Plus, and Vudu but is missing Amazon Instant Video. Its menus are loaded with an ever-growing list of special-interest online streaming videos that are powered by the Flingo video service. A recent update brought SlingPlayer to the NeoTV Max, allowing streaming from a SlingBox connected to the same home network.
Performance
The NeoTV Max is capable of 1080p and Dolby Digital surround. Out of the box, the default audio setting is stereo and must be changed to bitstream HD in order to get 5.1 digital surround sound.
Video quality of online streaming was very good when I watched my go-to video, Men in Black, on Vudu in HDX format. However, even after I changed the audio settings, the sound quality was dull and indistinct compared with other players/streamers I have tested.
I used a Sony Vaio laptop running Windows 7 to check out the wireless second-display WiDi feature. On the Crackle Website, I played Deuce Bigalow: European Gigolo. Surprisingly, although the video was streaming in 480p, the movie was acceptable when played in full-screen mode on the TV. That is, there were no artifacts or other compression noise. The NeoTV's picture quality accurately replicated the PC's streaming quality. Poor quality streaming to the laptop resulted in poor quality through the NeoTV.
To test the DLNA home network media streaming function, I watched a high-definition copy of Avatar from my Western Digital MyBook Live Duo NAS drive. Playback was immediate and smooth, and the picture quality was fine. However, the NTV300SL has very limited video format compatibilities. It can play h.264 MP4 videos and Quicktime movies and, once it gets a software update, MKV and AVI video file formats.
Final Thoughts
The NeoTV Max has the features you'd expect on a $100 player, but it's priced at $70. While the direct-play buttons make it easy to use, menus crowded with channel options can become visually confusing to a novice. Still, this is the first media streamer with WiDi. If you have wanted to wirelessly connect your computer to your TV, this may be the way.