My Blue Heaven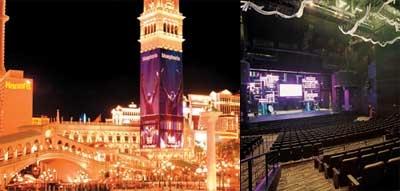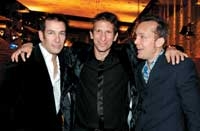 Blue Man Group founders Matt Goldman, Phil Stanton, and Chris Wink (shown sans face paint at right) have been busy little performance artists since we talked to them for last April's "Blue Men Exposed," opening a spectacular surround sound-filled arena on the Vegas strip and a much more intimate plasma-drenched theater in Toronto. Must-see-and-hear stops for any diehard home entertainment fan, these two high-tech venues are well worth a pilgrimage.
LAS VEGAS
When the group vacated the Luxor resort last year for more upscale digs across the Strip at the Venetian, they took advantage of the hotel's offer to build them a state-of-the-art performance space to up the sound and performance ante. The seriously Vegas-size 1,760-seat theater not only has a massive stage that can accommodate a whole tribe of drum-thumping musicians, but also features live surround that keeps you awash in Blue Man's mesmerizing rhythms.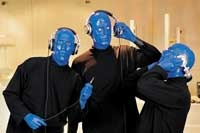 Rock aficionados will recognize the imprint of legendary stage designer Marc Brickman, responsible for Pink Floyd's groundbreaking The Wall show as well as the Group's own rock tour, The Complex, elements of which have worked their way into both the Vegas and Toronto shows.
WHERE TECHNOLOGY BECOMES ENTERTAINMENT