My Big Fat Classical Bucket List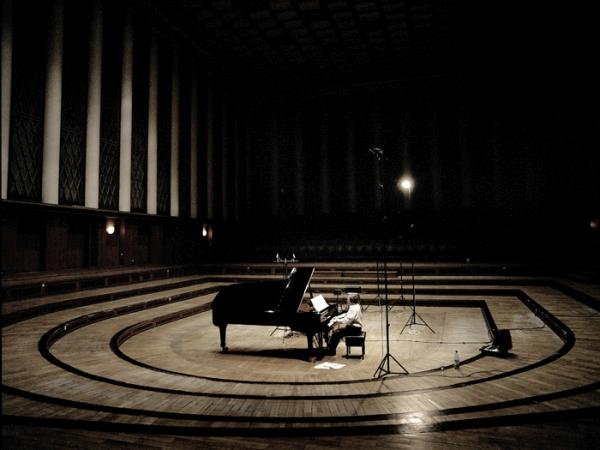 Over the past year or two my concertgoing life has accelerated and intensified. I love music, and I live in a great city with a first-class symphony orchestra and several concert halls, yet until recently I've rarely taken advantage of them. Only lately has the desire to attack my classical bucket list taken hold. I mentioned some of this in a
previous blog
, but never discussed why. So you may be wondering: Why this, why now?
For starters, time and money. With the big six-oh coming up this year, I have less time left to go to concerts (just in case you haven't noticed all the blogs I've written lately dealing with mortality). But I also have a little more money to spend than when I was a young inkstained wretch just getting by, and thanks to Facebook (as I've mentioned) I'm constantly bombarded with ads for cheap tickets. Would I like to see Leif Ove Andsnes and Marc-Andre Hamelin perform a thunderous two-piano arrangement of Stravinsky's The Rite of Spring for $21.50 at Carnegie Hall? Sold.
My classical concertgoing life got off to a bad start. When I was barely out of college, my former freshman-year roommate and I went to see Zubin Mehta and the New York Philharmonic perform Beethoven's Symphony No. 7 at Lincoln Center. This should have been a sure thing: a famous conductor leading a major orchestra in a popular work they'd both played many times. But the performance was sloppy and uninspiring. I was outraged at having spent so much money with such a poor result and didn't forgive the Philharmonic for years (I still haven't forgiven Mehta).
I didn't stop going to concerts. Instead I indulged other interests: in rock, folk, and jazz. I saw the Clash and XTC and Richard Hell and the Police and and the Gang of Four and Talking Heads and King Crimson and Keith Jarrett and Max Roach and Martin Carthy and Robyn Hitchcock and Richard Thompson (the latter two many times). I saw the Stones in '95, when people like me could still afford tickets to the Stones; they were awesome. I was a published rock critic in respectable mags like Spin and Trouser Press, even editing the latter's adjunct publication, the Trouser Press Collectors' Magazine.
Whenever I have traveled to the capitals of Europe, I've made it a point to visit the local concert halls. So I've been to many of the great ones: the Amsterdam Concertgebouw, the Salle Pleyel in Paris, the Berlin Philharmonie, the Munich Gasteig, Prague's Rudolfinum, Vienna's Musikverein and Konzerthaus. During my next trip I'll be revisiting the Concertgebouw (whose online ticketing system thinks my name is M.A.R.K. Fleischmann and will not be dissuaded) and, for the first time, London's Barbican, the home of the London Symphony Orchestra. Whenever I'm in London, I take in as many cheap lunchtime concerts in local churches as possible.
But at home, I've subsisted on recordings. I have an excellent, if idiosyncratic, classical library. Much of it is on vinyl. That includes not only LPs bought new, back in the day, but a lot of subsequent additions from the now-closed Tower Annex in Soho, which used to sell used classical records for two dollars a pop. I would go there and buy "as much dead white boy music as I can carry to the bus," as I was quoted as saying in the Village Voice Pazz & Jop critics' poll.
It took decades for my classical concertgoing appetite to recover from that one awful performance. What lured me back to Lincoln Center was the Brahms Requiem, performed by then music director Kurt Masur and a much improved (it seemed to me) New York Philharmonic. The performance was a memorial to the victims of the terror attack on the World Trade Center, which had happened shortly before. It was a moving experience and it enabled me to reconcile with the Philharmonic. The orchestra recovered under Masur and its current music director Alan Gilbert attracts good reviews. So I'm back. The concert halls were always there, waiting for me.
While classical isn't the only kind of music that interests me, it's more or less the only kind of concertgoing that interests me. I simply can't bear rock audiences any more, the phone zombies and their distracting lit screens. Not that phones don't intrude even in the most highminded venues. A once-in-a-lifetime chance to see the great Murray Perahia performing Beethoven's majestic Hammerklavier Sonata at Geffen Hall was spoiled by two ringing phones during the Brahms intermezzos serving as appetizers. One of the phones rang persistently. The pianist lifted his hands from the keys and waited for the noise to stop.
It was still the greatest piano recital I've ever attended. Perahia took risks and pushed himself to the outer limits of his bountiful talent; it would be no exaggeration to describe his performance that night as heroic. Even so, shame on that slovenly phone-toting concertgoer and others like him. I'm fairly hardcore about this—I never bring my phone to a concert. I don't think anyone should. Telephones don't belong in concert halls. If you have a potential emergency that requires a phone, stay home. We'll get by without you.
The state of my bucket list can best be summarized as just about every major orchestral, piano, and chamber work, minus a few things. I've seen Beethoven's Third, Seventh, Eighth, and Ninth. But never the Fifth! And for reasons already described, I need a re-do of the Seventh. I also need another crack at the Ninth, the previous one having marred a few years back by the man at Symphony Space who sat next to me texting throughout the choral movement even as Leon Botstein, the American Symphony Orchestra, and a lusty chorus played and sang the "Ode to Joy." Take two is next week with Gilbert and the Philharmonic. Wish me luck.
Audio Editor Mark Fleischmann is the author of Practical Home Theater: A Guide to Video and Audio Systems, available in both print and Kindle editions.