Movies on Demand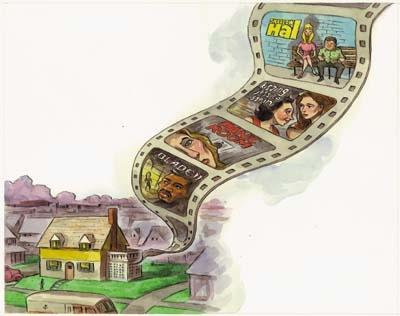 This past fall, astute subscribers to the Time Warner digital cable service in New York City began to notice something unusual-and no, it wasn't that their bills were going down. It was the appearance of Channel 1000 on the onscreen program guide, accompanied by the letters MOD. Was this a new retro fashion channel? Actually, the truth is more interesting. MOD, as it turned out, stands for Movies on Demand, which is known generically as video on demand (VOD). Unlike pay per view, VOD lets you watch any of the available movies anytime you want. Because the movies are stored on local servers, you can rewind, fast-forward, or pause the action, just like you do with a VCR, DVD player, or hard-disk video recorder. You can even stop and restart the movie at any time within a 24-hour window. Essentially, VOD acts like a rental, except you don't have to leave your couch to return it-or pony up late fees when you don't. All you need is a standard digital cable box and a willingness to pay for the service. The idea of video on demand has been around for more than a decade, but it's only recently that cable operators began rolling out VOD services (see "
I Want My VOD
!,"). I've had digital cable for more than a year, but I hadn't noticed Channel 1000 until
Sound & Vision
's technology editor, Michael Antonoff, called and told me, "Punch in 1-0-0-0 and see if anything happens." Fully expecting to receive a jarring shock from the remote, I was relieved to see the MOD welcome screen. When he asked if I'd be willing to review the service, I quickly agreed even though the magazine declined to provide a food-and-beverage stipend for my weekend of sitting around watching movies. While the promise of VOD may be "any movie, any time," the reality is that cable operators typically offer 100 to 150 titles. That can't compete with your neighborhood Blockbuster, but offering more movies would make it hard to navigate through the choices. Also, people mostly want access to popular titles. Time Warner's iControl MOD service offers about 100 movies, a mix of new releases and "classics" (meaning older than six months). New movies, priced at $3.95, are rotated on a weekly basis. Classics are $1.95. Time Warner also offers a variety of original programming as part of its SVOD (Subscription Video on Demand) service, which gives you access to programs from premium channels like HBO, Showtime, Cinemax, and The Movie Channel. HBO subscribers, for example, can watch episodes of
The Sopranos
anytime they want during the month they air. The company charges $6.95 a month to add SVOD for all the channels you subscribe to. Most cable operators also offer free on-demand programs, which can range from kids' programming to network shows like
The NBC Nightly News
and CNN to magazine-style shows from networks ranging from Home & Garden TV to the Golf Channel. Unfortunately, SVOD hadn't made it to my neighborhood at the time I wrote this report. If you already have a digital cable box, you probably won't need anything else to get VOD (all the necessary buttons were already built into my remote). While VOD lets you pause and "rewind" or fast-forward, you can do these only at one (slow) speed. You also can't search by chapter, but Time Warner says it plans to implement both multiple speeds and chapter search. Using my remote, I simply scrolled through the onscreen program guide to Channel 1000 and pressed the Select button to bring up the MOD screen. A control bar across the bottom of the screen has tabs labeled New Releases, Action, Comedy, Drama, and Family to help you browse, while the A-Z tab lets you search alphabetically by movie title. Clicking Purchased lets you know which movies you've rented and when they expire, while Extras offers free selections, including "behind the scenes" programs for some movies and short films from the BMW Movie series. Once you highlight a title, a graphic of the movie and a synopsis of the plot appears. To check the system out, I highlighted New Releases, scrolled through the title list, and pressed the remote's B (for "Buy") button. It took about 5 or 6 seconds for the movie to begin. The movies on Time Warner's system are encoded and compressed by a company called In Demand and uploaded to a satellite. They're then beamed down to Time Warner and loaded onto a computer with multiple high-capacity hard drives, called a "catcher," where they're inspected to ensure that the files were received intact. The movies are then passed to a staging server, which distributes them to the local servers, or hubs. When you select a title, the system checks your customer status and address, dedicates a digital channel to your cable box, and sends out your movie.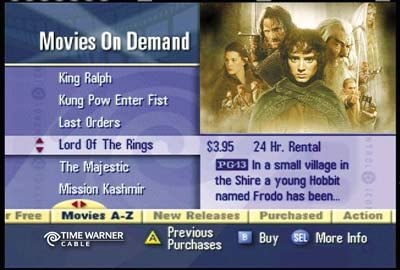 The windy, rain-swept weekend I picked to review the MOD service helped to underscore its appeal-particularly when I ventured outside to get some DVDs to use for comparison. But while stay-at-home convenience will make the service attractive for the mass market, there are a couple of things about Time Warner's take on VOD that will lessen its appeal for home theater enthusiasts. First, Time Warner's standard digital box lacks component-video outputs, so the best connection I could make was via the S-video jack. (Its HDTV-capable boxes include both VOD capability and component outputs.) Second, all of the movies currently shown are in the 4:3 format, so viewers who own widescreen TVs will be disappointed. I used the S-video jack to connect the box to my 36-inch TV and routed the audio to my McIntosh surround preamp via the digital audio output. For comparison purposes, I also used the S-video jack to hook up my DVD player to the TV, which has a conventional 4:3 screen. It was quickly apparent that MOD movies look better than VHS, but not as good as DVD. While blood is always hard to get right, the buckets of it in the MOD presentation of
Blade 2
looked surprisingly real, with decent color detail and minimal grain. But the images seemed duller, with less edge detail, compared with New Line's Platinum Series DVD, especially in the darkest scenes. Even more disappointing was the sound, which can add great impact to a movie's action. None of the movies I chose were being delivered with multichannel soundtracks. In fact, only one of the titles offered-
Kissing Jessica Stei
n-had its Dolby Digital 5.1 soundtrack intact. It turns out that many MOD titles are available only with Dolby 2.0 sound because the system is still very new and not up to speed yet. Time Warner says most movies will be available with 5.1-channel sound within a year. So, much to my girlfriend's delight, I watched
Kissing Jessica Stein
, which isn't exactly a sonic powerhouse. But it did serve up clear, accurately centered dialogue (and there's a lot of it), well-placed surround sound effects, and decent stereo imaging for the music. What did my weekend experiment teach me? Basically, that DVDs are still the best way to watch movies at home, at least for now, because they offer better-quality video, widescreen formats, and in some cases both Dolby Digital and DTS multichannel sound. Beyond that, with VOD-or at least MOD-you don't get most of the extras we've come to expect from DVDs, although Time Warner plans to offer more bonus material in the future. Also don't forget that you can play a disc on a laptop or desktop computer, a car system, or the system at a friend's house. (And there's still something to be said for pride of ownership.) Plus, DVD players offer many more playback controls than MOD currently does-using only a single-speed rewind and fast-forward was painful. But MOD will inevitably improve. For example, Time Warner planned to have boxes with 80-gigabyte hard drives and TiVo-like functions available by early 2003. And there are plans to offer high-def MOD sometime in the future. That said, it's convenience, and not quantity or quality, that will compel most cable customers to click on their remote's MOD button instead of putting on a coat, getting in the car, and heading to the neighborhood video store. My guess is that a lot of them don't really care if Jessica's kiss is in stereo or surround sound.