Monitor Audio to Deliver Silver Series 7G this Fall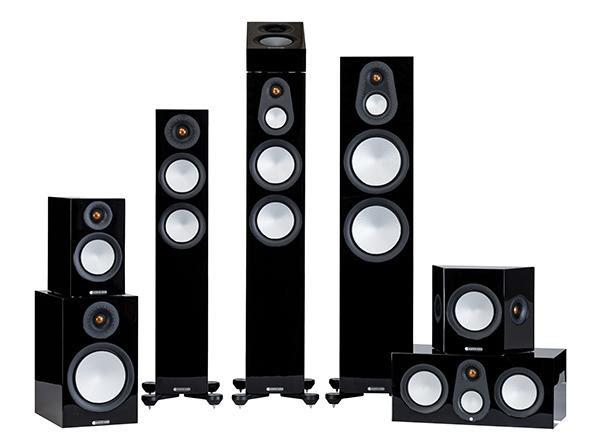 Monitor Audio, the British company that has been building high-quality speakers for almost a half a century, is putting the final touches on the seventh generation of the Silver Series it introduced 22 years ago.
The Silver Series 7G, comprising nine newly refined models and two home theater packages, will be available this fall. Pricing was not announced but the lineup will include three floorstanding models, two bookshelf models, a center-channel speaker, a subwoofer, a home theater effects speaker, and a Dolby Atmos height module styled and matched to sit atop the middle tower model.
Key updates include the use of a stronger aluminum alloy — said to allow individual drivers to play louder for longer — a refined crossover, and a redesigned C-CAM (ceramic-coated aluminum/magnesium) tweeter featuring a new magnet structure, rear chamber design, and waveguide designed to improve the uniformity of its dispersion.
Standing just over 3 feet tall, the Silver 200 7G floorstander is a two-and-a-half-way design with a 1-inch tweeter and dual 5.25-inch drivers. Moving up in price, the 300 7G (shown below) and 500 7G towers are three-way designs with a 3-inch midrange driver and two 6- or 8-inch woofers in cabinets 41 and 43 inches tall, respectively. All of the floorstanding models are rear-ported bass-reflex designs with a low-frequency capability that dips from 34 Hz to 27 Hz as you move up in price.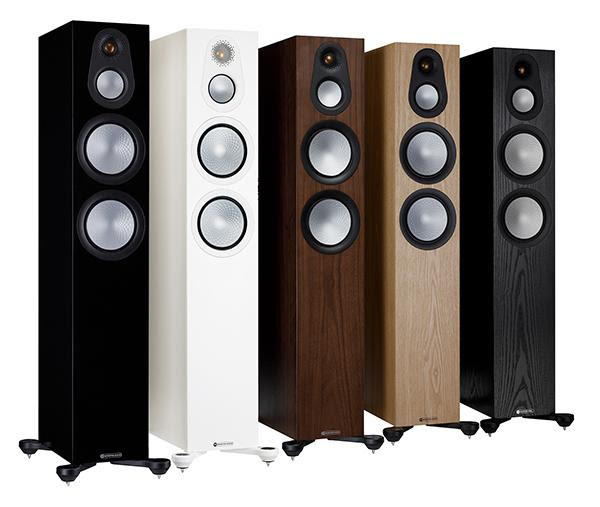 The Silver 50 7G bookshelf model is two-way design that mates a tweeter and 5.25-inch woofer in a cabinet 11 inches tall, while the 100 7G ups the ante with an 8-inch woofer in a slightly taller 15-inch enclosure. Low-frequency limits are spec'd at 47 and 35 Hz, respectively.
For home theater action, the Silver FX 7G is a wall-mount design with a central 6-inch woofer flanked by a tweeter on either side that can operate as a dipole or bipole speaker. The Silver AMS 7G is designed to add Dolby Atmos height capability to the Silver 300 7G tower speaker. Rounding out the lineup is the 40-Hz capable Silver W12 6G subwoofer, which mates a "triple-suspension" 12-inch woofer and 500-watt amplifier in a sealed enclosure approximately 14 x 13 x 16 inches. All three are offered in black or white.
Silver Series 7G bookshelf and tower models will be offered in gloss black, satin white, or one of three real-wood veneers: black oak, natural walnut, and ash. All models will ship with cloth grilles that attach magnetically for easy removal and new tweeter/driver trim rings.
For more information, visit monitoraudio.com.