Mirror your PC Wirelessly to a Neo TV Pro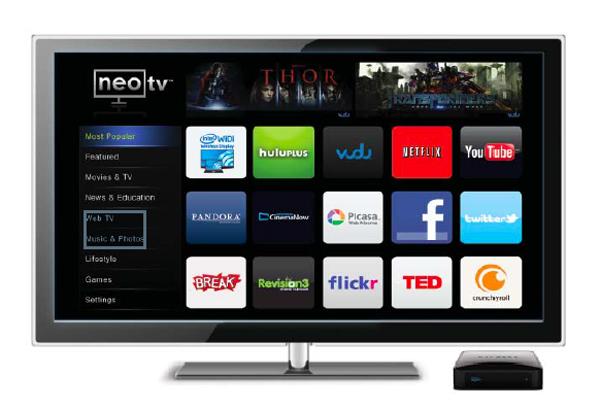 Netgear's new media streamer is the Neo TV Pro (also called the NTV 200s). The NeoTV Pro is the first media player to use Intel's WiDi (pronounced "why die") technology. Laptops, desktop computers, and Ultrabooks that are WiDi enabled can wirelessly connect to the Neo TV Pro, and display a mirror of its desktop on your TV. Because there are no limitations on streaming media to a computer's web browser, this mirroring makes it possible to stream any video directly to your TV.
While many Smart TVs and other connected devices are including web browsers, they can't stream from most TV network websites. Website servers can detect what type of device that is trying to access information from their site. If the site detects that the web browser on a Smart TV, media player, or connected Blu-ray player is requesting the video stream, it will be blocked. Instead of streaming video, you'll see an error message saying that the video will not play on this type of device. The only way to play video from these websites is if the TV is mirroring the display from a computer that has full web access. Netgear's Push2TV WiDi TV adaptor mirrors the computer display for an unlimited web browsing experience.
While Netgear has had stand-alone Push2TV WiDi adaptors, the Neo TV Pro is the first media streamer to include the technology. Along with the WiDi feature, the NTV 200s has Netflix, Hulu Plus, Vudu, Pandora, and a variety of others direct media streaming apps. By combining streaming services and access to a complete web browsing experience, the Neo TV Pro offers a viable alternative to cable subscriptions.
The popularity of streaming TV and movies continues to rise with the availability of media streamers, and connected home theater devices. Many people consider eliminating cable or satellite TV subscriptions in favor of streaming from Hulu and other online services. During my cord-cutting experience, I found that most current CBS episodes, and other shows like "America's Got Talent,"are not available on Hulu Plus. However, they are available on the free Hulu website. By accessing Hulu, or the TV network websites on a computer then displaying it on the TV, most current TV shows are available. This will make it easier to say "Goodbye" to cable or satellite TV.
The Neo TV Pro offers full 1080p and Dolby Digital 5.1 sound , and promises the best HD streaming available. A free remote control app for Android and iPhone includes a keyboard and a full gesture and button control for easy search and for sharing on Facebook. The Neo TV Pro is full featured yet is priced at a reasonable $69.99. It is available now, but your laptop must have WiDi Wireless Display technology to utilize the display on TV feature. Look for the WiDi logo, or a WiDi utility on the desktop. Stay tuned for a full review.