Mirage Omnisat v2 Speaker System
Sometimes it's better to be indirect.
Mirage has been, ahem, reflecting on the influence of room acoustics for nearly two decades. In the process, this distinguished Canadian speaker maker has birthed some unorthodox designs. The common thread running through all of them is a determination to make room reflections work for loudspeakers rather than against them. That determination bears fruit in the second-generation Omnisat series.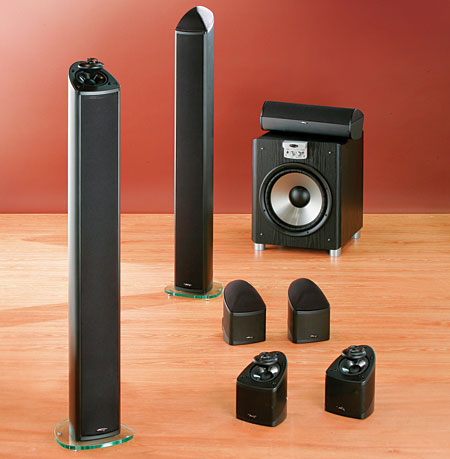 Reflections can help or harm musical perception. A bad room (or bad speaker positioning) can cripple good equipment. However, the absolute elimination of all reflected sound seems shockingly unnatural. Just ask anyone who has ever set foot in an anechoic chamber—speaker designers value these nonechoing test chambers because they divorce room acoustics from measurements, but they're terrible places for listening to music.
Divorcing room acoustics from music would be a mistake, as the room is an integral part of instrumental sound. A violin needs the reverb of a good concert hall to soften its stridency. Even an acoustic guitar strummed in a bedroom is enriched by tiny reverberations, although they're so short that you perceive them as part of the instrument's tone. Home theater buffs in concrete-floored spaces have been known to construct raised wooden floors to enliven bass—as we did in our listening studio. The laws of acoustics rule an audiophile's life, and our understanding of them is still evolving.
Most speakers deliver a high ratio of direct sound versus reflected sound. Mirage's contention is that real-life concert halls deliver 70 percent reflected sound and 30 percent direct sound—and that speakers should do the same. Although it isn't a wholly original idea, it's definitely the path less often traveled, and the Omnisat v2 system put my listening room to work in a most unusual way.
New Players, New Shapes
The original Omnisat model was a compact satellite speaker that served all channels except for the sub. However, the second generation adds a horizontal center and a tall, slender tower model to the line. The satellite has taken on a slightly different and more attractive rounded-triangular shape. And each model has moved from plastic enclosures to classier extruded and brushed aluminum, available in a light or dark finish.
You've never seen speakers like this. Pop off the magnetically attached grille, and you'll find a 4.5-inch woofer at the top inclined forward at a 25-degree angle. Hovering over it is a flying-saucer-like Omniguide, which has a rounded teacup bottom that disperses the woofer's output mostly to the front and sides. Atop the teacup is the tweeter. Above that is—appropriately enough—a teaspoon-shaped structure that disperses high frequencies equally in all directions. Mirage describes the tweeter as a pure titanium hybrid. It is a titanium dome with a cloth surround. The "polypropylene-titanium-deposit-hybrid" woofer consists of polypropylene sprayed with a titanium vapor.
I reviewed the Omnisats with my 5.1-channel reference system, which features a Rotel RSX-1065 surround receiver (100 watts per channel, the five-channel equivalent of the more current seven-channel RSX-1067). New to my system is the Integra DPS-10.5, a 2004-vintage universal disc player that's built like a tank. I also used Monster 1.4S and 1.2S speaker cables, with BetterCables.com Silver Serpent digital and analog interconnects. An LG LCD front projector with Tributaries HDMI and component video cables rounded out the system.
For the first time ever, at least in a formal review, I also installed a spare pair of the smaller satellites in the multimedia system on my desk, which consists of an old Onix OA-21s integrated stereo amp with 50 watts per channel and a Rotel RCD-965BX special-edition CD player—they're both worth collecting, even if you have to Google them. My desktop system also includes a 10-month-old IBM ThinkCentre and a brand-new iPod nano. I used 12-gauge zip cord and generic interconnects (shock!). Don't even get me started on the turntables in each system.
The desktop system allowed me to hear how the Omnisats would interact with the wall. Like every speaker I've ever used on my desk, they sounded clearer at the edge (2.5 feet from the wall) than they did when flanking my monitor (a little more than 1 foot from the wall). The superior positioning wasn't possible during the day, but it did get me through a couple of pleasurable evenings. Low-level resolution was better with the grilles off—the Omnisats' bubble-like grilles are a thick plate of honeycombed plastic covered with fabric and are not quite acoustically transparent. Keeping the grilles on allowed higher volume levels without fatigue, though.
Even close to the wall, where most speakers turn to mud, the satellites were highly intelligible. Although they were never more than 3 feet apart on the desk—and I did much of my listening on the opposite end of the room—they tossed out a soundstage that was well proportioned and, to borrow a visual metaphor, brightly lit. Directional information was plentiful whether I sat, stood, or walked around the room. In fact, it was in generous supply even when I lay down on the floor (not something I resort to often during a speaker review). The only way to really inhibit the speakers was to step behind the five-drawer filing cabinet to the left of the desk—basically obstructing them with a large object.
Big Speaker, Little Speaker
Beautiful glass stands support the 45-inch-tall towers. Added to the top-mounted 1-inch tweeter and 4.5-inch "quasi midrange" woofer are six more matching drivers on the front. Two function as normal woofers, and the other four are passive radiators. Evidently, Mirage wants to get as much oomph as possible out of the Omnisat v2 FS's slim, graceful enclosure.
The freestanding speakers were more sensitive to changes in height—mine, not theirs. All those extra woofers made a difference as I did slow-motion squat-thrusts in front of the speakers (my legs are in great shape now). As I moved lower, the two men in a six-voice chorus became noticeably more prominent.
The towers, directly at ear level, were easier to localize than the satellites, which sat several inches below ear level. I was more conscious of where the big guys were in relation to me, whereas the little guys on my desk just seemed to disappear into the woodwork. In retrospect, my long-wall speaker placement probably had me sitting too close—about 7 feet away—to allow the front-mounted woofers to integrate fully with the top-mounted drivers.
After I carried the disc with the choral test track back and forth between the desktop stereo and reference surround systems, I concluded that the satellites sitting on my desk had the advantage in consistency. Eventually, I moved the satellites from the desktop system into the front left/right positions of the surround system and kept going. Incidentally, I have a pronounced bias toward the use of identical satellites in a surround system, so perhaps I merely remained true to form.
A supplied right-angled bracket adapts the satellites for easy wall mounting. Mirage recommends that mounting follow the "6-foot rule." If the Omniguide housing holding the tweeter and main woofer goes above 6 feet, mount the speakers facing downward. Below 6 feet, keep them facing up. Never one to poke holes in walls, I just plopped them onto 21-inch stands. That left the top-mounted drivers about 5 or 6 inches below the level of my ears.
From the Soundstage to the Soundfield
Up to this point, I'd been listening solely in stereo—which is noteworthy in itself. Many speakers sold today flunk the two-channel test, but the Omnisats were relatively immune to the dreaded hole-in-the-middle effect. The soundstage didn't collapse when the center and surrounds shut down. In Dolby Pro Logic II's music mode, the Omnisat v2 CC gave voices a different feel, presumably due to its unique (in this system) 3-inch midrange driver and associated crossover.
My favorite surround music recording is the multichannel SACD of Gary Burton's Like Minds. Burton's vibes have the place of honor in the center of the soundfield, with the rhythm section behind him, Chick Corea's piano suspended between left front and surround, and Pat Metheny's guitar between right front and surround. The Omnisats were directionally specific enough to place each player where he belonged (especially after I fine-tuned the channel levels). At the same time, the speakers' dominant reflectivity achieved a beautiful blend of the instruments. Some speakers soften the album's vibes, blurring its sensuous bloom, but, with the Mirages, each instrument was subtly outlined and delicately shaded, like bubbles blown by a child.
The graphic-novel-inspired Sin City includes several film-noir-like scenes with rainfall—always a beautifully subtle way to use the soundfield. A car that whooshed from the center-channel speaker to the right surround perfectly complemented the onscreen action. Dialogue was not just clear but frighteningly profound—the center's midrange driver really came into its own with the movie's ominous narration.
The OMNI-S12 subwoofer's 12-inch driver delivered the movie's biff-bam-oofing and other low-frequency effects, without working up a sweat. The sub not only provides a crossover-bypass switch—allowing proper integration when using the crossover in your receiver—but mounts it on the front panel, along with volume, frequency, and phase controls. This is a bass tweaker's paradise.
Mirage has done great stuff with the Omnisat series. The speakers look better than ever. They function unusually well in stereo, which should please the lonely audiophile. But they also spread sonic data to every seat in the house, which should please large gatherings of movie or sports fans. That union of solitary and family interests will make these slender speakers sell as big as they sound.
* Audio editor Mark Fleischmann is also the author of the annually updated book Practical Home Theater (www.quietriverpress.com).
Highlights
• The top-mounted drivers increase ratio of reflected versus direct sound
• They turn the sweet spot into a sweet room
• And they're just adorable