Midnight Sun
Norway somehow seems an odd place to find a high-end projector manufacturer. Yet there in the town of Fredrikstad—founded in 1567 at the mouth of the Glomma River an hour's train ride south of Oslo—
Projectiondesign
not only designs and manufactures high-end DLP projectors under its own name, but also for companies like Christie, one of several providers of DLP projectors for the commercial digital-cinema market. Last year, the company introduced its
Avielo
line, including the flagship Helios, which puts out enough light to compete with the midnight sun.
Like several other Projectiondesign models, the 3-chip, 1080p Helios has two lamps for increased brightness on larger screens or in rooms with ambient light—in this case, each is a 330W UHP. The custom-designed light engine is said to achieve a peak brightness of 12 foot-lamberts on a 300-inch (diagonal) screen—which is a lot for a consumer screen that big—and a native optical contrast ratio of more than 10,000:1. In addition, pre-installed color filters let you switch between the standard HD color gamut and the wider DCI (Digital Cinema Initiative) gamut for those with access to digital-cinema source files.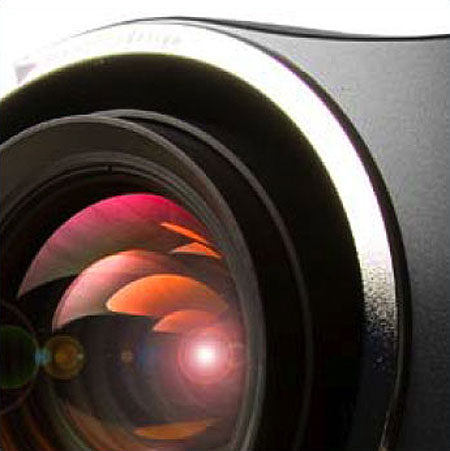 Projectiondesign offers no less than five lens options for the Helios, including three in the so-called Signature Series that offer hand-picked optics. Combined with wide-range vertical and horizontal lens shift, this provides a lot of flexibility in placement. Also available is a custom-designed, motorized anamorphic-lens kit for 2.35:1 movies. Finally, all lens settings can be stored in memory and recalled as needed to accommodate any content.
One of the company's hallmarks is its highly efficient use of resources and technology. For example, a fully automated assembly line solders components onto circuit boards with almost no human intervention, and most employees are trained to do a variety of tasks depending on where they are most needed. Unlike most companies, all design, manufacturing, marketing, and sales activities are performed in-house, which is laughingly called "insourcing."
Despite the general downward pressure on prices for digital products, 3-chip DLP projectors are likely to remain the purview of the rich and famous. For the Helios, you'll need a credit line of $70,000 for the projector plus $5000 to $7700 for a lens, and the anamorphic option requires an extra $13,000. A few years ago, I reviewed Projectiondesign's dual-lamp Action! Model 3 1080, and it performed admirably, so I expect great things from the Helios, which should light up a large screen like its namesake.