McIntosh Resurrects its First Speaker: 1970's ML1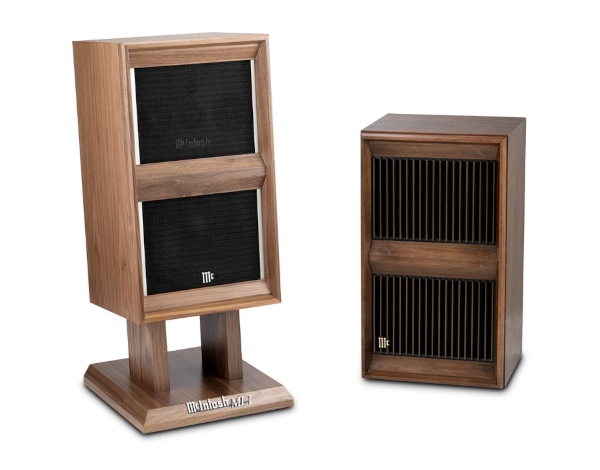 McIntosh is the latest name in classic audio to pay homage to its roots by reissuing vintage designs, a pursuit embraced for years by Klipsch, JBL and, more recently, KLH. But McIntosh is different as a revered hi-fi brand best known for power amplifiers, namely those iconic tube designs that date back to the late 1940s and early 1950s.
There's no denying it: McIntosh is synonymous with power and, though the company makes very fine speakers, they play second fiddle to those quintessential amps and preamps.
The new ML1 Mk II is actually a remake of the brand's first speaker: the ML1, introduced in 1970 and discontinued seven years later. The ML1 was known for its high volume-output capability and as McIntosh recalls "tremendous bass response, especially when paired with an external equalizer."
Like its ancestor, the Mk II is a four-way acoustic-suspension design but instead of four drivers it has five: a 12-inch woofer (in its owned sealed sub-enclosure), two 4-inch "low-frequency" midrange drivers (also in sealed sub-enclosures), a 2-inch soft-dome "upper-frequency" midrange driver, and a 0.75-inch tweeter — the same tweeter used in the brand's XR50 and XR100 speakers.
Whereas the original ML1 used paper-cone drivers and a soft-dome tweeter made of a cotton cloth material, all of the Mk II's drivers are made of polypropylene with rubber surrounds, except for the tweeter, which is a titanium dome. The woofer also benefits from McIntosh's patented LD/HP (Low Distortion High Performance) magnetic circuit, which is said to significantly reduce distortion while increasing powering handling and efficiency.
In addition to transitioning to modern sound-producing materials, the layout of the mid-and high-frequency drivers has been reconfigured from a vertical orientation with two tweeters adjacent to a large midrange driver (above, right) to one where the MK II's three mids are aligned horizontally with the tweeter positioned just above the 2-inch driver in the middle. The lower midrange drivers cross over to the upper midrange at 1 KHz to ensure "clear vocals."
The midrange drivers and tweeter are situated in close proximity with one another in a metal plate, which in addition to internal cabinet bracing helps to minimize sonically destructive vibration. The proximity of the drivers also reduces off-axis lobing. The new driver layout, along with a custom crossover network featuring self-resetting protection circuitry, is engineered to deliver an "expansive sound stage."
As shown in the opening photo, McIntosh has updated the look of the new ML1 with the most noticeable difference being magnetically attached black cloth grilles instead of the former wood-slat design and the addition of a stand featuring a swanky cast-aluminum name badge that matches the speaker's satin walnut finish. I don't know about you, but I actually prefer the look of the original, though those slats most certainly interfered with sound propagation, which is no doubt why Mac deep-sixed them in the new design.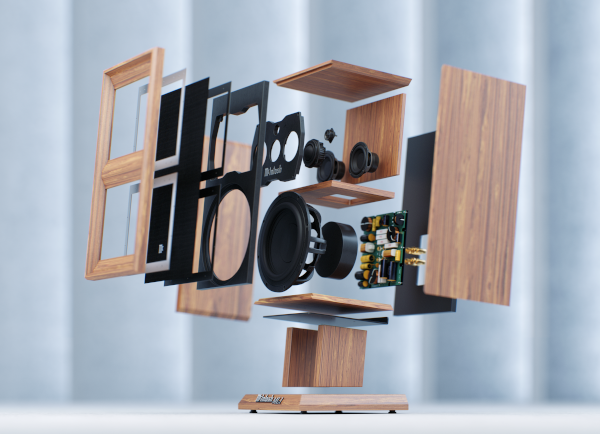 Much like its forerunner, the Mk II cabinet is made of American Walnut solid woods and veneers with an oiled satin finish. Thin metal trim was added to the top and bottom grille covers to give the speaker a more refined look. Like many speakers of the era, the ML1's were too big to be considered bookshelf speakers but too small to be floorstanders. The Mk II addresses this in part with those stands, which tilt and elevate the 42-inch-tall cabinet by more than a foot.
Around back, a set of gold-plated binding posts allow for biamping and biwiring. Each speaker is built to handle up to 600 watts of power and rated down to a respectable 27 Hz. Telegraphing that the MK II speakers are designed to play loud, sound-pressure level (SPL) is rated as 85 dB when measured with a 1-watt input at a distance of 1 meter.
Now for the 64 million dollar question: How much do the McIntosh ML1 Mk II speakers cost? McIntosh has priced them at $12,000/pair and plans to begin shipments in July. For more information, visit mcintoshlabs.com.