McIntosh MT5 Turntable
Go ahead, take a few seconds to savor the radiant splendor of the McIntosh MT5. Rolling Stone dubbed it "The Turntable of the Gods." Fitting, indeed, for one of the most striking turntables you'll encounter. Beyond the hypnotic allure of its mirror finish and luminous platter—not to mention the conversation it's sure to stimulate—you'll find a precision device that treats cherished albums with the respect they deserve, while extracting the goosebump-inducing nuances that define your passion for vinyl.
Hand-built to exacting standards, the MT5 embodies the notion of the whole exceeding the sum of its parts. Those parts include a belt-drive motor assembly, controlled by a "highly refined" servo-control system to ensure speed accuracy; a custom tone arm, made of aircraft aluminum, stabilized by magnets, and fitted with a Sumiko BP2 moving coil cartridge, known for its exceptional tracking capability and flat response; and an inch-and-a-half-thick silicone/acrylic-encased aluminum platter that rotates on a ceramic bearing, suspended (magnetically) on a cushion of air to provide vibration-free rotation.
Styling is classic McIntosh, featuring the company's 67-year-old logo centered on a glass front panel and flanked by two control knobs—one for speed (33/45/78) and one for power. Behind the signature black glass is a chassis made of stainless steel with a thick aluminum base and acrylic top plate, balanced and internally damped to minimize noise and resonance.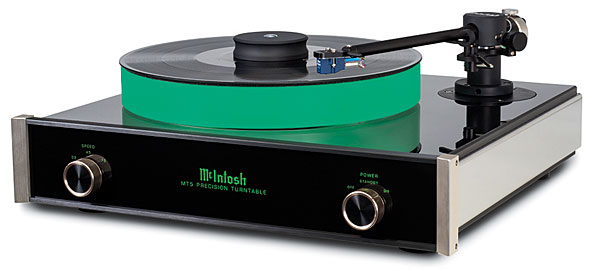 Flawless playback is, of course, the goal, which is why every MT5 is adjusted at the factory before being placed in its shipping carton. Cartridge overhang, arm height, tracking ,and anti-skate force are all tweaked to minimize friction and ensure precision performance as the stylus traces the record grooves. In case you're wondering, the distinctive neon green illumination is created by long-life LEDs filtered by custom designed fiberoptic light diffusers. Price: $6,500, including a clear dust cover to protect the MT5's moving parts.
McIntosh • (800) 538-6576 • mcintoshlabs.com