McIntosh Modernizes Legendary Woodstock Amplifier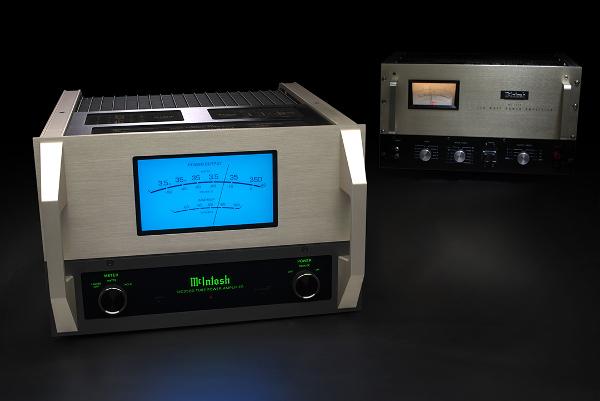 They call it the amplifier that inspired a generation. The McIntosh MC3500, a 350-watt tube monoblock that was used at the Woodstock music festival in 1969, has been modernized and will be reissued as the MC3500 Mk II in December.
Twenty of the original MC3500 amplifiers were used to power the iconic Woodstock Music & Art Fair that drew an unexpected crowd of more than 400,000 people to Max Yasgur's dairy farm in the rural upstate New York town of Bethel. The MC3500 was one of very few power amps from that era that could handle the task of driving two massive PA systems. It was chosen by Hanley Sound, the company that built the groundbreaking Woodstock sound system, because they needed an amplifier that was not only powerful with low distortion but reliable. It had to be bulletproof. Remarkably, the amps were located under the stage, somehow protected from the wind and torrential downpours that turned the four-day concert into a mudfest.
McIntosh president Charlie Randall explained how the revival came about: "At the 50th anniversary of Woodstock in 2019, there was a lot of buzz resurfacing about the McIntosh sound system. This enthusiasm was infectious and inspired me to get our engineering team together to redesign the amp that has obviously resonated with music fans as being a historically significant piece of audio gear."
Two years of work culminated in the MC3500 Mk II, a remake of the original MC3500 amplifier that McIntosh sold between 1968 and 1971. "It incorporates all the knowledge we have gained surrounding vacuum tube amplifier design since the 1960's," Randall noted.
The new MC3500 Mk II will sell for $15,000 when it is released in December.

Echoing its predecessor, the Mk II is a 121-pound behemoth measuring 18 x 12 x 21.5 inches that's rated to deliver 350 watts into 2, 4, or 8 ohms. The remake incorporates core McIntosh technologies, including its signature Unity Coupled Circuit output transformer, which allows "the full 350 watts to be safely delivered to virtually any speaker." The Mk II also employs McIntosh's Power Guard Screen Grid Sensor (SGS) to minimize the chance of its vacuum tubes failing prematurely tubes and Sentry Monitor technology to actively monitor output current to ensure safe operation.
At its core, is a fully balanced driver section with one 12AT7 and three 12AX7A tubes, which hand the signal off to an output section featuring eight high-output EL509S vacuum tubes, chosen for their similarity to the 6LQ6 "sweep tubes" used in the original MC3500. All of the tubes are housed in a wire cage made of 12-gauge stainless steel that sits behind the power and output transformers.
The MC3500 Mk II pays homage to the original amplifier with a retro-modern design featuring a large DualView output meter on the front panel that shows watts and decibels, U-shaped side rails, designed back in the day to provide strength and durability, and black-rubber bumpers to protect the rear panel from damage and allow the amp to sit upright during setup and transport. The front panel is machined aluminum with a bead blast finish and gold anodizing that emulates the original.
Balanced and unbalanced inputs are provided along with McIntosh's patented, gold-plated Solid Cinch binding posts, designed to prevent speaker cables from coming loose.
For more information, visit mcintoshlabs.com.