MBL Reference System at T.H.E. Show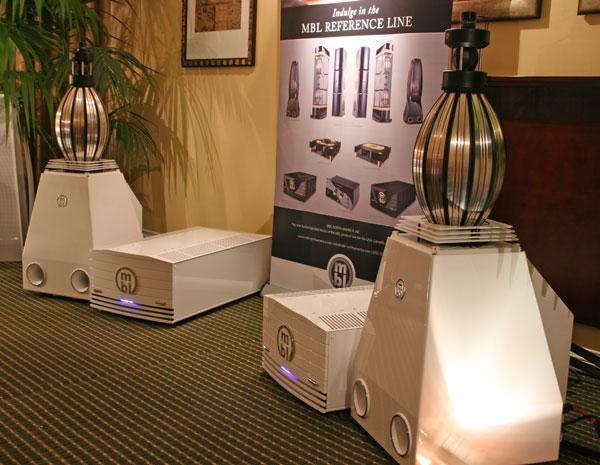 Even though hotel rooms are not the best environment to show off high-end audio products, some companies managed to achieve a mighty impressive sound at T.H.E. Show in Newport Beach, CA. Among them was
MBL
, which set up two systems in adjoining rooms. My first stop was the room with the flagship Reference system, including two 101E MkII speakers ($70,500/pair,
profiled here
) and two 9011 monoblock power amps, which generate 750 watts per channel and cost a staggering $53,000 each.
Driving the speakers and amps was the 1621A CD transport and 1611F DAC ($28,000 and $28,700, respectively, profiled here) on a shelf above a 6010D preamp ($26,500). Unlike many companies, MBL also used a music server (a Linux-based Sonore from Simple Design) to play files originally recorded digitally by Jürgen Reis, the wunderkind who designs all MBL products, from speakers to electronics.
The most beautiful sound I heard was a solo-piano piece played on an unlacquered Steinway, recorded at 88.2kHz/24-bit and saved in the lossless FLAC format. The sense of space was extraordinary with exceptional clarity throughout the sonic spectrum. Take 6's a cappella version of "Away in a Manger" (44.1kHz/16 bits) was also gorgeous, but I heard a low-mid/upper-bass bump that was caused by a 10dB room peak at 125Hz, which I could clearly see on the real-time analyzer wielded by an MBL rep. I don't know why I didn't notice it with the piano track, but it was pretty obvious with male vocals. Still, this was one of the best-sounding systems I heard at the show.