MBL 1621A CD Transport & 1611F DAC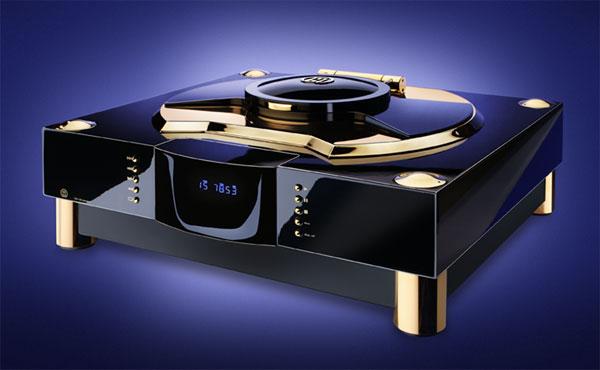 MBL
has its fingers in just about every audiophile pie there is, from CD players and DACs to preamps and integrated amps to power amps and speakers to cables, racks, and speaker stands. In terms of source devices, the company's
ne plus ultra
is the 1621A CD transport and 1611F digital-to-analog converter (DAC).
The 1621A starts with a die-cast aluminum frame and 17-pound, spring-loaded sub-chassis made from brass, aluminum, and Terodem, a vibration-damping material. Its 3-beam laser pickup assures accurate transcription of the data on the disc, and the transport mechanism can be adjusted to be perfectly horizontal.
Even the cover is carefully designed to block acoustic vibrations from the outside, and the stabilizer fixes the CD to the drive while avoiding fluttering at the edges of the disc.
As a transport, the 1621A has only digital outputs, including AES/EBU, S/PDIF (BNC and RCA), and optical ST. To convert that signal to analog, an ideal companion is the 1611F DAC, which provides a variety of inputs, including two AES/EBU and four S/PDIF (two RCA, two BNC), with the option of adding an optical ST and two optical TosLink inputs. Analog outputs include one pair of balanced XLR and two pairs of unbalanced RCA. The 1611F can process PCM resolutions up to 192kHz/24 bits as well as SACD bitstreams, with 16x oversampling for CDs.
So how much, you ask? The 1621A retails for $26,600, while the 1611F is even more at $27,300. If you want the matched pair, that'll be $53,900, please. Can any CD playback system possibly be worth that much? Kalman Rubinson seemed to think so in his review of the previous generation of both products in Stereophile. The 1611HR, he wrote, "is one of the most involving components I've come across. Its extraordinary dynamics and lively presentation suggested the attributes that vinyl devotees, the single-ended triode set, and the devoutly horn-loaded tout for their preferred devices: striking midrange clarity, precise micro- and macrodynamics, and the resolution of extreme detail across the spectrum."
He was no less enthusiastic about the 1621, saying, "It performed as well as any transport I have tried, but it was hard to single out on the basis of sonic performance. When I used the 1621 with the 1611HR DAC, I heard all the wonderful characteristics of the DAC. What was strange was that I kept on choosing the 1621 when I wanted to play music rather than audition equipment. After all, I usually had three transports (MBL, Burmester, CAL) with their multiple outputs connected simultaneously to three DACs (MBL, Burmester, Levinson), each DAC connected to an easily selected input on the SF Line 3 preamp. When I wanted to audition a particular DAC, I generally used the CAL transport for fairness; when I just wanted to play a CD, I used the 1621 and whatever DAC was already selected. Draw your own conclusions."