MartinLogan Remakes Motion Series Speakers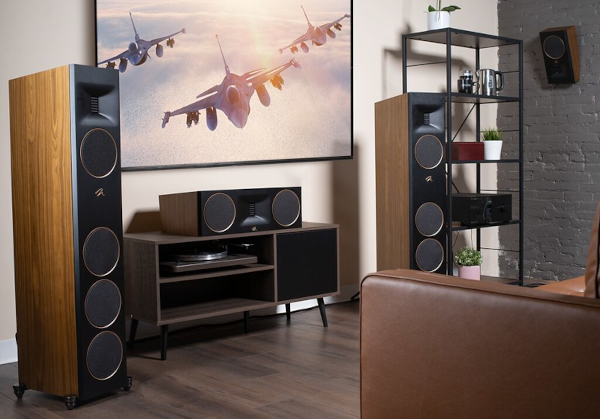 MartinLogan has introduced an avalanche of new speakers in its Motion Series, which dates back more than a dozen years. When the line was launched in 2010, Motion represented a new direction for the Kansas-based company known for the magnificent sounding electrostatic and hybrid electrostatic speakers it had been producing since 1983.
The original Motion Series and the Motion XT Series that followed several years later eschewed large electrostatic panel/cone woofer combinations in favor of a more traditional speaker design that mates cone woofers with an innovative Folded Motion tweeter — a rectangular thin-film diaphragm that's folded like an accordion and suspended in a magnetic field.
The tweeter design, which offers many of the same performance benefits of electrostatic technology but in a smaller package, and is actually MartinLogan's take on the Heil Air Motion Transformer (AMT) tweeter invented by physicist Oksar Heil and first used in ESS brand speakers in 1972. When audio is applied, circuit traces between the accordion pleats change polarity causing the diaphragm to "squeeze out" sound. Tweeters based on AMT technology are widely praised for the detailed, natural sound they produce, which is why a number of speaker companies — including GoldenEar and, more recently, Emotiva — have embraced the technology over the past decade or so.
Now in their fourth generation, MartinLogan's Motion and Motion XT lines have been reimagined through what the company is calling a ground-up development process using the "most advanced technologies and materials." The process has produced nine new models — five in the Motion Series, ranging in price from $600 for a wall-mountable multi-purpose speaker to $1,750 for the top tower model, and four in the Motion XT Series, ranging in price from $800 for a center-channel model to $2,750 for the top tower model (all pricing is "each").
Upgrades start with the new Gen2 Obsidian Folded Motion Tweeter, which uses larger magnets to achieve higher output while lowering distortion. In the higher-end XT series, tweeter surface area has also been increased 40% over the previous generation. A surface area that is considerably larger than a conventional dome tweeter is one of the key performance benefits of Folded Motion technology along with the ability to react faster than a dome due to its low mass. Even MartinLogan's standard Folded Motion Tweeter has a surface area that's eight times larger than a conventional dome.
The company has also redesigned the horn-like waveguide attached to the Folded Motion Tweeter, settling on the final version only after evaluating almost 50 design iterations with the goal of enhancing the consistency, dispersion, and output of the tweeter. The new waveguide is designed to ensure consistent performance across a wide range of listening positions while minimizing unwanted room reflections, according to MartinLogan. Waveguide-enhanced tweeter dispersion for the Motion Series is spec'd at 90° x 90° and 45° x 90° for the Motion XT Series.
MartinLogan also introduced more robust materials for the cone woofers, selecting Nomex-reinforced Kevlar for Motion XT Series speakers and woven fiberglass for Motion models, the same material used in the company's in-ceiling/wall CI series.
Both series also use a new McCracken-Vojtko crossover assembly that has been carefully measured and refined to optimize performance for a given speaker's application. The process included anechoic and in-room measurements as well as blind listening tests that pitted the new crossover against MartinLogan's signature Vojtko crossover.
Other features common to the Motion and Motion XT series include hidden locking tabs that hold speaker grilles in place and anti-vibration feet on tower models that can be adjusted without tools.
Motion Model Rundown
The Motion Series comprises two floorstanding models, the F10 ($1,250) and F20 ($1,750), which mate a 1 x 1.4-inch Folded Motion Tweeter with one 5.5-inch midrange driver and two 5.5- or 6.5-inch woofers, respectively. The line also includes the C10 center speaker ($1,000) with two 5.5-inch woofers flanking the tweeter, the B10 bookshelf model ($600) with one 5.5-inch woofer, and the wall-mountable MP10 "multi-purpose" speaker (featured in opener, $500), also with a single 5.5-inch woofer.
The Motion XT includes the floorstanding F100 ($2,250) and F200 (featured in opener, $2,750) models, which combine a larger 1.25 x 2.4-inch Folded Motion Tweeter with two 5.5-inch midrange driver, and three 6.5- or 8-inch woofers, respectively. Rounding out the series is the C100 center speaker (featured in opener, $1,500) with two 6.5-inch woofers flanking the tweeter and the B100 bookshelf model ($800), also with two 6.5-inch woofers.
All of the new models have a rated impedance of 4 ohms, except for the Motion Series C10 and B10, which are 5 ohms. Three finishes options are available for all models: gloss black, walnut, and satin white.
Live Demo on Saturday
MartinLogan also announced that consumer electronics specialty retail Audio Advice will host a Motion launch event at its showroom in Raleigh, NC on Saturday, February 11 from noon to 4 p.m. ET. Several members of the MartinLogan team will conduct the first public demonstrations of the new Motion and Motion XT speakers.
For more information on the new speakers, visit martinlogan.com.