MartinLogan Motion 40 Loudspeaker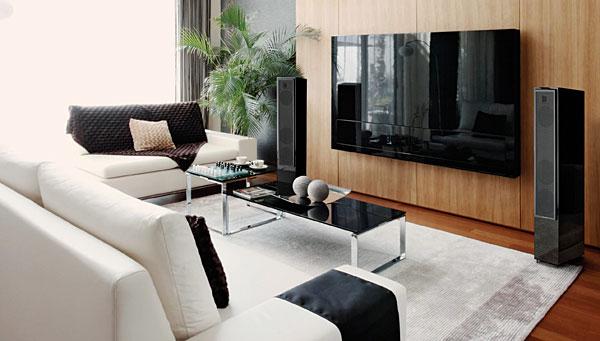 Price
: $950
At a Glance
: Folded Motion tweeter • Custom five-way biwire/biamp binding posts • Aluminum cone drivers
For the first 20 years or so, MartinLogan was just a geeky, tweaky speaker company that made electrostatic speakers—that's just as in Stephen Hawking is just a physicist—with a few very serious (and very hexagonal) subwoofers in the lineup to take over the job of reproducing the lowest bass frequencies that even the best electrostatic panels simply don't have the wherewithal to generate on their own. During that time, admission to the MartinLogan electrostatic club was never cheap. That, as you can imagine, put the dynamic, open, and airy sound that is a signature aspect of an electrostatic speaker out of reach for lots of people. Even today, with the company's own entry-level ElectroMotion ESLs (reviewed December 2011, available at HomeTheater.com) opening the market to a greater audience, there are still people who can't or don't want to provide AC power to their speakers. With these folks in mind, in early 2010 the company introduced something previously unheard of: the monitor-style Motion 2, a MartinLogan speaker that retailed for under $400 per pair. In fact, by historic MartinLogan standards, nearly every model in the Motion Series line was dirt cheap, although it did max out at a more MartinLogan-y $1,500 for a pair of the top-of-the-series Motion 12 tower speakers.
Aside from affordability, the Motion Series is notable for its use of Folded Motion high-frequency drivers across the line. These tweeters start life as a large rectangle (5.25 inches by 1.75 inches) of thin-film diaphragm material that's pleated and tightly folded together like the sides of an accordion into a driver with a much smaller 1-inch-by-1.4-inch opening. MartinLogan's engineering types say this gives the driver a total radiating surface area that's almost eight times that of a traditional (i.e., dome) high-frequency driver. While not a replacement for a richer man's see-through electrostatic transducer, the Folded Motion driver's characteristics give it the potential to get awfully close.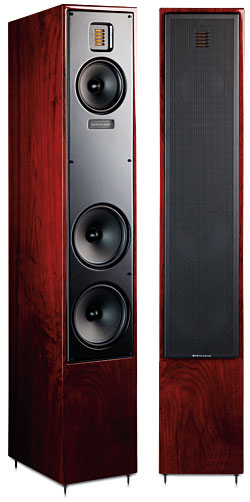 A Grand Bargain
While the super-affordable Motion Series monitor and center-channel speakers all shared a high-gloss piano black contoured exterior cabinet, the original Motion 10 and Motion 12 floorstanding models had real black ash wood veneers and a combination of metal and cloth grilles that made the speakers look like they'd obviously been adopted at birth. That's been rectified in the Motion 20 and Motion 40, the new replacements for the original Motion Series towers. MartinLogan recently shipped one of the first pair of Motion
40 speakers my way, and the differences between the new and the old are startling. To begin with, the Motion 40's elegant, high-gloss black cabinet with its softly rounded edges and corners not only looks great, it much more closely matches the styling of the smaller models. The cones of the mid- and low-frequency drivers are now made from aluminum, which makes them more rigid than paper and allows them to act as a heat sink for the voice coil. Gone is the open-back, dipolar midrange, but the interior cabinet volume has been increased dramatically. An especially welcome change is the incorporation of custom five-way tool-less binding posts along with biwire and biamp capabilities. Oh, I suppose there's one other minor fact to mention. While the Motion 12 speakers retailed for $1,500 per pair, the new Motion 40s carry a $1,900-per-pair sticker price.
After listening to the new MartinLogan towers with two-channel music, it's clear that the Motion 40s are not electrostatic speakers—but MartinLogan has done an excellent job of coaxing a near-electrostatic sonic character from a set of forward-firing drivers mounted in a traditional rectangular box cabinet. The Folded Motion tweeter lacks any hint of harshness or ringing that you might hear with a more typical tweeter design. The interplay of violin and piano, for example, on Joshua Bell and Jeremy Denk's French Impressions recording was sublime in the way each wavering note from the violin hung lightly in the air while the lower strings on the piano provided a solid foundation underneath. "These Walls" (Revelator, Tedeschi Trucks Band) begins with an interesting sarode solo followed by guitar and then Susan Tedeschi's vocals. Here, again, the resolution of the vibrating strings was excellent, while the rock-solid placement and clarity of the voice was equally impressive. The bass response was very good, although it tailed off dramatically below what sounded like about 30 hertz in my listening room. (A Motion 40 home theater setup is going to need a subwoofer.) Still, I never felt cheated with the low end the Motion 40s delivered, especially with songs, such as Florence & the Machine's "Only if for a Night" and Sade's "Soldier of Love," where the bass beat provides such an integral part of the emotional effect.
All in all, my first impression is that the MartinLogan Motion 40 is a tremendous tease. The Folded Motion tweeter takes you almost to the point of electrostatic magic but stops just short of three-dimensionality. On the other hand, the Motion 40s are easier to integrate into a room than a typical electrostatic speaker, so I think it's a pretty equitable tradeoff. By the time you read this, MartinLogan will probably have announced new Motion Series surrounds and center channel to match with the Motion 20s and Motion 40s. We'll be testing them as soon as they're available and reporting on the full system at that time, complete with measurements and updated ratings. But if they all perform as well together as the Motion 40s do by themselves, it ought to make one killer non-electrostatic system.