Marantz IS301 Wireless iPod Dock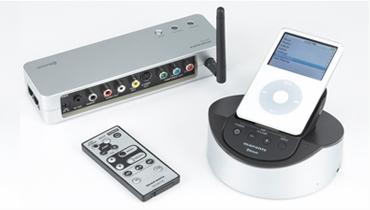 Key Features
$249 US.MARANTZ.COM
• Compatible with all A/V receivers and current iPod models • Wireless dock puts the iPod in your hand for song browsing and selection • Bluetooth transmission of audio and Marantz control signals up to 32.8 feet • Docking/charging station can be tabletop or wall-mounted • Component, composite-, and S-video outputs display iPod photo and video files in docked mode • Handheld remote offers basic transport controls
When it comes to rolling, the guy that came up with the wheel pretty much nailed it the first go 'round, forever putting to rest the need for any further developments in that area. In a way, I find the interface on Apple's iPod to be sort of like the wheel. The iPod's elegant and intuitive physical controls and menu layout make short work of finding and playing your media. While it's in your palm, things work great. But when you want to enjoy your tunes through your home's A/V system and have to connect an iPod to other gear, the system sort of breaks down. Many iPod dock manufacturers have attempted to replicate Apple's interface, but most of those options come up lacking.
Clearly, the folks at Marantz feel the same way that I do. With its IS301 Wireless Dock, Marantz puts the iPod where it belongs - in your hands - while using Bluetooth to wirelessly transmit music to your stereo. While the IS301 offers additional control features for Marantz receiver owners, it can be added to any system. So if you've got an iPod (and you know you do) then read on to see if the IS301 is for you.
SETUP
Marantz's system consists of three components: the handset that the iPod connects to; the base unit where the handset docks; and the extender that receives the Bluetooth signals from the handset and provides A/V outputs for hooking up to your system. The handset features a "thickness adjustment knob" for dialing-in the best fit for all manner of iPods, and a chart listing the setting for each model. For instance, the fatty 4G Photo is at position 12, while barely-there nanos are at position one. The handset has a Pairing button for syncing with the base unit as well as some controls that are of benefit to Marantz receiver owners. (More on those later.) It also features a USB port, allowing you to sync with iTunes while the iPod is inserted.
The base unit, which can either sit on a table or be wall-mounted, basically becomes a place to dock your iPod for battery recharging when the system is used in wireless mode. No video output is possible; only audio signals can be sent via Bluetooth. During wired operation, audio, video, and control signals are sent via two Cat5 cables to the extender. When the unit is connected via Cat5, a power connection isn't required, meaning one less wall-wart to deal with. The base unit has a selector switch for outputting component-, composite-, or S-video signals. The video output capabilities of iPods vary, and Marantz's manual only offers this sage piece of advice on the topic, "Some iPods do not support component-video output." Gee, thanks!
The extender features component-, composite-, S-video, and stereo audio outputs for connecting to your system. It also features a remote control connection for operating Marantz receivers, an IR/RS-232 input to interface with external control systems, and a small antenna. The extender has a svelte profile and can easily be hidden away.
Once everything is connected, the only actual "install" required is pairing the handset to the extender. (When docked into the base unit, pairing isn't necessary.) This is accomplished by pressing the "Pairing" button on the handset and the "Mode" button on the extender and looking out for the blue flashing LEDs to confirm success. Other Bluetooth devices like cell phones or laptop computers can also be paired with the extender.
The IS301 is listed as being compatible with all nanos, 4th-gen or newer iPods, classic and Touch models. While not "officially" compatible with iPhone, it is said to work when the iPhone is in Airplane mode. Since neither myself, nor any of my family or friends, are cool enough to own an iPhone, I wasn't able to check this out for myself.