Marantz DaVed Power-Line Audio System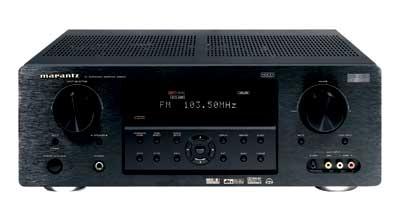 Marantz introduced its DAvED (Digital Audio via Electrical Distribution) system at this year's Consumer Electronics Show, and I was immediately wowed by the concept of sending audio over a house's electrical wiring. So I jumped at the chance to play with a pre-production sample. Since the hardware definitely wasn't the finished product (the owner's manual was filled with handwritten notes in Japanese), some slight changes were likely made before it arrived in stores in April. But I can tell you that this technology really does work.
The Marantz DAvED system consists of the ZR6001 digital surround receiver ($1,300, shown above), which acts as a transmitter/server, and the ZC4001 client ($330, below). The only thing out of the ordinary about the Marantz ZR6001 is four minijack connections on the back panel for routing infrared signals to connected sources. The receiver has a library of preprogrammed codes for controlling connected gear, or you can teach it commands.
Any source connected to the Marantz ZR6001 (including the internal tuner) is fair game for distribution, though the sources have to be connected via analog cables - optical and coaxial digital connections aren't distributed. Audio signals are converted into uncompressed linear PCM digital, modulated onto high-frequency carriers, and then sent over the power lines. The Marantz ZC4001 demodulates the signals, converts them back into analog, and amplifies them via a 7-watt stereo amp for playback through its built-in speakers. The client has buttons for source selection as well as for volume adjustment and basic transport control.
Installing the ZC4001 couldn't have been easier. After I plugged it into a wall outlet, it automatically discovered the ZR6001 and was ready to play whatever source I selected. Presto! This worked with every outlet I tried in my approximately 2,000-square-foot house. (The ZR6001 can support up to four ZC4001 clients.) There was virtually no audible delay in the transmission - important for house-wide audio distribution.
But the system doesn't like any form of surge protection. Plugging the ZR6001 into a surge protector caused the ZC4001 to sputter and crackle and repeatedly drop out. The same thing happened when I plugged the client into a simple power strip.
For torture tests, I used a vacuum cleaner and my wife's hair dryer during playback. The vacuum didn't cause any interference unless I plugged it into the same outlet the Marantz ZC4001 was plugged into, at which point the signal dropped out completely. But the hair dryer was like power-line Kryptonite. Firing it up anywhere near the ZC4001 brought the client to its knees every time.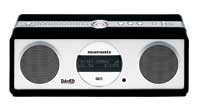 The ZC4001's sound quality was on par with that of a high-quality clock radio, so it's not an audiophile solution. But that isn't a limitation of power-line-distribution technology - the next-gen model could easily be a 200-watt stereo amp connected to full-range speakers. Bottom line: The Marantz DAvED system is a great, no-brainer way to add audio to different rooms of your house. us.marantz.com
LATEST VIDEO