Magnepan MMG Speaker System
Judging by my inbox before and after CES last January, the hot new trends in A/V speakers are
slim
and
wall-mounted
. Somehow, speaker manufacturers have learned of the trend in TVs—that is, slim and wall-mounted. Imagine that!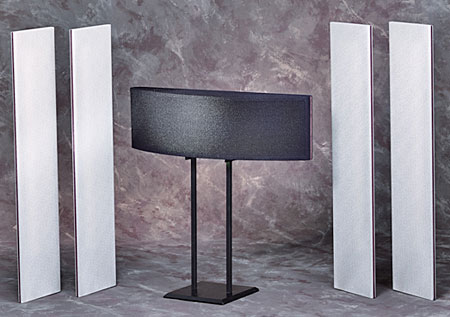 As a result, CES had tons of teeny, tiny sub-compact speakers jammed into "soundbars" or "framing elements" meant to be mounted above, below, or to the sides of wall-mounted flat-screen TVs. Some sounded—and looked—pretty good, but these folks were late to the party.
Back in 2003, Magnepan beat pretty much everybody to the punch with its MMG W speakers. They flanked flat-screen TVs or projection screens proscenium style, they could swivel flat against the wall when not in use, and, when paired with the decidedly not flat MMG C center speaker and a good subwoofer, they made a spectacularly impressive multichannel speaker system. Best of all, they were dirt cheap at $299 per pair for the MMG Ws ($299 each for the MMG C) and could be driven by almost any respectable A/V receiver.
So I was a little surprised when UAV editor Scott Wilkinson called and said that, responding to reader buzz, he'd Googled the Maggies and noticed that I had reviewed them back in the day. "Do you think they are worth revisiting, and would you like to review them for UAV?"
"Heck yes," I replied. "In fact, I'm soaking in them now."
Because, you see, I never could let the MMG Ws and MMG C go. I've had more-expensive and more-demanding speakers in and out of my A/V system, but the Maggies have endured. The only thing that has changed since 2003 is a 10-percent price increase—which means they are still dirt cheap.